This article is contributed. See the original author and article here.
This article was written by Navrioska Mateo, a Network Engineer at a multinational company in New York City and a proud member of the Humans of IT community. Navrioska once told her story as a speaker on the renowned storytelling slam + podcast called The Moth, in an episode titled "Life Plan, Rebooted". She shares her unique career journey and how becoming a dedicated IT professional shaped who she is today.
Being a misfit was second nature to me growing up, combined with an insatiable thirst for learning. I was a massive bookworm with a selective group of friends and very little social skills. I often felt like an odd duck for my interest in wanting to understand the: "How does that work" of everything, building whole worlds with plastic block bricks, and taking apart electronics appliances like my grandmother's phone to see what was inside. Not many kids in my neighborhood were interested in the same things, so it was hard making friends.
Finding information before search engines was a complex endeavor that resulted in me practically living in libraries and having books as my best friends, before eventually traveling the world one disc at the time on digital encyclopedias (yep, I'm dating myself here).
We humans are complex beings with a tendency to individualize our feelings and problems. I used to think that there were not many people with my interests, and that this was necessary to establish long-lasting relationships.
And then, on that self-discovery journey, I had my first encounter with WinPopup and my life changed. Writing became second nature to me and even if I knew I was just IM-ing with people within the same computer lab, it was liberating. You see, I could be freely be myself behind that screen.
Around that same time, I dove into a command line on MS-DOS, and little did I know that 10 years later I would enroll in engineering school to pursue a Telecommunications, Networking, and Programming degree in my home country, the Dominican Republic.
This brings me to my next point:
Finding my unique identity in tech
This is how I look working from CLI
I started finding my tribe at college, learning about decoding/encoding, signal transmission, electronics, and a group of skills that created my foundation to be an honest and dedicated professional. However, I discovered something even more important (surprising to me, even) that working as a group towards a goal could be fun, that there is always something to learn from the people you meet no matter their backgrounds, that in diversity there is power, and that no impactful change can be done if everyone thinks the same way.
Today, I am a Network Engineer at a multinational company based in NYC. My professional background is a technical and project management hybrid, and I love what I do but more than that, I love all the doors that this career has opened for me and the people I have met behind those doors.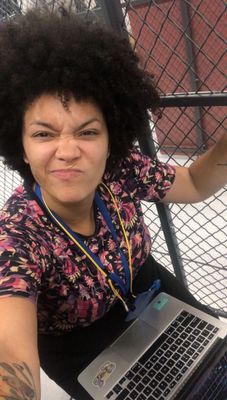 Working from a datacenter floor
A year ago I received an email from a stranger saying she had heard about my story at The Moth podcast. She invited me to participate as a panelist for an upcoming session as part of the Microsoft Women IT Pros call series to talk about "My favorite mistake… and recovery" – specifically, to tell one of the stories about something that went wrong in my professional life, and how I recovered from the incident. I said yes to @Cathy Moya and I will always be grateful for her and the #WomenITPros allies I met after that meeting. She is an incredible professional, mentor, and my personal Microsoft fairy godmother.
As my tribe of odd ducks increased, I kept on growing and learning. I decided to resuscitate my (then) abandoned Twitter account and connected with @ShonaBang @Jess Dodson @Ryen Macababbad @systemsmaven, and other amazing IT ninjas. Here is where I found out about #MSIgnite2019 and was awarded a community ambassador pass! It was a proud moment for me: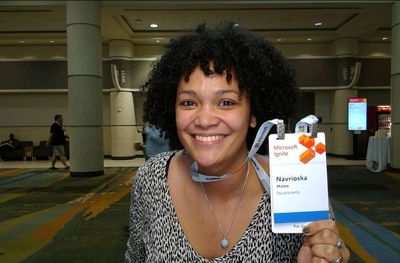 Me at MSIgnite 2019
There is a pre/post and post-me after this event and talking about everything I learned, felt, and experienced during that week deserves a whole other blog post on its own, but I will summarize it as such: All the panels and workshops on the Humans of IT pre-day truly changed me for the best. I met strangers that became family at the end of that week, countless mentors on the #HumansofIT Community Mentors program and community, I met the man behind the ceramic dinosaur @threddy and got a reminder engraved on my soul that at the end is not so much about the tools and technologies but the humans behind it and how it serves us to build and give back to our own personal global tribe.
It is my hope that you, dear reader, will find your home and newfound family right here on the Humans of IT Community as well, even when – no, especially when – you've felt like an odd IT duck like me. This is a place where we can truly belong.
#HumansofIT
#MSIgnite
Brought to you by Dr. Ware, Microsoft Office 365 Silver Partner, Charleston SC.