This article is contributed. See the original author and article here.
Part 2: Re-setting the bar for meeting and call quality
This is the second in a series of blog posts focused on helping you get the most out of your meetings and calls with Microsoft Teams. Millions of people around the world rely on Teams to collaborate via meetings, calls, and chat. In this series, we share best practices and highlight new features in Teams and the Microsoft 365 service designed to help your teams achieve more together.
As many of us have experienced, meetings often get derailed by unintentional distractions. An echo or unidentifiable background noise cuts in. Someone's audio breaks up while they're making an important point. A person suddenly gets booted off the call. Poor audio and visual quality can hijack a meeting, inhibiting focus, wasting time, and in the long term, causing meeting fatigue. However, in the moments when technology fails us, it seems there's nothing we can do but keep going and hope the problem resolves quickly.

With Microsoft Teams, we want to give people more control over the digital quality of their meetings. Born in the cloud and built with Microsoft AI at its core, Teams uses AI to remove unwanted sounds, monitor quality and adapt as needed, give users more information and proactive actions, and provide insight into issues before they disrupt meetings.
AI-based noise suppression
Whether it be multiple meetings occurring in a small space, children playing loudly nearby, or construction noise outside of your home office, unwanted background noise can be distracting in Teams meetings. We are excited to announce that you will have the ability to remove unwelcome background noise during your calls and meetings with our new AI-based noise suppression option.

You can enable this helpful new feature by adjusting your device settings before your call or meeting and selecting "High" in the "Noise suppression" drop-down (note this feature is currently only supported in the Teams Windows desktop client). See this support article for details about how to turn it on here.

Our new noise suppression feature works by analyzing an individual's audio feed and uses AI to filter out noise and only retain speech. While traditional noise suppression can only address simple stationary noise sources such as a consistent fan noise, our AI-based approach learns the difference between speech and unnecessary noise and is able to suppress non-stationary noises such as keyboard typing, crunching of paper or food wrappers, and vacuuming.
https://www.microsoft.com/en-us/videoplayer/embed/RE4ISH0
Satin: A new audio codec for great quality even in low bandwidth
With more virtual meetings, many users require great call quality even when your network is limited. There are many scenarios that can contribute to low bitrate – parents and children sharing the household's network for meetings and classes, high cost of large data plans, and many more. To help with these challenges, our latest innovation is a new audio codec, Satin, which offers great audio quality at a bitrate as low as 6kbps, making meetings sound natural and clear even when the network has low bandwidth.
Packet loss improvement for choppy audio
Teams also pays attention to the strength of the network and adapts as needed. When bandwidth is poor, some of the audio information gets lost in transmission, which causes the choppy audio that we've all become too familiar with. When Teams detects an unable network, it automatically attempts to recover some of the lost data to deliver smooth, clear audio. Teams continually monitors audio quality and adapts accordingly to keep participants engaged in the meeting.
Proactive user assistance
Teams actively helps people improve the quality of the meeting by offering suggestions to optimize their audio and video experience based on their work environment. For example, the dreaded echo or howling noise is caused when multiple devices are present and connected in the same room. When Teams notices that a participant is joining via their PC in a conference room, Teams will prompt them to "join with audio off" since the conference room device will manage the audio. If they don't see the prompt, Teams will automatically mute the participant's microphone and speakers upon joining – circumventing a potential distraction.
Actionable insights for IT
Your IT department also has an important role to play in improving the quality of virtual meeting experiences. Teams has a robust set of capabilities to help IT manage, triage and resolve issues. The Call Quality Dashboard gives IT administrators an at-a-glance view of monthly, daily and hourly quality trends for various types of Teams meetings and calls. When issues arise, IT can quickly access data reports to effectively troubleshoot. These reports include rich information that helps IT not only understand the problem, but also data about specific individuals affected or involved in the issue.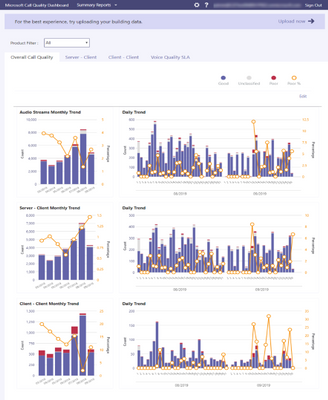 When it comes to getting the most out of meetings and calls, quality matters. That is why we continue to invest in intelligent capabilities that improve the quality and reliability of calls and meetings experiences. We're excited for the new innovations ahead that will bring even better quality to our customers around the world. With our continuous commitment to quality improvement, users can save time and focus on connecting with one another.
Brought to you by Dr. Ware, Microsoft Office 365 Silver Partner, Charleston SC.