This article is contributed. See the original author and article here.
Did you manage to participate and tune into Microsoft Ignite 2020 this year? We hope you had a great experience! If you missed the sessions being played live, fret not as we've got you covered with this recap. Read on to all get caught up!
"One of the greatest digital experiences. Thank you #MSIgnite, you've proven that #EmpoweringCommunity is becoming stronger even while #COVID attempted to divide us "physically". I enjoyed being part of the show. #CommunityRocks #HumansofIT" – Fatima Z. Benhamida, Office Apps and Services MVP
This year, for the first time ever at Microsoft Ignite history, humans around the world joined virtually during sessions on the Humans of IT track spanning over 48 hours. Topics spanned across a variety of critical topics centered around leveraging tech for good, creating social impact, how to hack your career, and tips on sustaining human connections in a virtual world as we navigate this new normal. Through #RealTalk conversations with leaders, influencers, and community members, attendees found a safe and welcoming space for them to relate and connect with one another on a personal level.
Want to hear what attendees have to say about Humans of IT at Microsoft Ignite? Check out all the tweets on Twitter via the #HumansofIT hashtag!
Here are a few of our favorite tweets:


Microsoft Ignite: Day 1 (Tuesday, September 22)
The Humans of IT kicked off on an inspiring note with Humans of IT Community Ambassador @Dux Raymond Sy moderating a panel about tangible ways to leverage tech to empower nonprofits during these challenging times.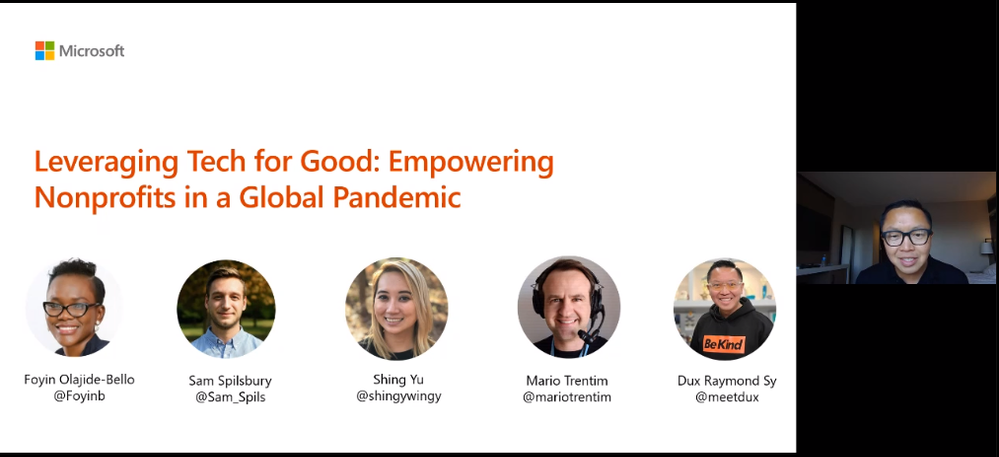 Panelists included @Shingyu, @Mariotrentim , @foyinb and Sam Spilsbury who shared about their own stories in leveraging tech for good through nonprofit organizations and how others in the community can also get involved: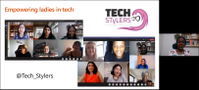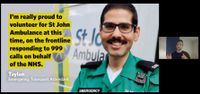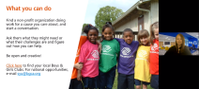 We carried that same energy through the afternoon with the "Sustaining Humans Connection in a Virtual World with Technology" panel, featuring individuals who share their unique perspective and research on the vital role technology plays in sustaining quality human connections that are fully accessible in the world of remote work. Megan Lawrence, Sr. Accessibility Evangelist, led an insightful discussion with panelists including Leah Katz-Hernandez, an employee who lives with hearing loss as well as Allexa Laycock, a filmmaker with the Rooted in Rights organization and seeks to remove the stigma around disability, mental health and chronic illnesses by spotlighting stories from the community. Panelists shared lessons about relationship building, staying focused and productive while remote, and building accessible technologies so that truly everyone – regardless of ability – can stay connected from remote places.  
Excerpts from the panel:
Leah Katz-Hernandez, Communications Manager at the Office of the CEO, explains that based on her own experience, disabilities are already commonly misunderstood in the workplace, and the new world of remote work may enhance misunderstanding unless we are all intentional about how we engage with others, and put more thought and effort into connecting with colleagues and building relationships. Understanding different communication styles is essential to successful remote work cultures in the long term.
Michael Bohan, from Microsoft's Human Factors Engineering Team shared about his team's research which helped identify key stressors that remote work can put on the human brain, which in turn impacts our relationships and ability to focus. For example, the brain has to work extra hard to internalize relationships in-person when they are first established online.
Allexa Laycock, Creative Director at Rooted in Rights Washington highlighted the fact that the disability community often has compelling solutions to problems and want to be included in conversations about technology, but tend to be overlooked. The current pandemic has brought these gaps to light, and although the global situation has been stressful, it has also created a silver lining in that there are now opportunities to share solutions in ways they haven't before.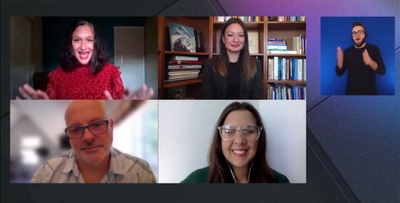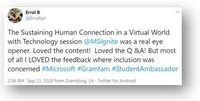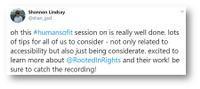 Lastly, Scott Hanselman and Grace Macjones had a candid conversation about "How to be a Social Technologist in a Digital World," discussing how to grow an online presence and stay connected in a virtual world. They shared ideas on how to create balance between meetings, boost the quality of online social interactions, productivity and home lives. They also addressed the important topic of burnout, and watching out for early signs of burnout to help support mental wellness during these challenging times.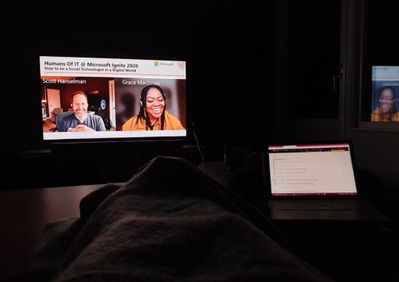 The broader Tech Community also hosted inspirational community table talks on human-centered topics, where community peers shared their personal stories and held fruitful discussions around community and tech careers.
Microsoft Ignite: Day 2 (Wednesday, September 23)
Day 2 of Microsoft Ignite Humans of IT sessions focused on topics such as navigating personal career journeys, discovering tech superpowers, mentoring future technologists, and using AI for Good.
We started the day with power-packed stories (excuse the pun!) from the Power Platform team, moderated by Jeremiah Marble. Panelists were from all walks of life and diverse backgrounds, including Gomolemo Mohapi, Ashlee Culmsee, Joe Camp, and Mary Thompson, who shared their perspectives on how you can "Be The Hero Of Your Own Story" – their personal stories were truly inspiring, emphasizing that it's never too late to try something new in your life and that everyone can find their way into IT if they are up for it, even if it means finding ways to cope with social anxiety.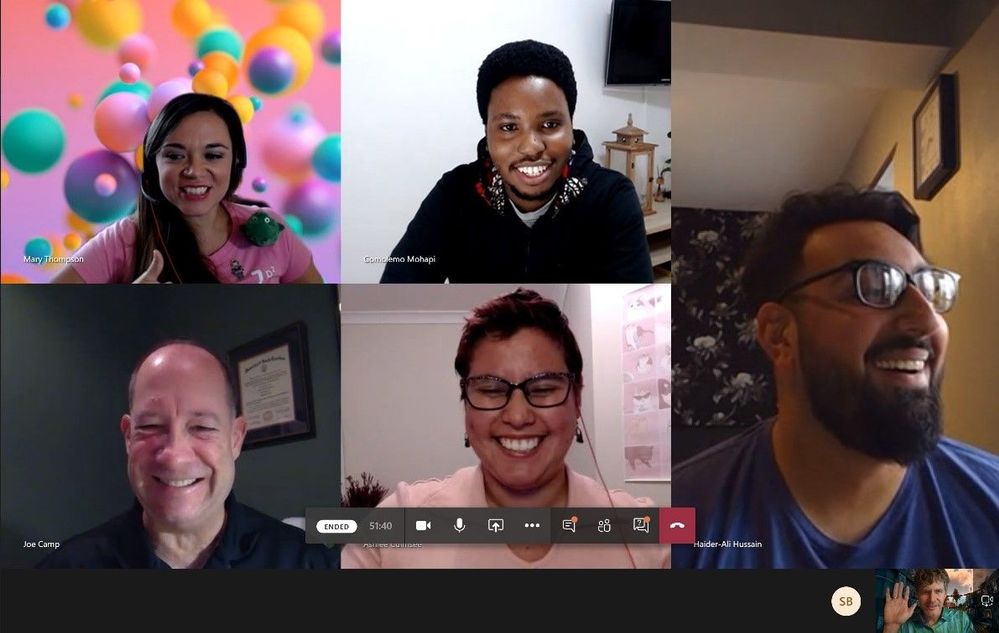 The inspiration continued with an amazing group of leaders who are using AI for Good in an innovative way. During the "Intersection of AI and Humanity: Solving World Challenges through AI Innovation" we heard from a panel of speakers who shared about their personal and professional experiences that have led them to successfully combine their imagination and creativity with the power of AI to help solve health, societal and humanitarian challenges.  
Furthermore, Iasia Brown roller-skated (literally!) her way onto the screen to share her unique experience transitioning into tech during the "Choose Your Adventure: How to Hack Your Tech Career and Carve The Path YOU Want" panel with Chloe Brown, Karen Alarcon, and Ryen Macababbad. This session reignited feelings of excitement and validity for the audience as they talked through how individuals with different passions, interests, and backgrounds can successfully make their way into tech, navigate through challenges and how they've worked through imposter syndrome and overcome a fear of failure. Remember – to quote Iasia, "The only dead-end is death. As long as you're alive, there are no dead ends; you can always make a career switch and pursue something new at ANY stage in life." 
Go chase that dream, Humans of IT!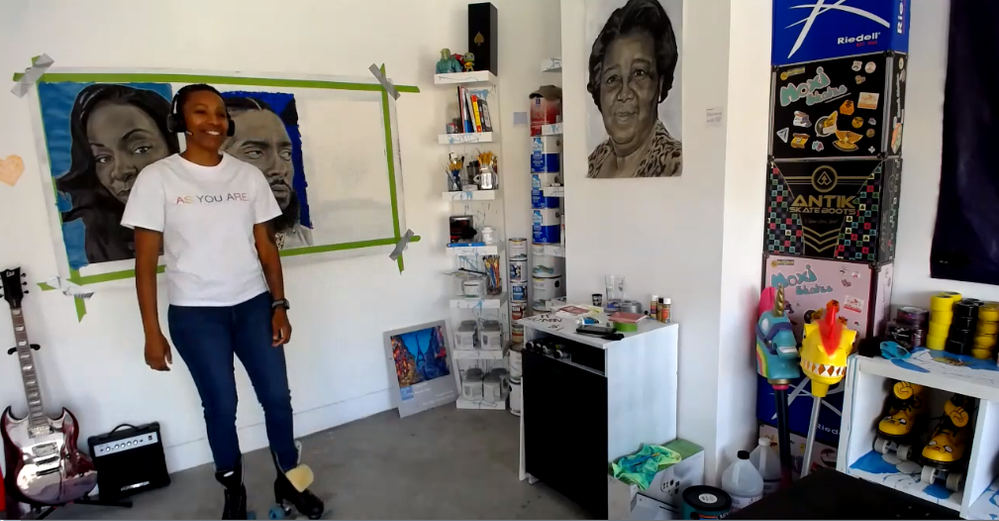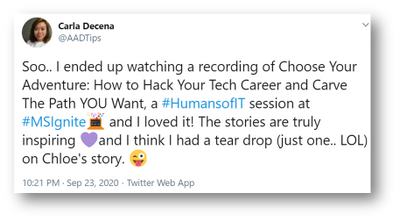 The afternoon wrapped up with a session about the collective experience of 50 founders in just 30 minutes with the Managing Director of Microsoft for Startups, Annie Parker and her co-host Lahini Arunachalam, walking the audience through key findings from recent customer research. Additionally, we learned about the journeys of two incredible women founders:
Mikaela Jade, founder of Indigital, the first Indigenous Digital Skills training program which teaches kids how to bring over 80,000 years of Indigenous cultural knowledge, history, and language to life through augmented reality, Minecraft and Python coding
Kai Frazier, founder & CEO of Kai XR, an EdTech company that provides inclusive and accessible opportunities for underserved communities. Kai talked about her journey is securing funding as a Black female founder, finding investors and carving opportunities for herself through sheer grit and determination.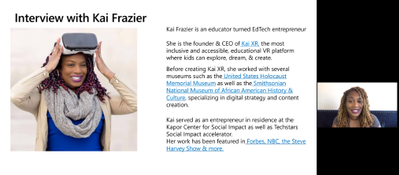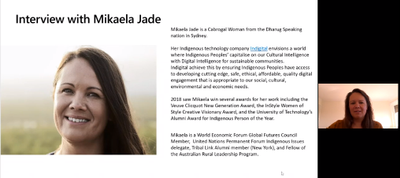 To wrap up the event on a high note, we were thrilled to have Microsoft Director of Merchandise Planning and former HBCU alum, Tammy Richardson host an engaging panel with our HBCU student ambassadors from five schools in the Louisiana area. These students shared about their experiences as students from underrepresented communities in tech during the "Mentoring Future Technologists: HBCU Students get Real" session. They inspired attendees to think more deeply about the future of tech, how to accelerate tech careers for people of color, and how to begin your own tech journey and create opportunities for yourself despite the disadvantages you may face. The best quote from someone in the audience was that they left the session feeling assured that "the future of tech is in good hands". Kudos to all our Microsoft Ignite HBCU Student Ambassadors!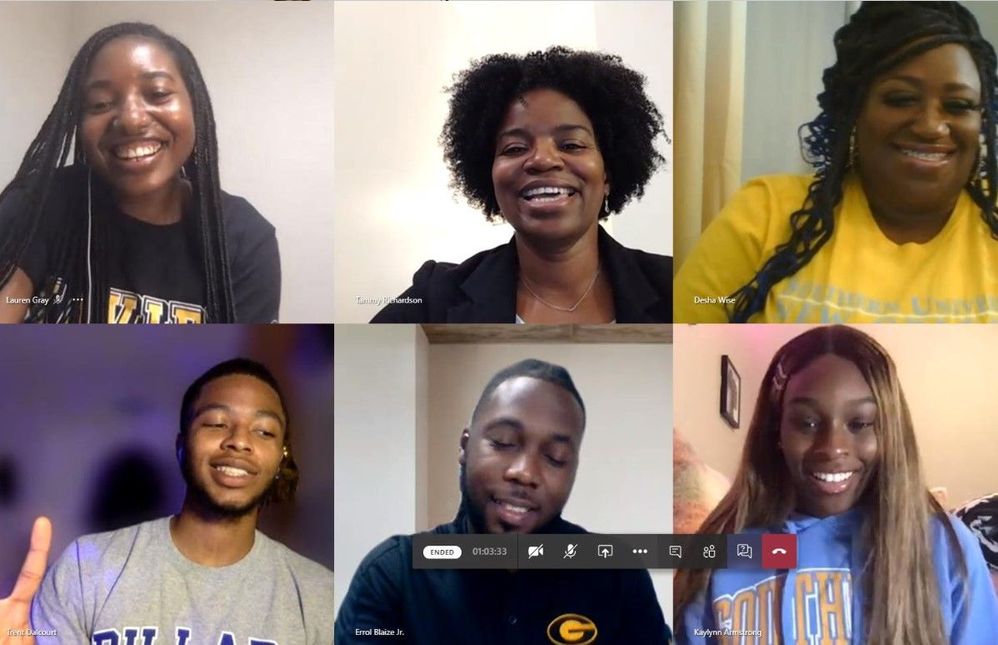 We are truly grateful to have been able to share the voices of so many amazing speakers and (virtually) encouraged and inspired thousands of attendees this year on a global scale in a deeply meaningful, human way.
We hope you enjoyed the Humans of IT track @ Microsoft Ignite as much as we did, and we'll see you next year!
Missed a session and want to catch up? Or perhaps you want to rewatch them all over again?
Access all of the Humans of IT session recordings here. If the session you want is not showing up yet, check back again in 24 hours as they are currently being batch-uploaded.
Community reflection / Homework (of course you knew there would be homework!)
Want to see what other community members thought of Humans of IT sessions at Microsoft Ignite? Read the responses posted here.
Share your Microsoft Ignite experience with us: 
What were YOUR favorite parts about this digital Microsoft Ignite?
What do you hope to see from Humans of IT at the next virtual conference?
We want to hear from you in the comments below. Who knows, there might be a lucky winner being picked for a random Humans of IT swag giveaway again ;)
See you next time! :smiling_face_with_smiling_eyes:
#HumansofIT
#MSIgnite
Brought to you by Dr. Ware, Microsoft Office 365 Silver Partner, Charleston SC.