This article is contributed. See the original author and article here.
We've been very busy getting ready for our first all-digital Microsoft Ignite, which starts Tuesday. In anticipation of the conference, our product marketing manager, Shin-Yi, posted a quick guide to all the sessions related to Microsoft Planner, Tasks in Microsoft Teams, and other task management capabilities across Microsoft 365. Check out the session videos and related resources in the Virtual Hub and the Microsoft Tech Community Video Hub. Links to all session videos, which will get posted once the conference kicks off, are in Shin-Yi's post.
To tide you over for the next few days, we've got a pair of feature enhancements to announce that improve the Planner web and mobile experiences.
Planner web: Filter by Progress (Completed)
As you know, completed tasks in Planner get moved to the bottom of your plan board and hidden under a disclosure widget—the official name of that twisty triangle. But those same completed tasks disappeared entirely from the Schedule view, and you couldn't filter on them in the Charts view.
We've now addressed both issues by adding completed tasks as a Progress filter option in both the Schedule and Charts view. In the Schedule view, completed tasks appear as a green bar; in the Charts view, you'll see them in green in both the pie and bar chart. You can filter completed tasks alongside not started and in progress tasks, too, to see how your team is tracking against deadlines. You can also filter by completed tasks in the Board view.
This enhancement is currently only available in the Planner web experience and will be released soon for Planner in Microsoft Teams.
Planner mobile: Copy links
This feature works exactly like its name implies: in the Planner mobile app, you can copy a plan or task link and paste it anywhere else. This makes sharing your plans and tasks much easier, especially if you need input from others who aren't actively members of your plan.
To copy links, tap the ellipses (…) in the upper right-hand corner of your plan board (to copy the plan link) or task (to copy the task link) and select the copy option. You can then paste that link just like you'd paste anything else—you might use CTL + V on your keyboard or select the Paste option from the ribbon—into an email, a Teams chat, or anywhere else you need it.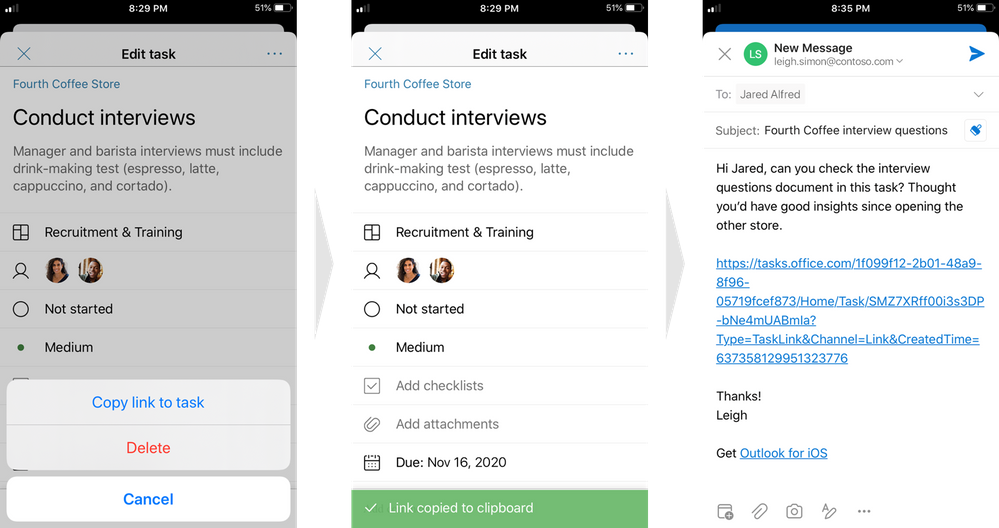 Don't forget! Ignite runs from Sept. 22 through Sept. 24. If you can't attend live, we'll have plenty of Ignite content here and in the hubs mentioned at the beginning of this post. In the meantime, continue leaving your feedback on UserVoice and visiting Tech Community for all the latest Tasks and Planner news.
Brought to you by Dr. Ware, Microsoft Office 365 Silver Partner, Charleston SC.