This article is contributed. See the original author and article here.
Your customers' inboxes are like a firehose that never stops. How do you make sure they'll notice your communications in the flood? With personalized content tailored just for them. Generic, boilerplate messages make customers feel like they're just another number. Personalized experiences make your customers feel heard and understood. Over time this builds trust and increases their loyalty.
You've collected data and insights that can be used to personalize your marketing content. However, most marketers find it hard to turn their customer data into personalized content at scale. It's usually complex, and often requires HTML coding or learning database concepts. Lucky for you that Microsoft Dynamics 365 Marketing makes it so easy. Discover all the ways Dynamics 365 Marketing offers to customize your content at scale with an easy-to-use interfaceno coding required!
Personalized content increases customer engagement with tailored email marketing
Imagine you're a marketer working for Fourth Coffee, an established coffee bean roaster that has relied primarily on its wholesale business relationships. Now you want to expand your business by going direct to consumers with a coffee club and curated digital outreach. A newsletter is a great way to keep your brand top of mind for coffee club members and other customers who have opted in to receive it.
Let's discover how easy it is to craft a monthly newsletter that keeps your customers wanting more. We'll create a newsletter template that uses dynamic text and content blocks to include personalized greetings. Then we'll use conditional content to include a personalized offer that's aligned to your customers' interests and matches your business needs.
Create consistent templates with content blocks
Let's start by making sure your newsletter complies with your brand requirements so customers know who it's from with just a glance. It should always look consistent no matter who sends it out each month, too. We'll accomplish both goals using content blocks. (Be sure to set up your brand profile to take advantage of more capabilities for maintaining brand consistency.)
Start in the email designer. Pick an existing email template or create your own layout. Include a section at the top (the "header") with your brand logo. Include another section at the bottom (the "footer") with contact information and any required legal text. Then insert sections with layouts that contain placeholder content. Save the entire email as a template.
You can also save the header and footer sections as individual content blocks. You can even protect them so that no one else can modify them. Anyone in your team can easily reuse these content blocks in other marketing assets. This not only saves them time; it ensures all required legal text is always included to meet regulatory requirements and provides the consistent look and feel that's so important for your company's brand image.
Use dynamic text to populate your customers' information
Personalizing your newsletter to greet your customers by name and include unique details catches their attention right away. Dynamics 365 Marketing comes with commonly used dynamic text, such as "FirstName," that you can insert in your newsletter. You can also define your own dynamic text, such as "Membership number."
A best practice is to create a library of standard dynamic text so that anyone else on your team can use it to create personalized content.
Include personalized offers and visuals with conditional content
You don't have to stop at personalized greetings. Use conditional content to include customized offers and visuals to pique your customers' interest and make them more likely to click through.
Let's return to our Fourth Coffee example. To reward your loyal customers, you've decided to make an exclusive offer to your coffee club members. You'll use conditional content to offer members 30% off an Arabica selection, while non-members will get 10% off. You have two options.
The firstand easiestis to use two different images. Each image contains a different discount. You'll use the customer's coffee club membership status to display the correct image.
The second option is to use conditional content at the section level. This allows you to personalize images, columns, text, etc., in the section. In the example below, we overlayed dynamic text on the same background image. This way, the specific discount value can be inserted from any table in Microsoft Dataverse where discounts are stored. It can be updated automatically, and marketers don't need to change anything in the email. This option is particularly useful for limited-time offers such as Black Friday discounts or a flash sale.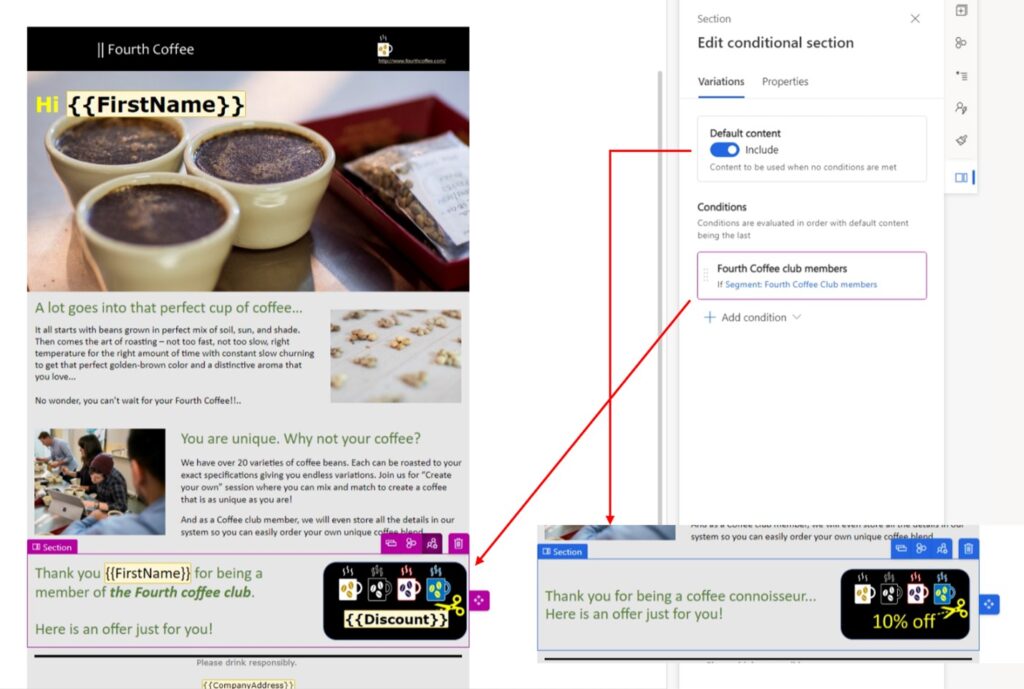 You can save the entire conditional section as a content block. You or your team can quickly and easily reuse this personalized offer in other emails and reduce errors.
And here's the perfectly personalized newsletter your club members and non-members will receive: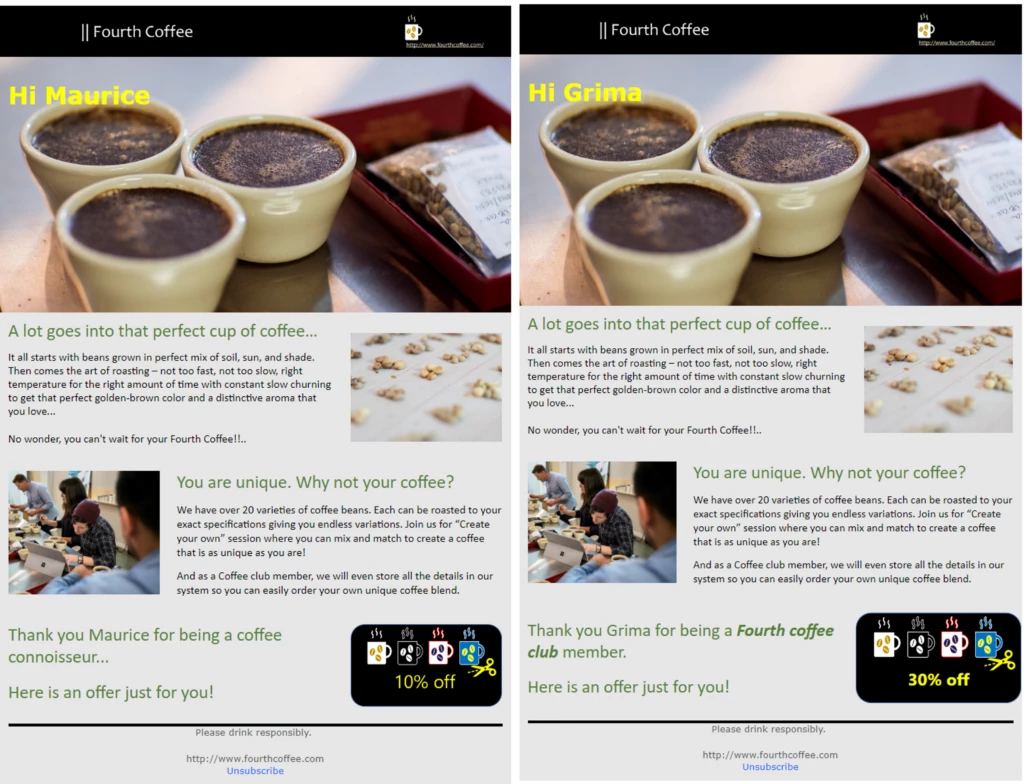 There are countless other ways to use conditional content in your email marketing campaigns. For instance, you can include an image that reflects your customer's interests or highlights a landmark in their city or state. You might customize your footer by including conditional social links, legal text, and unsubscribe settings based on your recipient's country.
With just a few clicks, you can create a library of powerful and reusable content blocks that can help you personalize future messages in no time, while ensuring brand consistency.
Learn more
Learn how Dynamics 365 Marketing can help you use your customer data to create personalized content that engages your customers, strengthens your brand, and meets your business needs:
Not yet a Dynamics 365 Marketing customer? Take a guided tour and start a free trial!
The post Engage customers using highly personalized content—easily, efficiently, and at scale appeared first on Microsoft Dynamics 365 Blog.
Brought to you by Dr. Ware, Microsoft Office 365 Silver Partner, Charleston SC.