This article is contributed. See the original author and article here.
Due to the ongoing concern of COVID-19 transmission the key focus for many organizations has been to provide a productive hybrid workplace environment where employees can work remotely, have an efficient method to report their wellness condition and get guidance before they return to their workplace. As crisis communication teams are working hard to update their employees with crucial information, from how to get tested for COVID-19 to what open workspaces will look like when returning to the office, we thought it would be useful to provide an update on some of the capabilities and solutions that may help to enable a safer return to work.
Top scenarios that we have heard from organizations:
Connecting employees with wellness resources
Enabling employees to take personal accountability
Empowering employees with remote work capability
Morale events and building employee resilience
Wellness verification and attestations to enter the workspace
Limiting employees to work based on social distancing
Wellness monitoring while entering the facilities
In the article below, we focus on a few topics that could help you enable a voluntary wellness check and attestation before entering the facilities, requesting a space at the facility, and wellness monitoring while entering the facility. Each organization is responsible for adhering to applicable privacy policies. Please refer to this article for Microsoft Privacy Principles for data collection and preserving privacy.
Employee & Volunteer Self-Screening
The process for returning onsite may vary based on geography, industry, vertical, and division. In some cases, it may feel more like turning a dial than flipping a switch. If your organization can continue working from home, Teams is a platform that lets team members collaborate and communicate from anywhere.
Some organizations may need a way to ease back into the workplace methodically, while some divisions of an organization may need employee onsite presence. In this case, organizations will need to prepare their facilities and employees for returning to the physical workplace. Therefore, it is critical to monitor employees for common COVID-19 symptoms and provide a simple way for affected employees to return to work once they have completed the required steps.
Teams has developed a solution template to quickly enable a few critical steps for returning to the workplace. We call it the "Back to Work" solution template, built on the Microsoft healthcare bot service and Azure API for FHIR. Please review the below images and this article for more in-depth information. This solution serves the dual purpose of acting as a wellness solution and attestation solution before employees return to work. Review this article for detailed instructions on how to use this solution.
In addition to above solution, we want to bring your attention to ProtectWell™, which can help employees determine whether they should return to work. Click here to learn more about this solution created in partnership between UnitedHealth Group and Microsoft.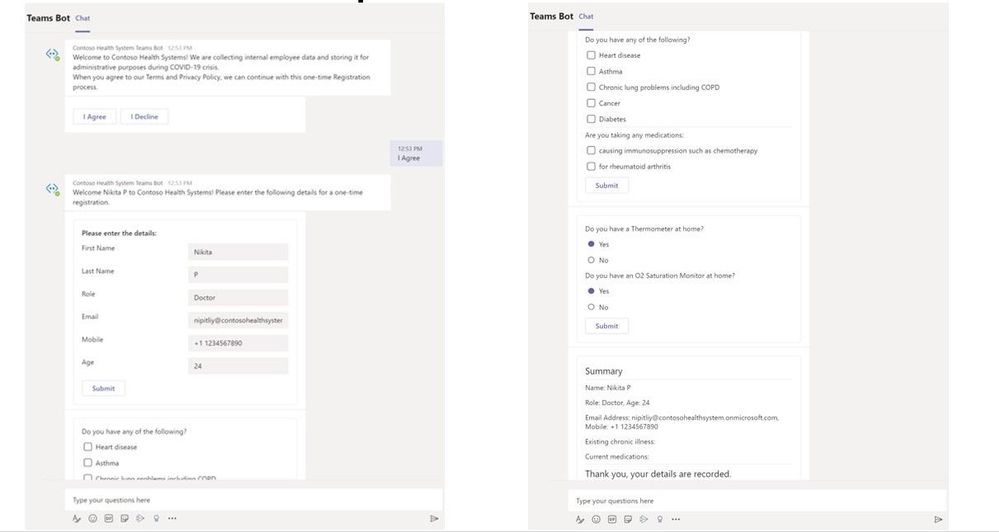 Workplace Distancing & Space Reservation
The pandemic needs a new way to think of rebuilding operations, modernize productivity platforms, and embrace these new technologies. The learnings will make organizations rethink how office buildings and shared spaces are designed and structured in the future. Organizations are developing a coordinated effort with a localized approach to limiting the number of people who could return to the workplace safely. The requirement to restrict people has created an additional burden on organizational leaders, particularly facilities and logistics division. The problem of space reservations and management can be solved using various solutions.
In this article, we address this scenario using Shifts in Teams and facility bots. Customers can utilize Shifts to publish open space availability to employees, allowing them to reserve spaces before they return to the workplace. To enable facility managers or departmental admins further, IT can deploy focused facility bots that send daily guidance to employees, provide a solution for topical Q&A and incident reporting capabilities.
Key features include:
Office managers share available spaces to the employees based on location or floor, where employees reserve spaces on a first-come, first-served basis, or after approval.
Office managers let the department admins manage open spaces, approval requests, send location-specific communications, and list suggested activities while employees are onsite.
Employees can swap their spaces via mobile devices in case they cannot visit the office.
Employees can interact with office managers and report any incidents that need attention.
Facilities bot can help answer questions and engage an internal expert as needed.
Shifts in Teams is part of all Microsoft 365 enterprise SKUs and works across desktop, browser, and mobile platforms. IT departments can use Graph API or Power Automate to connect to Shifts for advanced scenarios. For example, only allocating the space after the employee has interacted with the health assessment bot, sending relevant data to the facility's security system, and internal reporting systems.
You can review this link, which has videos on how to enable and utilize the solution. We are working on providing additional guidance on how to address this scenario which we will publish in the coming weeks.
Data obtained from systems such as Employee & Volunteer self-screening bot or Shifts may help you manage events that need some attention. It is important to note that people need to be in control of their data and be empowered with information that explains how their data will be collected and used. Click here to learn more about preserving privacy while addressing COVID-19.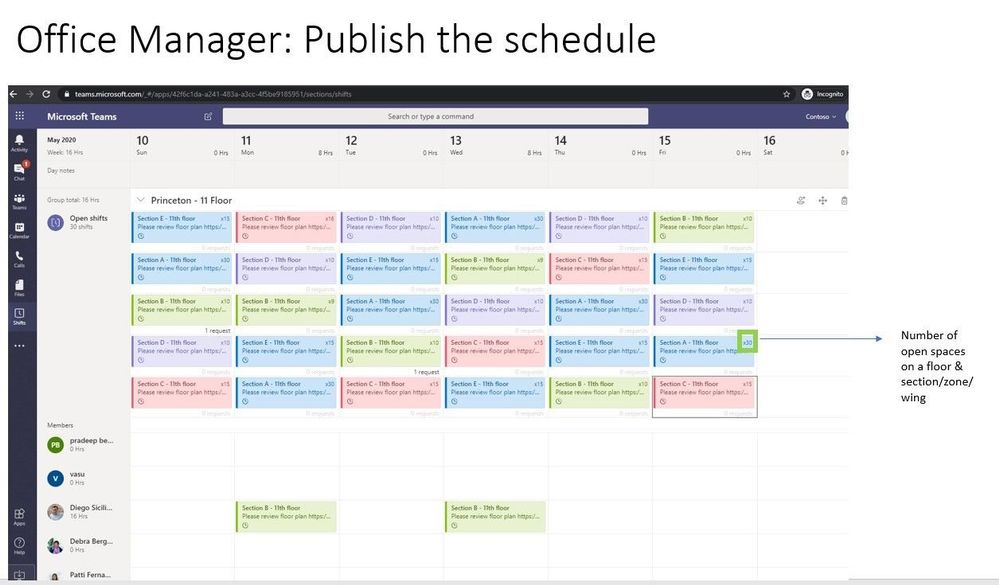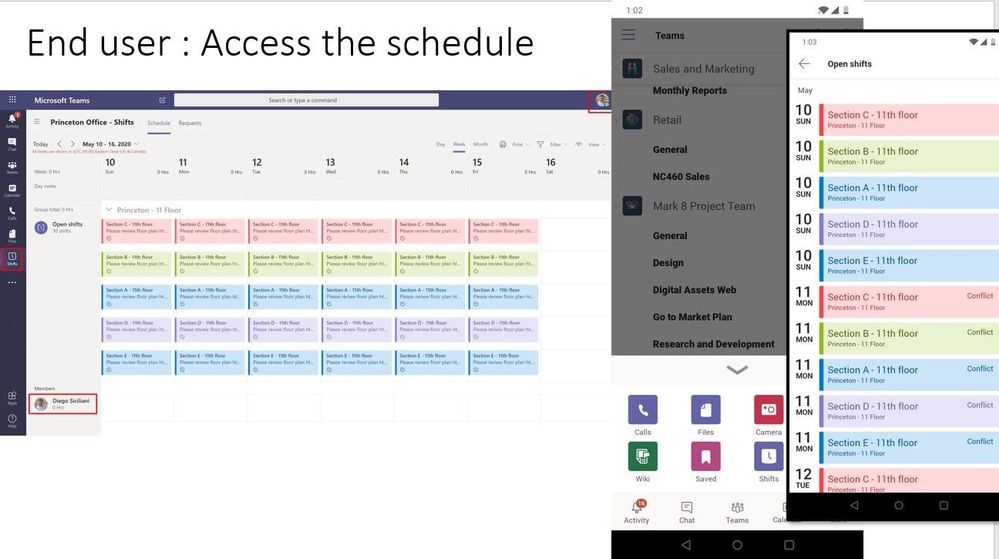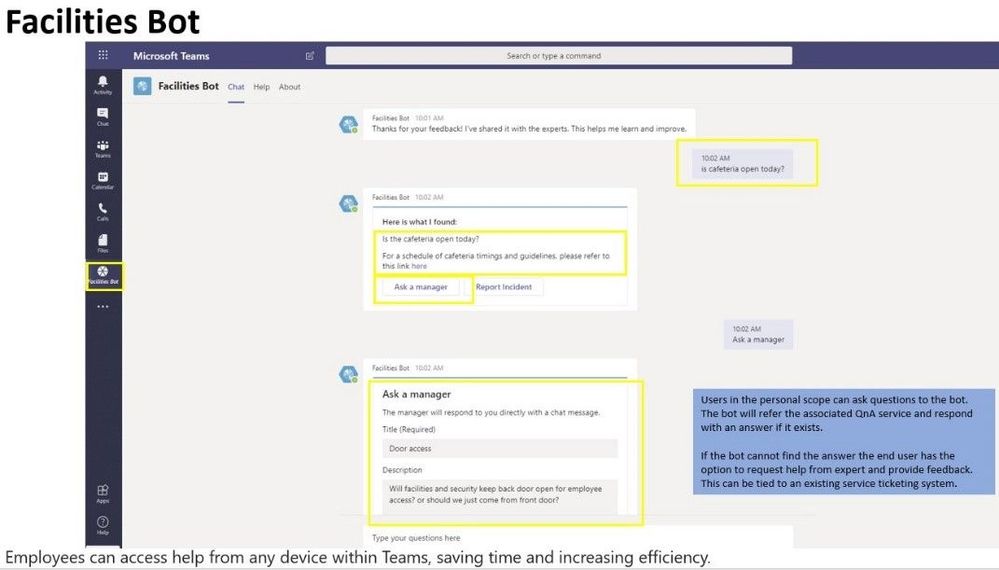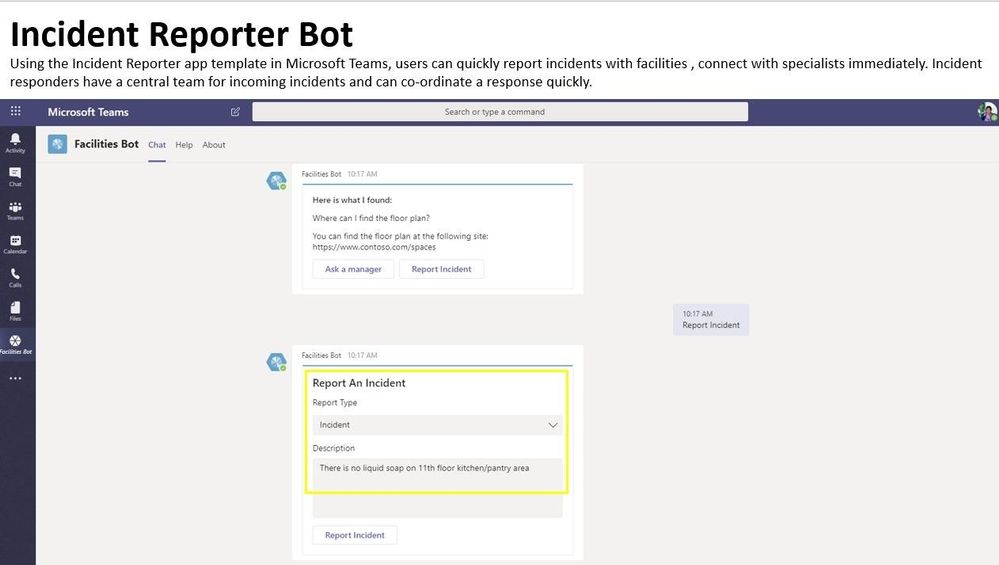 Sensor Based Wellness Monitoring
Organizations may be mandated by local jurisdiction to implement temperature checks before employees are permitted to report to the workplace, and our partners have built various solutions and devices on Microsoft technologies to address these industry and regional requirements. These solutions perform temperature checks with facial recognition, a less invasive method, and securely store this information in the cloud or your organization's existing platforms. To find out more, please reach out to your Microsoft account team to get details of the partners in your region.
Summary
We hope these suggestions will help your organization be connected, productive, and have a safer workplace return experience. These solutions can be connected or independent with the option to extend it to fit your custom needs, giving your organization a starting point.
The public data presented by various health organizations clarify that the situation is still fragile. We continue to hear great stories from customers about how employees have built resilience, going above and beyond, and adapting in meaningful ways.
This global pandemic is a difficult and emotional time for many. So do take time to reach out to others, build employee resilience, and guard against isolation. Our Remote Work Fun handout can provide way to keep people connected when some have returned to the workplace and others remain remote. Using modern applications like Microsoft Teams can allow us to be productive and invest in our well being.
Brought to you by Dr. Ware, Microsoft Office 365 Silver Partner, Charleston SC.