This article is contributed. See the original author and article here.
Do-it-yourself is now a reality for all Power Users with Microsoft Power Platform and Microsoft Teams. The Maker Culture is here to empower all users in a business so that they can create low-cost solutions to all the problems or issues in their businesses.
The development of technical solutions has changed recently. We are facing important changes in this paradigm. Nowadays, we have tools to secure and guarantee the controlled access to information that should be available only for allowed users from each company. One of these tools is Microsoft 365, that not only secures information, but also empowers our users by providing them with a platform where they can create their own solutions without depending on the IT Department.
The Maker Culture is based on the DIY (Do It Yourself) Concept. By adding all the technical components of the Power Platform, you can allow yourself and your colleagues to automate all those time-consuming processes. Imagine all the solutions that can become a reality by automizing all those repetitive processes that you have to do every day in your department.
Historically, the IT Department has focused its efforts and budget on the operations of the IT systems by guaranteeing infrastructure and software availability for everyone in the company; as well as, coordinating the adoption and execution of new tools, or creating tailored applications as needed, most of which impact directly on their business community. However, some of the processes are not a priority for the IT Department, because such processes are too long and very expensive for the company; yet they are extremely time consuming for the direct users. That is the reason why automation and low-cost solutions created by Power Users become so important for all the staff. If every user in the company has a tool that allows them to automate their daily and repetitive activities, the company and their staff will be able to have more time to do anything else.
Power Platform has come to reduce the time you and your team spend on repetitive tasks. Just imagine that in only one click you are capable of saving all the relevant information about a sale. Furthermore, you can also notify all the members of your team about every detail in just one message through Microsoft Teams and, moreover, you can create a special channel for this purpose so that you can give a follow up to your customers and keep them in the loop. Once again, imagine that everybody is updated in just one click. Wouldn't that be great?
Power Platform is made up of a set of independent tools that you can combine as it fits, according to your needs. These tools are Power BI, Power Apps, Power Automate, and Power Virtual Agents. They are so easy to use and intuitive that they become very friendly to end-users.
Accurate Reports with Power BI
Power BI is a great tool where you can perform Data Analysis and create not only reports, but also dashboards very easily. By integrating Power BI with Microsoft Teams, you can share a Power BI report with your colleagues just by adding a new tab in the channel inside Microsoft Teams.
We all know how important it is to have accurate, updated and 100% reliable data right there in our hands. Not counting on such data, at the precise moment could complicate, or even jeopardize the company strategy. Microsoft Teams and Power BI will keep everything up to date for you and your co-workers.
Creating Mobile Applications Is Faster Than Ever
Power Apps is a tool that enables you to create personalized applications that you can use in both, mobile devices, and desktops. You do not need to write a single line of code, nor to be a programmer to create these applications. The creators of these apps can publish them in the Teams Application Library in an easy way. By doing this, these apps are immediately available among all your collaborators.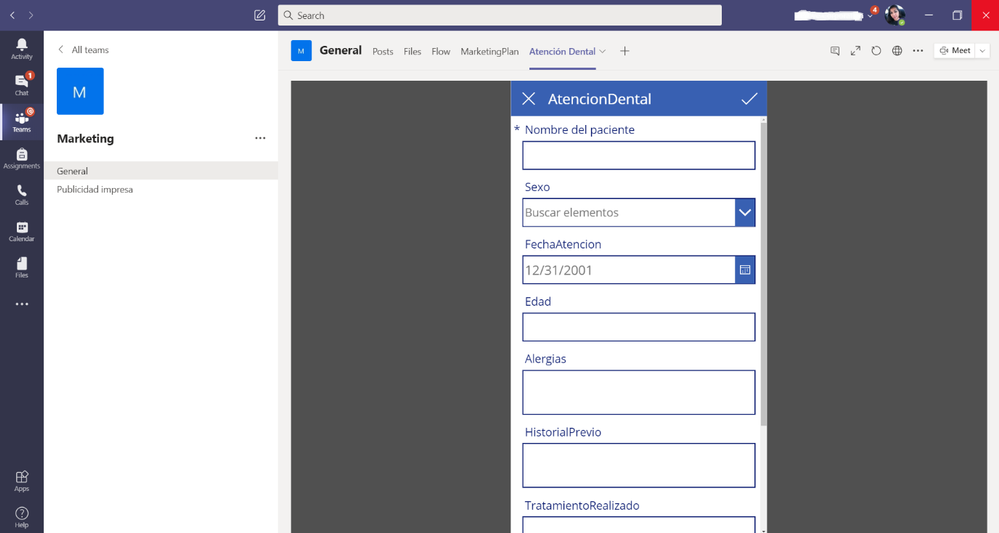 The Power of Simplifying Processes
To reduce the time devoted to getting down to the repetitive actions, you can create workflows with Power Automate. You can either use the different types of flows that are already created and based on templates, or create a brand-new flow starting from zero. You can also integrate applications from other third-party developers. By using this tool, you will be able to draw the attention of all of the people involved in each process to their goal-oriented task.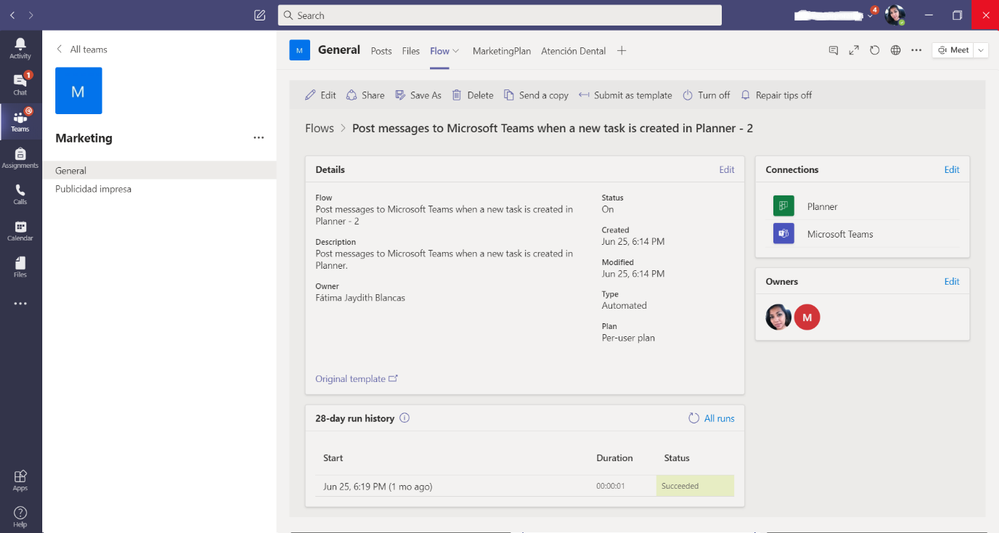 Communication and Closeness for Users
Power Virtual Agents will allow you to integrate powerful chat-bots in very little time. With this application, you will be able to offer a natural conversation to all the users in your organization. Imagine how much precious time it can help your Help Desk Team save when responding to frequently-asked-questions (FAQ) by completing this task in an automated way, using a bot that you created with no code, in a graphical interface, and without needing to have a data scientist or developer right there to help you.
With Power Virtual Agents you can empower your team by allowing them to quickly build bots in minutes, based on natural conversations. These bots can be easily integrated with services and back-end systems out-of-the-box, or through hundreds of custom connectors using Power Automate. This makes it simple to create a bot that does not only respond to the users, but that also takes actions to solve their issues.

Templates Are A Good Beginning
Should you have in mind many of the solutions that you could create, but you do not know where to begin yet, do not worry. In the Power Platform, you will find a huge number of templates that can help you take your first steps into this task. Many of these templates, which are available into Power Platform, were created by other Power users around the world to allow future Power Users benefit from them. This is part of the "Maker Culture".
Users around the world generously contribute with their experience and knowledge by uploading their templates because they know that there are millions of other users out there searching for the same solution.
You should start sharing your ideas with the world and be part of the "Maker Culture".
CONCLUSION
As you can see, to become a Power User, it is not necessary to have any sort of deep technical knowledge, nor sophisticated equipment. What matters here is being able to transform your capabilities, combine your knowledge and share the love you have for creating things.
So, take the Power Platform and build up the solutions that you need. Power Platform and the Maker Culture have the potential to change a company because they facilitate innovation. What really matters here is enjoying the process of being creative.
Brought to you by Dr. Ware, Microsoft Office 365 Silver Partner, Charleston SC.