This article is contributed. See the original author and article here.
Introduction
As Microsoft Cloud Solution Architects, we get asked by Businesses, IT Managers and Cybersecurity Experts to accurately report on the Vulnerabilities and CVEs in our environments. This could be as easy as just deploying Endpoint Protection updates or as advanced as deploying every category and 3rd Party Updates using Microsoft Defender for Endpoint.
Microsoft Defender for Endpoint Vulnerability Reporting with Power BI – involves implementing a cloud-based reporting and visualization solution that brings exposure to active threats into sharp focus. It is intended to provide value to IT Leaders, Stakeholders, Security & Compliance teams, and Operations Teams that are responsible for mitigating CVE documented risks. The reports provide rich drill throughs that enable full understanding of an organization's current data and trends. The data is sourced from Microsoft Defender for Endpoint using API calls, stored in a small serverless Azure SQL instance, and can be accessed from anywhere on any device.
Outcomes​
Dashboard with summary view that shows CVE vulnerability status for the current month (n-0), the previous month (n-1), and all prior.​
Customization options to exclude specific CVEs and classes of vulnerabilities.​
Cloud installation that creates a small Azure serverless SQL instance, an Azure Automation Account, and an Azure Service Principal.
The Report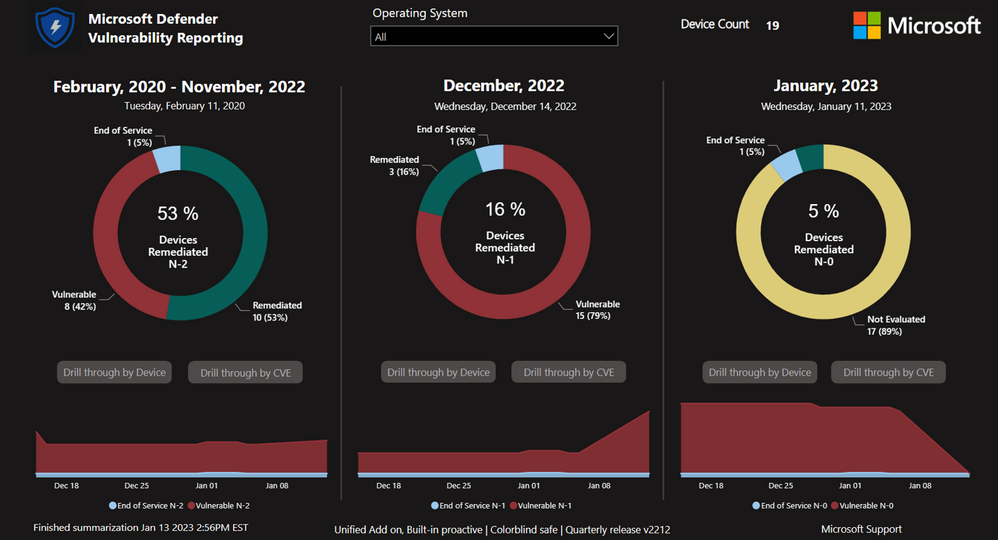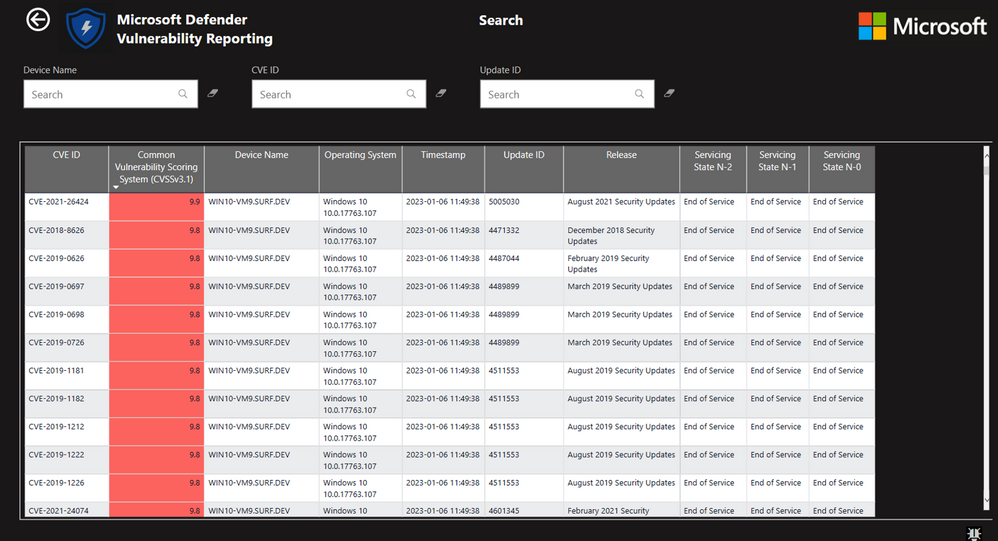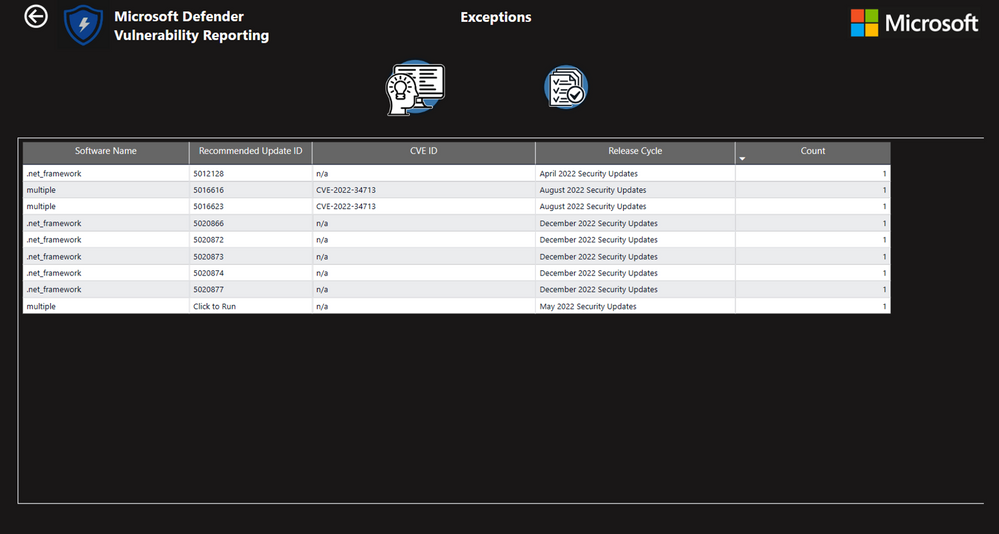 Conclusion
This solution will provide accurate reporting of your Vulnerabilities across the entire Defender for Endpoint Estate.
How do I book this engagement?
If you are a Microsoft Premier or Unified customer, you can reach out to your Customer Success Account Manager (CSAM) for more questions!
Special thanks to the Dev Team:
Chris Sugdinis, Ken Wygant, Michael Schmidt, Nathan Hughes, Shawn Rand, Todd Sterrett, Jon Ellis, Suhail Abdul Salam, Vikram Sahay, Werner Rall
Disclaimer
The sample scripts or Power BI Dashboards are not supported under any Microsoft standard support program or service. The sample scripts or Power BI Dashboards are provided AS IS without warranty of any kind. Microsoft further disclaims all implied warranties including, without limitation, any implied warranties of merchantability or of fitness for a particular purpose. The entire risk arising out of the use or performance of the sample scripts and documentation remains with you. In no event shall Microsoft, its authors, or anyone else involved in the creation, production, or delivery of the scripts or Power BI Dashboards be liable for any damages whatsoever (including, without limitation, damages for loss of business profits, business interruption, loss of business information, or other pecuniary loss) arising out of the use of or inability to use the sample scripts or documentation, even if Microsoft has been advised of the possibility of such damages.
Brought to you by Dr. Ware, Microsoft Office 365 Silver Partner, Charleston SC.