This article is contributed. See the original author and article here.
In today's data-driven world, businesses rely on customer data to fuel their marketing strategies. They need to access, analyze, and act on this data to power personalized experiences that drive return on marketing investments. However, this comes with the challenges of (1) configuring systems like a Customer Data Platform correctly and (2) ensuring high data quality within these systems.
A Gartner research study1 reported that high quality data provides "better leads, better understanding of customers, and better customer relationships" and that "every year, poor quality data costs organizations an average of $12.9 million." This is why it is crucial to understand the current configuration state of your Customer Insights – Data environment and the quality of your data; addressing these challenges is the key to unlocking the most relevant and impactful insights about your customers. 
We recently shipped generative-AI powered features in D365 Customer Insights – Data to help organizations improve data quality and configuration with Copilot so they can empower business users with the best insights to deliver highly personalized customer experiences.
This blog post will share more information on how you can improve data quality and configuration with Copilot. With these features you can:
Review the current status of your Customer Insights – Data environment,
Understand the overall health of your data,
Consult which insights can be generated successfully from your data,
Act on recommendations to unlock more insights.  
To illustrate how these features work, let's see how they can be used to improve the speed and quality of an email marketing campaign to target high lifetime value customers with a 'thank you' discount on their next purchase.  
Quickly know if your jobs have run successfully, and where to go if not with Copilot  
Contoso Coffee recently implemented Customer Insights – Data, which involved integrating source data from various systems and creating unified customer profiles. To ensure that everything was running smoothly, they checked the system settings. Environment Status Summary, a Copilot feature not only highlighted a recent issue, but also used AI to identify where the issue occurred and provided a direct link to investigate. Thanks to this feature, Contoso's IT Team was able to quickly fix a skipped customer profile job that would have otherwise blocked them from generating insights for an upcoming email marketing campaign. With the problem resolved in minutes, they could focus on re-engaging high lifetime value customers in a timely manner. 

Understand your overall data quality with Copilot
Now that Contoso's environment is running smoothly, they want to quickly understand the general health of their data estate.
They review a summary of their data quality on the Home Page by the Data Prep Report, a Copilot feature. This summary includes a data quality grade, which insights are available, the most critical data quality issues, and a link to a detailed data prep report to learn more. Using this summary, Contoso can see that their data quality is medium with a 75% score. They are able to generate some insights, but not the customer lifetime value prediction they want for their email marketing campaign.
If not for this summary, Contoso would have attempted to configure, train, score, and run a customer lifetime value prediction that would have failed completely or had low-grade results. The summary show where their data stands. Thus they don't have to go through the frustration of trying to generate insights based on unusable data.  
See which insights can be generated successfully from your data 
Next, Contoso wants to deep dive the report to understand the next steps to build their email campaign. They click into the full Data Prep Report, which informs them that they can generate churn predictions, segments, or measures based on their current data. However, they want to pursue a customer lifetime value prediction to support their campaign. They filter the report to review the detailed issues and recommendations specific to customer lifetime value and see the issues listed in priority order from highest to lowest severity. The report gives them the targeted, easy-to-digest information they need to know how to proceed.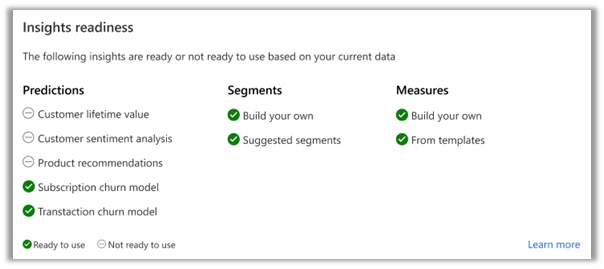 Act on recommendations to unlock more insights 
Finally, Contoso engages their IT Team to act on the detailed issues and recommendations. The IT Team follows the recommendations by taking the suggested actions such as adding more data incorporating products with a sufficient number of purchases. With minimal time, effort, and ambiguity they are able to improve their data and light up the customer lifetime value prediction they want for their marketing campaign. 
Create and use high-impact insights in marketing campaigns 
With the help of Environment Status Summary and Data Prep Report, Contoso Coffee is able to get their Customer Data Platform environment set up correctly and resolve their top data quality issues effectively.  By improving data quality and configuration with Copilot they are able to instantly get rich insights, such as customer lifetime value predictions, which are conveniently available out-of-the box in Customer Insights – Data. This lets their marketing team focus on launching an effective email campaign that provides relevant and in-the-moment offers to their highest value customers to drive business results. Consult our product documentation and start using these AI-powered features today to achieve similar results!
What are some ways to engage further with Customer Insights – Data? 
If you're a new user, or want to test with demo data: Start a trial of Customer Insights 
For more information, reach out via the Customer and Partner Voice channels or in the Dynamics 365 Application Ideas page.  
The Customer Insights forums are also another great way to ask questions and connect with other partners and users.
The post Deliver higher-impact experiences with better data quality and configuration with Copilot appeared first on Microsoft Dynamics 365 Blog.
Brought to you by Dr. Ware, Microsoft Office 365 Silver Partner, Charleston SC.