This article is contributed. See the original author and article here.
Last March, my colleague Danny Guillory and I embarked on an idea based on your feedback—a targeted and interactive web series focused on "real talk" around unified endpoint management. We wanted it to be open to everyone and reasonably transparent. We wanted to foster a live community event where we could not only bring on guests from Microsoft engineering teams, but also (more importantly) engage with you directly through live Q&A!
So far, the level of engagement has been amazing. You've asked questions and we've tried our best to provide answers or find answers when we couldn't. We've been listening to your feedback (really appreciate it!) and taking your ideas to the product teams developing Microsoft Endpoint Manager. Now we continue our monthly web series in 2022 and are innovating the show further by:


Bringing in customers and industry professionals to share their experiences and best practices around Endpoint Manager (capital "E", capital "M") and endpoint management.


Expanding the platforms through which you can consume the show (podcast option, anyone?)


Opening up the ability for you to post questions one week in advance of each show so you can make sure your questions get in.


Exploring new topics as well as revisiting previous topics with more proven and recommended practices alongside out-of-the-box thinking and ideas around innovating endpoint management.


And so, Unpacking Endpoint Management continues—the first Friday of each month—in 2022 here on the Tech Community! Our next episode will be this Friday, February 4th at 8:00 AM Pacific Time!
Remember to follow Wheaton's Law and keep it civil. And finally, don't forget to bookmark https://aka.ms/UnpackingEndpointManagement for a list of future episodes! In addition, you can find a list of previous episodes – now on demand – including the now-famous "Policy Pizza Party" premiere episode.
Have an idea for a future episode? Drop us a comment below!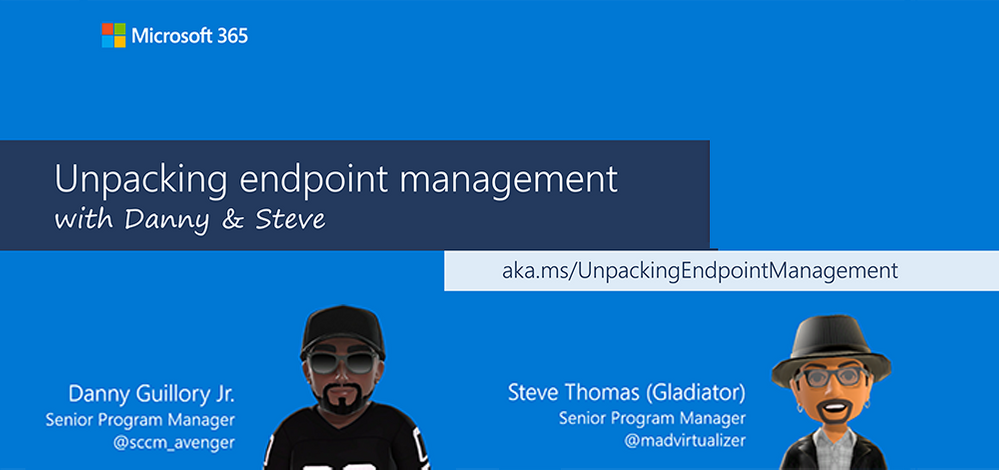 Brought to you by Dr. Ware, Microsoft Office 365 Silver Partner, Charleston SC.