This article is contributed. See the original author and article here.
With Transactional Replication you can replicate execution of the Stored Procedure like this: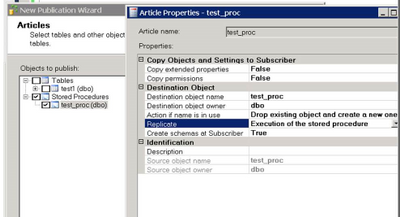 This has several advantages as discussed in this article:
https://docs.microsoft.com/en-us/sql/relational-databases/replication/transactional/publishing-stored-procedure-execution-in-transactional-replication?view=sql-server-ver15
When you enable CDC at the Database level, replication of the stored procedure execution will NOT work. This is By Design. CDC does not support tracking at stored procedure execution level, which means individual rows logged by stored proc execution need to be flagged with REPLICATE bit, which makes it impossible for transactional replication to replicate stored proc execution. As a result, 'stored proc execution' will work only when transactional replication is enabled and CDC is disabled.
Brought to you by Dr. Ware, Microsoft Office 365 Silver Partner, Charleston SC.