This article is contributed. See the original author and article here.
This blog is written by Jeremy Pitman, who shares his journey from foster child, to United States Marine, to working at Microsoft and building a universal strategy that would revolutionize and exponentially the impact nonprofits have in the world.
At five years old, I was all too familiar with movement and change. Disconnection, volatility, and transient were my normal. However, this time was different. I would be shortly leave Portland, Oregon to cross the Cascade Mountain range and reach the small town of Powell Butte, Oregon, a small farming community just outside of Bend. In just a few hours, my two younger siblings and I would run up the stairs with muddy shoes, dogs barking, smiles on our faces and claim our rooms for the last time in our childhood. We were only a few hours away from running up those stairs as we sat in a McDonald's restaurant doing the final handoff to my "forever family."
At the parking lot, Randy, our case worker remains a mysterious hero to me. I don't remember much about him other than he was a genuine and gentle soul that my parents are fond of to this day. I often wonder what his drive home was like after leaving that parking lot. After all the young, fractured lives he personally witnessed and cared for in that very car, I hope that at least for a moment, he had a smile ear-to-ear and knew the difference he made in my life—a difference that shaped the course of a living legacy that lives to this day.
Shattered
We were created to live amongst community and family. To be connected into a group of people, families, and neighbors that care, and selflessly serve one another. The thing about the foster system is that people like Randy are walking into a situation where all of that has been completely shattered and blown apart. At fifteen, my mom got pregnant with me, living in downtown Portland, dropping out of school, couldn't stay off drugs and had an abusive boyfriend. When systemic neglect, disconnect, and abuse takes over it wreaks untethered havoc through kids like me and the lives of all involved. The churn of moving from foster home, to foster home repeatedly is one of the worst things that can happen to a child. There is not a quick and easy remedy to fix this sort of fragmentation. No amount of money, government program, or technology alone will restore brokenness at this level.
Jeremy at four years old
Ironically, although it's people who are the cause, it's also people at the center who are the remedy to bring the fragmented pieces back together. It is people like Randy, my adoptive parents, and the numerous members of the community who supported my parents who are the solution and lifeblood to abundant and flourishing life. Those people who step into the fray and become agents of restorative action, who are then supported by the state, nonprofits, and technology.
Now working at Microsoft, I wonder how we might blend a world of people centered solutions with the benefits that technology provides. How might we enable and empower government, nonprofits, foster care staff, foster and adoptive parents and their supportive communities with the best of innovation to amplify community engagement? What if we could equip the Randy's of the world, with a new vision and strategy to use data and tools to restore shattered lives at a velocity and scale that would make a digital leader like Airbnb, Uber, or Tesla proud? I look at this digital world we all live in, and while there is so much potential, the data, tools, systems, finances, program efficacy measurement and commitment our society demonstrates to the foster care system; sadly, looks a lot more like the shattered pieces and brokenness that riddled my early life.
Please realize, the data in these systems isn't just a number. The data or case number is a human being, a soul, a smiling child that if locked into archaic systems, custom-made solutions, and underfunded programs, that data; that child to put it simply, has a less likely chance to be given the resources they need to live an abundant life – simply because our outdated systems don't integrate well with each other.
Enablement Winds
However, I do see a changing of the winds and hope. On the horizon the possibilities to dramatically increase the effectiveness of our foster and adoptive systems are in reach. We have an opportunity to enable the Randy's with modern data capabilities and intelligence that is widely used by organizations today. When applied correctly using intelligence and data signals, it is not just about identifying a foster or adoptive parent – but identifying the RIGHT foster or adoptive parent.
There are hundreds of different signals that if harnessed – we could surface to the Randy's of the world to inform their decision making. For example, something as simple as which foster parents to reach out to first for a placement. Or, say you have an eight-year-old girl who needs placed – how do we surface foster parents who are accepting girls and maybe have a couple of sisters in the same age range? What if we had data points on the foster parents that told Randy about their last foster experience to prevent burnout? How can we tell if they live near a community that is culturally similar so the parents can easily transit back and forth and keep him or her connected to their culture?
Technology alone won't recommend the perfect foster parent or the perfect match, but we absolutely can equip the decision makers with intelligence that leads to a higher percentage of successful outcomes and far less home churn and placement failures. That blend of intelligence and human experience are the best tools we can bring to our foster systems.
Unlocking Data, Enabling People
In my role working with Tech for Social Impact at Microsoft, I get really excited about something we call the nonprofit Common Data Model, which is the north star to our nonprofit industry strategy. Think of this as a universal language of data labels, or a "Rosetta Stone" translator that data entities are passed through. It's completely open source, free of charge, and meant to be used by any company or organization.
However, don't just see the nonprofit common data model as just a data structure. See it as a child, able to traverse systems and given the best chance, for the best outcomes for their future. See technologies companies coming together to standardize at the data level, while continuing to drive innovation by competing at the solution level. See a future where a nonprofit's own solutions, regardless of the brand, have data elements traversing back and forth to better inform the program decisions being made. And then see that data securely and seamless shared with government systems where nonprofit and government systems work together to provide an updated and 360-degree profile for the constituents they serve.
This is already starting to happen and will revolutionize the nonprofit sector, uniting the effort of separate but like-minded organizations to achieve a common goal. For example:
When Team Rubicon needs 20 volunteers to deploy to a Hurricane struck area in a low-income suburban Houston community, they can have an automated and curated 20-person team based upon experience, availability, number of deployments and proximity to the disaster – and then share critical information bi-laterally with other responding nonprofits, or the local government.
When the program lead for Compassion International in Ghazni province Afghanistan needs to find donors for a new clean water well outside of an all-girls school in a small community, they can securely access a self-serve platform that is served by internal and external data and locate and market to a potential donor who has given to water projects in the past, been to Ghazni province in Afghanistan, and is a father of multiple daughters.
With an organization like HIAS who helps settle refugees in the United states, their staff can be given recommendations on where to home a family based upon, existing community, languages spoken, number of open jobs, cost of living, local funding going towards refugee integration, success, or failure of placements in the past, and much more.
When The Contingent (a visionary and technically savvy nonprofit serving families and foster kids in Oregon) needs to someone to serve a family, they ignite their digital backbone to intelligently curate and mobilize an entire community to serve those families and kids in crisis.
The Greatest Story
What's interesting about adoption is that it isn't just the right thing to do humanely, it's also the right thing to do economically. If you look at my life as an example and consider the return on investment (ROI). Thirty plus years later I have served my country as a seven-year United States Marine Corps combat veteran, hold a postgraduate degree, am an adoptive parent, father to three daughters, current foster parent, husband of 17 years, and active volunteer church and community leader.
United States Marine Corps Sergeant Jeremy Pitman – Afghanistan, Ghazni Province – 2004
For me, there is nothing more beautiful than the story of adoption. Not just because its personal, but because it unequivocally requires love to not just be a feeling, but a selfless action. It is ordinary people of all kinds willing to graft you into their family and say, "I will love you, as I have been loved." For me what makes adoption especially attractive, is that it mirrors the Christian gospel message, that I believe in. With adoption, we are slightly tapping into an even greater story that transcends our comprehension. That while being broken, shattered, and falling short – grace and mercy were shown. Someone stepped in to take on the pain, bring us in and adopt us into a restorative relationship. This – is beauty in action.
I hope and believe that Randy drove away from that McDonald's parking lot with a smile on his face. I hope he always remembers how he restored community, connection and hope for me and my siblings. My gratitude for him, my foster parents, my parents, and people like them is immeasurable. I believe when our society invests and leverages it correctly, technology will exponentially increase the number smiles like the one Randy had driving away from that parking lot, thirty plus years ago.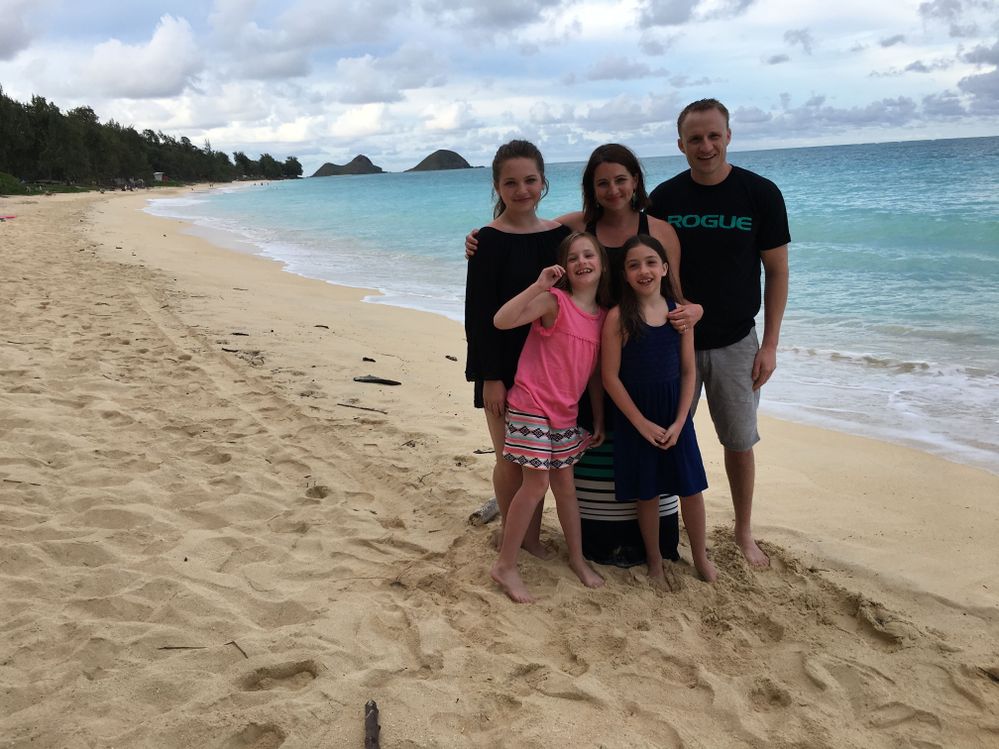 Jeremy with his wife Andrea and three daughters Olivia, Emily and Ava
Brought to you by Dr. Ware, Microsoft Office 365 Silver Partner, Charleston SC.