This article is contributed. See the original author and article here.
Written in collaboration with @Mohit_Kumar (Senior PM CxE Azure Network Security Team)
Current challenges
Recent attacks are a great reminder that security hygiene should be your number one priority. To implement security hygiene, you need visibility across different workloads, and network is a critical area for any infrastructure. Azure Security Center can help you to improve your security hygiene by providing a comprehensive cloud security posture management platform for Azure and Non-Azure workloads. Although Azure Security Center always had network security recommendations and capabilities, it was still not possible to have a centralized visibility of Azure firewall coverage and policies. At Ignite 2021 we announced a new integration with Azure Firewall Manager that enables you to see Azure Firewall coverage status across all networks and to centrally manage Azure Firewall policies.
What's New?
With the integration of Azure Firewall Manager with the Azure Security Center, you can now visualize all-up status of their infrastructure and network security in one place. The Firewall Manager tile in Azure Security Center dashboard, under the Overview blade provides an all-up status of Azure Network Security across all Virtual Networks and Virtual Hubs spread across different regions in Azure. With a single glance, you can see the number of Azure Firewalls, Firewall Policies and Azure regions where Azure Firewalls are deployed.
With a single click on the Firewall Manager tile or on the left-hand navigation pane in the ASC dashboard, you can get to the familiar Azure Firewall Manager dashboard to drill down deeper into different aspects of Network Security.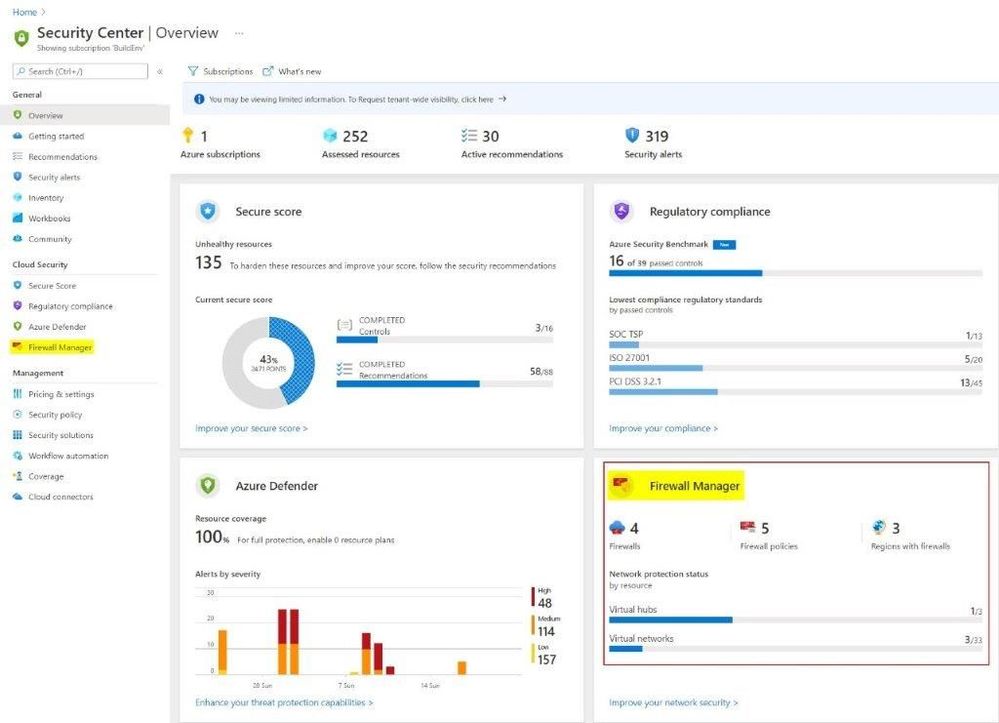 Advantages of this Integration
Prior to this integration, to determine which Virtual Networks (VNETs) and Virtual Hubs had an Azure Firewall deployed or which VNETs were peered with another VNET with an Azure Firewall in it or to find out the number of Firewall Policies they had, you had to look through multiple dashboards/blades in the Azure Firewall Manager.
With the integration of Azure Firewall Manager with Azure Security Center, you will now have a single pane of glass view of their infrastructure and network security. You will be able to see the status of Network Security from the Azure Security Center directly. You no longer have to go into 2 different dashboards: in ASC for infrastructure security and in Firewall Manager for network security.
Additional Resources
To learn more about Azure Firewall Manager, visit: https://docs.microsoft.com/en-us/azure/firewall-manager
To learn more about Azure Security Center, visit: https://aka.ms/ascninja
Watch a demonstration of Azure Security Center integration with Azure Firewall Manager in this episode of Azure Security Center in the Field – Out of Band Edition
Brought to you by Dr. Ware, Microsoft Office 365 Silver Partner, Charleston SC.