This article is contributed. See the original author and article here.
In September 2020, we introduced Azure Automanage for virtual machines (VMs) in public preview, a service that helps customers reduce day-to-day management tasks in various areas across the entire lifecycle of their VMs by automatically implementing VM management best practices as defined in the Microsoft Cloud Adoption Framework for Azure. With a few simple clicks, Azure Automanage automates management of key best practices services such as backup, update management, monitoring, security, OS baselines, and more. Today, we're excited to share some updates for Azure Automanage to further simplify your IT operations.
Azure Automanage now supports Linux
We are excited to share that Azure Automanage, previously only available on Windows Server, is now in public preview for Linux VMs. Azure Automanage now supports CentOS, RHEL, Ubuntu and SLES, with more distributions and versions planned to be supported in the future. More details on Linux distribution and version support are available in our public documentation.
There are three differences to note for Automanage on Linux VMs:


Microsoft Antimalware is not supported on Linux VMs so you will have to bring your own antimalware solution. We are working to add this support in the future.


Guest Configuration and the Azure baseline behavior are different for Linux VMs. Automanage will enable Guest Configuration and onboard your Linux VMs to the Azure Linux OS Baseline, but the baseline will be enabled in audit mode only. Noncompliance will not be automatically remediated, but instead is able to be reviewed within Guest Assignments in the Azure portal. More details on Guest Configuration and the Azure Linux OS Baseline are available in our public documentation.


The hotpatch feature is not available for Linux VMs. More details in the Windows Server section below.



You can deploy Automanage on your Linux and Window Server VMs using the Azure portal, the existing , or using an Azure Resource Manager (ARM) template. Our various deployment options allow for easy deployment at the scale and scope that works for you. Get started today with Automanage in the Azure portal.
Azure Automanage for Windows Server
We are also excited to introduce a brand-new hotpatch capability unique to Azure Automanage for Windows Server. This new Automanage capability allows updates to be installed on your new without needing to reboot, helping keep your VM up to date and secure while minimizing workload impact.
With Azure Automanage for Windows Server, you receive all the base management benefits – automatic onboarding, configuration, and management of services such as Azure Backup, Azure Security Center, Azure VM Insights Monitoring, Azure Update Management, and more – as well as the uptime benefits of hotpatching, all bundled into one simple user experience.
Azure Automanage for Windows Server is available when you create a new Windows Server VM in the Azure portal. Use the "Microsoft Server Operating Systems Preview" offer in the marketplace.

Within the Microsoft Server Operating Systems Preview offer, select the "Windows Server 2019 Datacenter: Azure Edition" image, and Automanage will be automatically enabled for you when you create the VM.

Get started with Azure Automanage for Windows Server in the Azure portal.
New Azure Automanage portal experiences
VM Create portal experience
Up until now, you could only enable Automanage on an existing VM, either through the Automanage blade in the portal, or through Azure Policy, or an ARM template. We're excited to share that Automanage is now available as an option within the VM Create workflow, meaning that now you can create a VM with Automanage automatically enabled. Now you can truly point-click-set-and-forget about the overhead of VM management for your VM's entire lifecycle, from the very beginning when it is created to when you no longer need it.
You can find Automanage under the Management tab in the VM Create flow:

Note that this experience is currently not enabled by default. To access this experience, use the link at the end of this blog post.
VM Management portal experience
You can now also access Automanage directly from your VM's table of contents on the left. Simply scroll down to the Operations section and you will be able to view Automanage details of your VM if Automanage is enabled.

If Automanage is not enabled, you will be given an option to enable Automanage directly in the portal, or visit the Automanage blade for more details.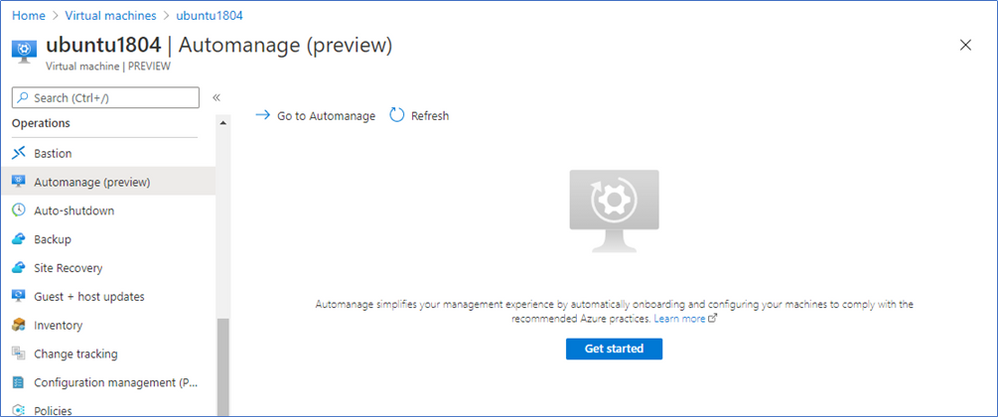 Enable Automanage updated portal experience
We have updated the experience of enabling Automanage on an existing VM to make it easier for you to understand what choices you have to choose from. The Machines selection remains unchanged, and you may select either Windows Server or Linux VMs from the pane that pops up when you click Select machines. You may also view eligibility information at that time for your VMs.
The Configuration selection has been streamlined to better reflect the environment in which you may be running your VMs. Click on Compare environments if you want to compare the services offered in Dev/Test and Production.
We have moved Configuration preferences to the main enable workflow, allowing you to easily tweak the Dev/Test or Prod Configurations to meet your requirements. The list of adjustable configuration preferences has also increased: you may now disable Antimalware and save that as a new Configuration preference if that better suits your needs.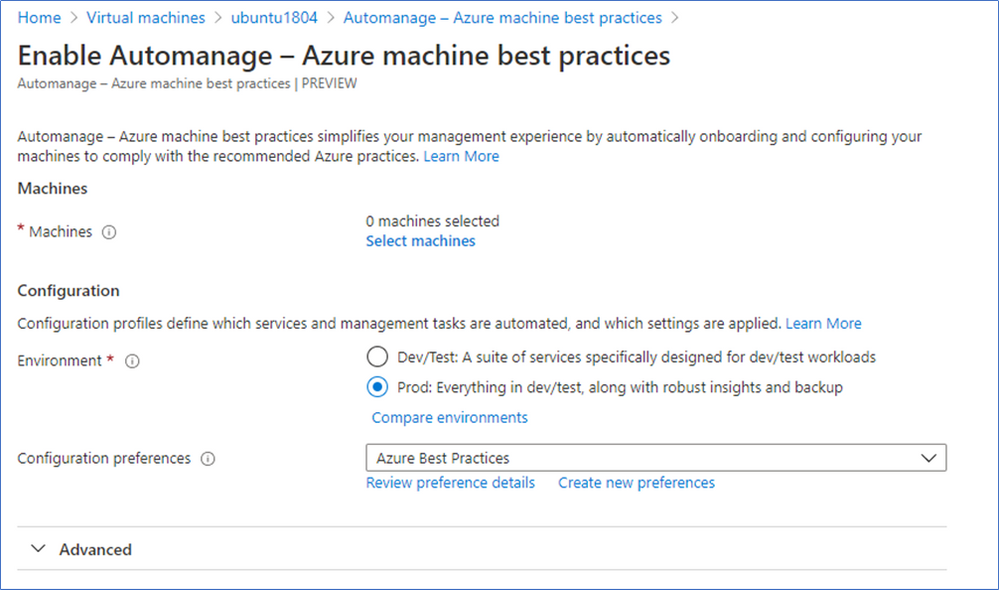 To see the portal updates for yourself, visit the Azure portal.
Get started
Get started with Azure Automanage in the Azure portal here.
Learn More
General documentation
https://aka.ms/automanage-docs
Linux preview documentation
https://aka.ms/amvmlinuxpreview
Automanage onboarding using the portal
https://aka.ms/AutomanagePortal
Automanage onboarding using Azure Policy
https://aka.ms/AutomanagePolicy
Automanage FAQ
Brought to you by Dr. Ware, Microsoft Office 365 Silver Partner, Charleston SC.