This article is contributed. See the original author and article here.
The Automate tab is growing beyond your web browser and onto your desktop! Starting today, the Automate tab is now available for all eligible users in Excel for Windows and Mac. Previously, this tab was only available in Excel on the web. 
With this new tab, create and modify scripts that automate your repetitive tasks using Office Scripts. Enhance your workbook by connecting popular applications like Microsoft Teams or SharePoint to build workflows with Power Automate. Combine these productivity technologies to have Power Automate schedule your Office Script. This tab represents the first stage of uniting automation solutions across platforms. We're eager to hear your feedback! 
How it works 
Here's how to view and run scripts. 



Open any workbook in Excel for Windows or for Mac and select the 

Automate 

tab. 

 



Select a script from the gallery or from the 

All Scripts

 task pane. 

 




Click the 

Run 

button on the script's detail page to run the script.  

 




 





Here's how to make a new script.  



Open any workbook in Excel for Windows or for Mac and navigate to the 

Automate

 tab. All the scripts in your workbook are available

,

as well as our samples.




Make your own script by selecting the 

New Script

 button. 

 




 






To modify an existing script, select 

Edit

 on the script's details page, or select the pencil icon by hovering over any script in the 

All Scripts 

task pane.

 



Follow these steps to connect your automations to other applications. 



In Excel on the web, for Windows

,

or for Mac, open an Excel workbook. 

 




Select

Automate > Automate a Task

. 

 




 





Select the template you want to use. 

 




 





Sign in, provide the required information, and then select the

Create

button.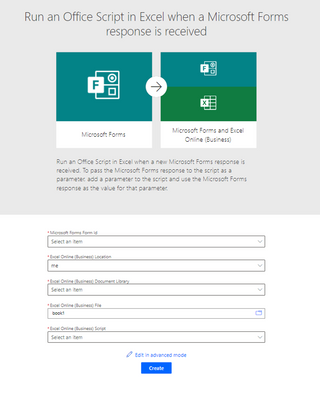 Learn more 
Want to get started with streamlining repetitive tasks? Check out our documentation below: 
Share your feedback   
We'd love to hear your feedback as you try out our feature! Give us feedback through the Feedback button located in the Help tab. Include the phrase "Office Scripts" or "Power Automate" to ensure the feedback gets properly routed to our team!  
Brought to you by Dr. Ware, Microsoft Office 365 Silver Partner, Charleston SC.