This article is contributed. See the original author and article here.
Despite being an all-digital conference, this year's Microsoft Ignite was just as collaborative as our in-person conferences from years past. There were plenty of opportunities for participants to connect with our team, from live Q&A chats in our digital breakouts to dedicated Ask The Expert sessions—and we loved hearing all your ideas, concerns, and questions. We've taken a lot of your comments straight to our engineering colleagues for development consideration. As for your questions, this post answers some of the most popular asks.
In case you missed the conference, check out our quick guide to find the sessions related to task management. Here are a couple of highlights:
Now onwards to the questions!
When will Tasks in Microsoft Teams become generally available? And isn't the app name changing?
Whoever asked this has a crystal ball. We just announced that Tasks in Teams is now 100% rolled out on desktop and web to everyone with a Microsoft 365 subscription across all non-government tenants last week. Our announcement blog has more information about the name change—hint: the desktop app name is changing to Tasks by Planner and To Do—and update about the mobile app.
Is Tasks in Teams coming for Microsoft government cloud offerings?
It is, and GCC is first in line. Tasks in Teams will be available for GCC in the coming months, with GCC High and DoD following after.
Is Planner getting deprecated?
Absolutely not. Planner is an integral part of the Tasks in Microsoft 365 experience and powers a significant portion of Tasks in Teams. But we can understand why our customers would wonder about the standalone web app. Rest assured, Planner isn't going anywhere, and we're continuing to invest heavily in innovative enhancements. We're actually gearing up for several exciting releases over the coming months, so keep visiting our Tech Community Blogs site to stay up to date.
Can you create a task from a Teams message?
Not yet—but soon! We're super excited about this feature, which we previewed at Ignite and will formally announce on our Tech Community Blogs site before the end of the year. Stay tuned!
What's the integration plan for Planner and Microsoft Project for the web?
Planner and Project for the web integration is one of the top requests from our users. We hear you. Our goal is to provide more concrete visibility to you next year through the Microsoft 365 Public Roadmap and Tech Community. Speaking of Tech Community, please be sure to visit the Project blog page for the latest news, including the upcoming rollout of Project for the web in Teams.
What's the integration plan for Planner and Microsoft Lists?
We are very excited about Lists, a new way to track information and organize your work across Microsoft 365. If this is your first time hearing about Lists, check out this short (and fun) overview video. Like the Project for the web integration, there are no concrete plans for integrating Planner and Lists yet—but it's fast becoming a popular ask among our customers. For now, you can attach a Lists item as a link on a Planner task card.
Do flagged emails in Microsoft Outlook show up as a task in Microsoft To Do?
They sure do. Flagged Outlook emails appear as tasks in To Do once you turn on the feature, which you can do from Settings in Outlook. Read our support article for more information about this feature.
Is the My Day list from To Do coming to Tasks in Teams?
We definitely have plans to bring the My Day list into Tasks in Teams, but there's currently no timeline for its release.
Does Tasks in Teams sync with Outlook?
It's important to understand that Tasks in Teams is powered by Planner and To Do, while the new tasks experience in Outlook is powered by To Do. Therefore, tasks created in Outlook show up in To Do, which means they also show up in Tasks in Teams in most cases. You can create a task in Outlook in a variety of ways, including flagging emails, dragging emails into the My Day pane, and highlighting text in an email. Currently, tasks created from flagged emails do not appear in Tasks in Teams by default—but we're working on it and will share more information when it's available. Tasks from dragging emails and highlighting text, which are only available in Outlook for the web, do show up in Tasks in Teams.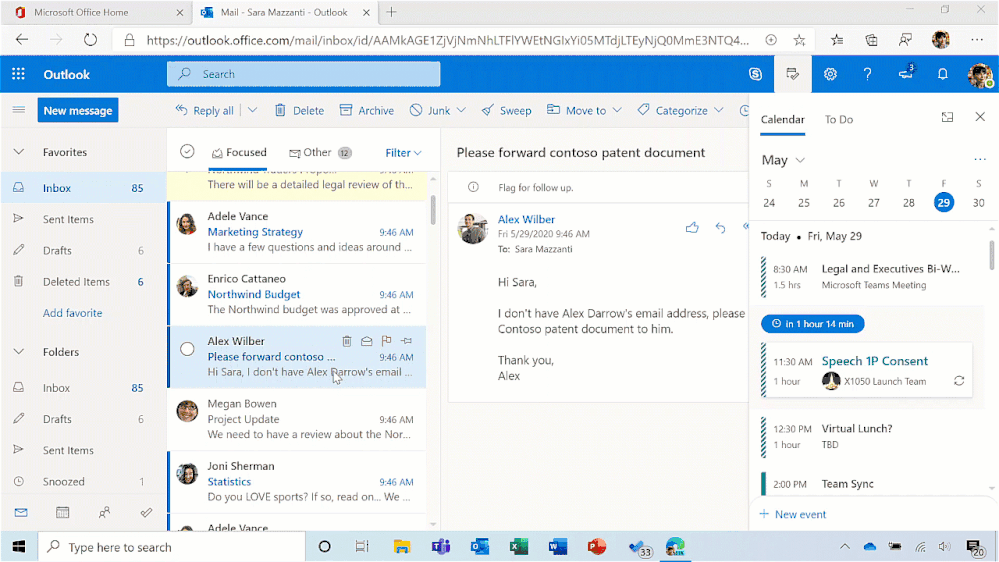 Can you automatically add Planner tasks that are scheduled for today in To Do?

Your Planner tasks are automatically added to the Assigned to me list in To Do and will show up in My Day suggestions based on the due date.
Where do tasks assigned using @mentions in Office docs show up?
Currently, tasks assigned through Word or Excel are only accessible through the comment in which they are assigned. Eventually, those tasks will surface in Planner and Tasks in Teams, but there's no set schedule for that update.
Can you clone Planner plans?
Yes—and you've been able to for a while. Cloning or copying a plan had been a major ask since the inception of Planner and we resolved it with the Copy plan feature in March 2019. You can read the announcement blog post here and a follow-up post here, which announces the release of copy plan to an existing group or team. This enables you to create your own plan templates and copy those templates as needed.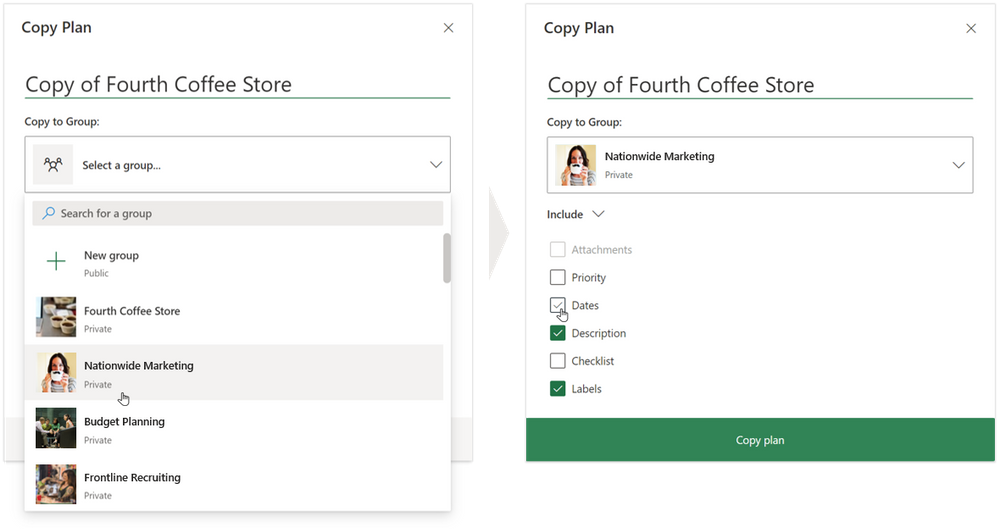 To wrap up this post, we'd like to share the story of how a florist in Miami keep her small business up and running even in the midst of the pandemic with the help of Microsoft 365, including Planner in Teams for managing tasks.
We're committed to continuously enhancing the Tasks in Microsoft 365 experience, and your questions and ideas from Ignite will help us get there. So, keep sending us your feedback on our various UserVoice sites (Teams, Outlook, Planner, To Do, Word, Excel, PowerPoint). and checking the Tech Community Blogs site for all the latest news and updates.
Brought to you by Dr. Ware, Microsoft Office 365 Silver Partner, Charleston SC.