This article is contributed. See the original author and article here.
Tasks are the building blocks of our work. They help us keep track of what to do now and what needs to be done next. But tasks are hard to manage, especially when you have to flip between different places to see them all.
That's why we're thrilled to begin rolling out Tasks in Microsoft Teams, a coherent task management experience in your hub for teamwork. The new Tasks experience brings together Microsoft Planner and Microsoft To Do into Teams, giving you one place to manage your team plans and individual tasks.
We're starting to roll out Tasks in Teams on desktop today to a small group of users, and that rollout will continue through September. The Tasks in Teams mobile experience will not be available until the desktop rollout is complete.
As a reminder from our announcement blog during Ignite last year, the Tasks in Teams experience comes as an app, which shows both Planner and To Do tasks, and as a tab, which is added to individual Teams channels and only shows Planner tasks. That blog also reiterated our commitment to Planner—and that's still true today. We're as dedicated to Planner as ever; in fact, there's never been more momentum behind Planner because it powers key elements of the Tasks in Teams experience.
To get the Tasks in Teams app when it's available, click the ellipses in the Teams left siderail and select Planner. No, that's not a typo: as we roll out the new Planner experience in Teams desktop, the app name will initially remain Planner. It will then briefly change to Tasks by Planner and To Do. Finally, it'll be simplified to Tasks. On Teams mobile clients, users will always see the app name as Tasks.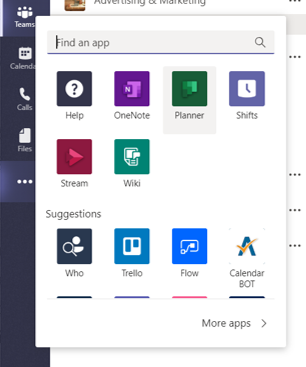 The above is true for the tab, too, which you can add by selecting the "+" icon at the top of a Teams channel.
We've devised this naming sequence on purpose to alleviate confusion among customers who miss our communications about this release. Nothing about the app's functionality will change during this process; it only affects the name. Here's a graphical representation of the sequence for reference.
If you're not seeing the new Tasks experience after adding the app, hang tight. We're enabling Tasks in Teams for customers little by little, and you will see it in the coming weeks. When it does appear, check out this support article first for tips on getting started. Government tenants will see the app and all its name changes but will not get the updated Tasks in Teams experience during this rollout. We'll be in touch through Message Center when it becomes available.
We've made some exciting additions to the Tasks in Teams experience since the Ignite announcement. Here's short summary of those changes, which are covered more extensively on our dedicated Microsoft Docs page.
Task publishing lets companies create tasks at the corporate level and push those tasks to targeted teams across their Firstline Workforce. For example, leadership for a nationwide retailer can create tasks for an upcoming promotional campaign, send that list to all affected store locations, and then track progress against the assigned tasks. Store managers can easily assign tasks to individual employees, while Firstline Workers can see a simple prioritized list of those tasks on their personal or company-issued mobile device. As of now, task publishing is only available in private preview. If you're interested in getting the private preview of task publishing for your organization, please fill out this form to nominate your company.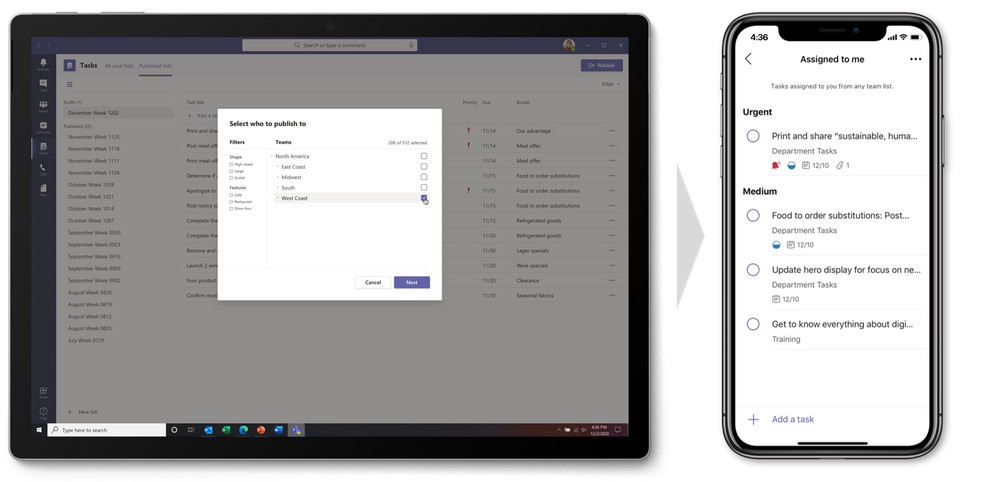 Tasks in Teams is available in Teams desktop, web, and mobile clients. If Tasks in Teams is added in Teams on desktop, it'll appear in the other two environments, too. The exception is guest users, who can access the Tasks tab but will only see the app on mobile.
Both the Tasks in Teams app and tab include four views: the traditional Board, Charts, and Schedule views from Planner, plus the new Lists view. All four are available in the Teams desktop and web experiences, but only the List view is available on mobile.
The new List view also comes with a new capability: edit multiple tasks at once. In both the desktop and web experiences, instead of making the same edits to each task individually, you can edit all affected tasks simultaneously. This feature supports changes for progress, priority, due date, and more depending on what task list you're looking at.
If you're an IT admin, the Docs page includes steps for enabling or disabling Tasks in Teams for either your entire organization or specific users; setting a policy to automatically pin the Tasks app to the Teams siderail; and, hiding My tasks lists for users.
You can use Graph API and Power Automate integrations for To Do and Planner to surface tasks created in other apps in Tasks in Teams. You can read more about these APIs on our respective Planner and To Do pages. Note, the existing To Do Graph API will soon get updated to a new one, which is currently in private preview. For Power Automate, you can easily build workflows that create tasks based on certain criteria (e.g., a task is created when a form is submitted with a specific response). There are lots of premade Power Automate templates for To Do and Planner here, just search for the product name.
Tasks in Teams is the first major step in building a more connected task management experience across Microsoft 365 apps. Outlook already syncs all tasks to To Do where you can manage more task details, and Office will soon support task assignments from @mentions in Word, Excel, and PowerPoint.
We're calling this entire effort Tasks in Microsoft 365, and it revolves around three core principles: coherence, intelligence, and integration. It's part of a larger collaborative work management initiative that we just launched last week at Microsoft Inspire. You can watch the 30-minute presentation video about that effort here.
To stay current on our progress, keep checking the Planner Tech Community. We also invite you to check out our new Tasks in Microsoft 365 webpage, where you can find more information and announcements about Microsoft's connected tasks experience. If you have ideas or suggestions for improving this experience, drop us a line on Planner UserVoice.
AMA happening now! We're hosting our second hour-long Ask Microsoft Anything (AMA) of the year right now, Tuesday, July 28 at 12 p.m. EST/9 a.m. PST. All the session details are here. Our last AMA was in April and the summary notes from that session are here. AMAs are your opportunity to engage with members of the Microsoft Planner team to ask us… well, anything. Come join us!
Brought to you by Dr. Ware, Microsoft Office 365 Silver Partner, Charleston SC.