This article is contributed. See the original author and article here.
We are pleased to announce the release of the Project and Roadmap apps in Microsoft Teams. Connecting directly to Project from within Teams has been one of the major requests from Project users, and these apps will make it easy to manage, track, and collaborate on all aspects of a team's project in one place. This brings content and conversation side-by-side in one integrated experience.
Team members can create new projects or roadmaps, or open existing ones, in Microsoft Teams and keep communications within the context of work and collaboration within Office 365. The Project and Roadmap apps can be added as tabs in any channel by selecting the "+" icon at the top of a channel. Anyone who has access to that channel can also access that tab.
Microsoft Teams ♥ Microsoft Project
Today, each one of us has become a project manager. To stay on top of the ever-shifting requirements of our jobs, we need tools that are simple yet robust enough to support any requirement, flexible enough to support any project type, and, most importantly, easy enough to collaborate with anyone no matter where they are or what device they are using.
The Project app in Teams helps you tackle anything from small projects to large initiatives and is designed for just about any role, skill level, or project type. You can access the features and capabilities, of the Project for the web experience such as the automated scheduling engine to set effort, duration, and resources from inside Teams.
Microsoft Teams ♥ Roadmap
If your group runs multiple projects at the same time and needs visibility across all the work being done, Roadmap provides a visual and interactive way to connect these projects and show their status in a transparent way across the organization.
The Roadmap – Microsoft Project app will give you a cross-functional, big picture view of the work that is most important to you. You can create a consolidated timeline view of projects from Microsoft Project and Azure Boards and plan larger initiatives across all of them – complete with key dates and milestones – so that all the work is visible.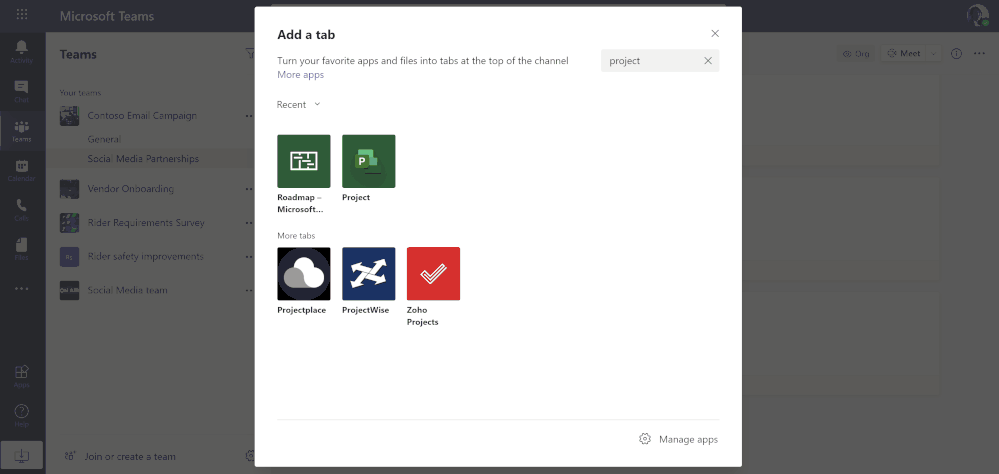 Note: All Office 365 users will be able to view Projects/Roadmaps shared within Teams in a read-only mode. Users with appropriate Project for the Web licenses to create and edit Projects/Roadmaps will be able to do the same from within Teams as well. Learn more about Project for the Web licenses here.
If you want to learn more, see Use Project or Roadmap in Microsoft Teams. Next, notifications in Teams will be added so that users can see what's important to them within Project and Roadmap in their team's activity feed.
We love hearing from you. Please tell us how we can improve your Project experience in Teams through our UserVoice site. You can also leave a comment below to engage with us directly to provide feedback.
Keep checking our Tech Community site for the latest feature releases and Project news.
Brought to you by Dr. Ware, Microsoft Office 365 Silver Partner, Charleston SC.