This article is contributed. See the original author and article here.
Power BI is the Magic Quadrant Leader among analytics and business intelligence platforms and over 200,000 customers around the world use Power BI and bring 40 petabytes of data into Power BI every month 1 and now, we're building on that momentum with Power BI in Microsoft Search.
Microsoft Search transforms the way people in your organization find the info they need—no matter where you are in your cloud journey. Either integrated with Microsoft 365 or as a standalone solution, Microsoft Search is a secure, easily managed, enterprise search experience that works across all of your applications and services to deliver more relevant search results and increase productivity.
With Power BI search in Microsoft Search we're making it easier to find Power BI artifacts such as reports and dashboards, by expanding the ability to search across these artifacts in your favorite productivity apps including , Office.com, Microsoft Bing, and the search box in .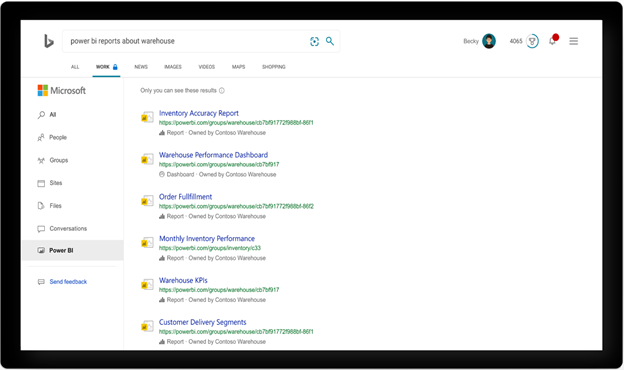 Power BI search in Microsoft Bing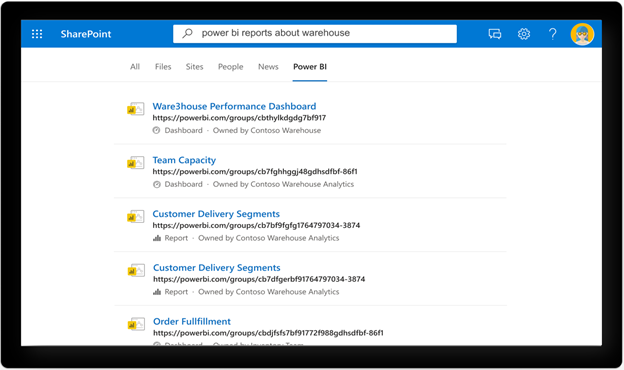 Power BI search in SharePoint
Power BI search expands the tenant-wide search scope through a built-in powerful search experience with Power BI content, to intelligently help search user to find the most work relevant information more productively.


Built-in experience: Seamless out-of-box search experience to easily and quickly find Power BI dashboard and report across your organization without switching back and forth between search portal and Power BI site.


Richer content: Modernized search experience to present Power BI data in the most useful way. Enrich Power BI search content beyond just hyperlinks to include more key information, such as type, owner.


Maximize access to information with data protection: Show the search result with relevant Power BI data that's authenticated to you based on your workplace identity.


Unified search experience : Cohesive and coherent search experience to incorporate richer Power BI search content in bing.com, office.com, sharepoint.com. Search wherever you want to and get the consistent experience.


FaQ
Can I disable Power BI search ?
Power BI search is enabled for your organization by default. Your organizations' Power BI admin can disable Power BI search in the Power BI admin portal if desired. In the Power BI admin portal, navigate to Tenant settings and then disable the Use global search for Power BI. To learn more refer to Administering Power BI in the admin portal.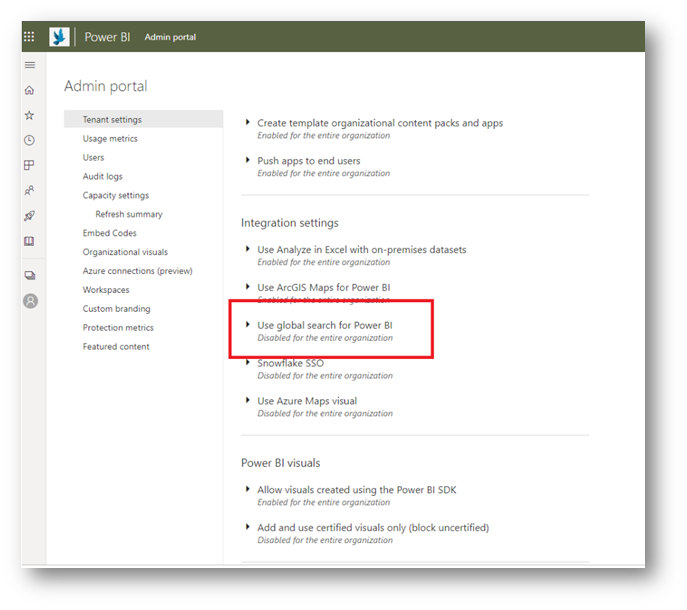 Power BI admin
1 Source https://powerbi.microsoft.com/en-us/blog/microsoft-named-a-leader-in-gartners-2020-magic-quadrant-fo…
Brought to you by Dr. Ware, Microsoft Office 365 Silver Partner, Charleston SC.