This article is contributed. See the original author and article here.
Looking to connect with other women and allies in the cybersecurity space? Check out the new "Women in Cybersecurity" network group on the Community Mentors app!
Today, we've officially launched a brand new Women in Cybersecurity network group on our Community Mentors app. This new group will allow members to connect on cybersecurity topics, share about their career journeys, tips for succeeding in cybersecurity roles and more!
Please welcome Microsoft employee Ryen Macababbad, a strong mentorship advocate who focuses on identity and security in the Cybersecurity Solutions Group – Ryen will serve as the main facilitator for this new group. More about Ryen below:
Meet Ryen Macababbad who leads the new Women in Cybersecurity network group!
Alt text:
Ryen manages a diverse team of highly-skilled individuals focused on helping customers integrate applications into Azure AD and implement the Identity solutions tied to them. Prior to joining CSG, Ryen held roles in Microsoft Engineering, in both Microsoft Defender Advanced Threat Protection and Azure Active Directory product groups. Ryen is also a US Army Veteran who served 8 years active duty, including two combat tours overseas, in Iraq and Afghanistan, plus 6 years in the US Army Reserves before she ended her service as a Military Intelligence Systems Maintenance Sergeant.
Ryen is a passionate mentor and advocate for veterans, women, and underrepresented populations in technology.
To quote Ann Johnson, Corporate Vice President of Cybersecurity Solutions, mentorship is key to bringing more women in cybersecurity. She continues, "for many that want to get their foot in the door, they need an encouraging and constructive network to help them grow." This group will aim to help serve as a catalyst for this change as it is open to the public, allows for group interactions instead of solely 1:1 connections and as a result, everyone can benefit from shared learnings.
Ready to dive in? Here's how you can join the group: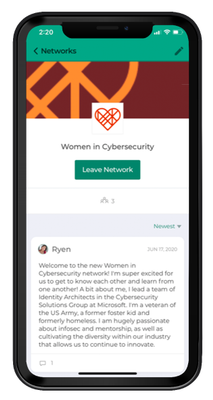 Steps to join:
Go to

https://aka.ms/communitymentors

and download our mentorship app – available on both iOS and Android

Follow the steps to complete your registration (Note: You will need to be a registered member of the Microsoft Humans of IT Community to access the app)

Once you're in the app, tap on "Community" (bottom of screen)

>

"Networks" (top right hand of screen) > Hit the "Join" button on the "Women in Cybersecurity" network group page

and you're in!
We hope you will find this new feature to connect with topic-based groups beneficial and meaningful.
Other network groups that we currently offer include:
Have ideas on new features you'd like to see, or experiences to add? Submit your ideas here, or feel free to leave a comment on the community page.
Happy connecting – we look forward to reading your stories and helping you grow in your journey!
#HumansofIT
#TechforGood
#WomeninCybersecurity
Brought to you by Dr. Ware, Microsoft Office 365 Silver Partner, Charleston SC.