This article is contributed. See the original author and article here.
Introduction
This is John Barbare and I am a Sr Premier Field Engineer at Microsoft focusing on all things in the Cybersecurity space. In this guide and tutorial, I will walk you through the steps of changing you background and adding image files to the library to have your own customized backgrounds when presenting using the Microsoft Teams video option.

Once you follow the steps and import the images, you will be ready to impress and show off your new backgrounds in the next meeting you present. Your imagination will have your co-workers wanting to know how exactly you had that "awesome and cool" background in the last video meeting. I will also go into details of how Microsoft secures Teams as I have lots of friends and family asking which is the best video collaboration application to use. Without further hesitation, let's get started.
Adding the Images and accessing the folder
Let's go ahead and access the folder by going to the start menu and typing run and then selecting it to open or by right clicking on the start menu and selecting "Run".
Type the following folder location in the "Run" window and then select ok.
File Path: %APPDATA%MicrosoftTeamsBackgroundsUploads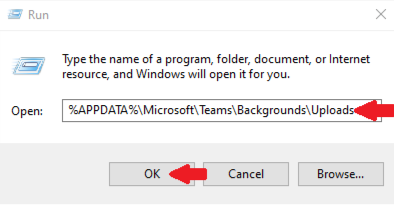 Once the folder opens, upload an image for your new background in Microsoft Teams.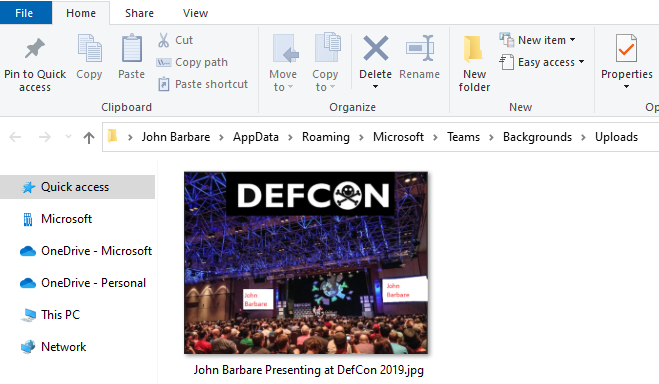 Start uploading any type of image file that is supportable (I use .jpg and .png files) and make sure the image shows up in the folder.
Once all the files have been uploaded for your new background, go ahead and close out of Microsoft Teams and go into Task Manager and make sure it has been completely closed and End Task.

Once all instances of Microsoft Teams have been closed, go ahead and open back up Microsoft Teams on your Desktop. To test if it works, create a Microsoft Teams Video meeting/chat, or start a video chat with a co-worker. Once connected, click on the "Show Background Effects". This will bring up all your images you placed in the folder along with the default ones.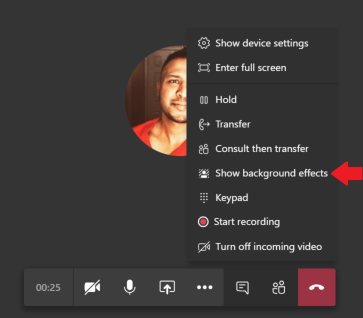 The image you placed in the folder will show up with the other images but will be below the rest of the default images.
Go ahead and select the new image and select "Apply and turn on video".
This concludes the tutorial of how to change your Microsoft Teams background using the video option. You will now have your new background with the picture of your choosing. Feel free to upload more pictures and change them whenever you have video meetings.
Security
Now that we have seen how to change your background in Microsoft Teams during a video call, let's look at the security features and compliance that Microsoft Teams has built into the video and chat collaboration platform. Microsoft Teams is part of the Microsoft 365 (M365) service which follows all the security best practices and procedures that Microsoft has to offer. This includes the service-level security through defense-in-depth, customer controls within the service, security hardening, and operational best practices. When you log on and start a meeting, rest assured your network connection and communication is encrypted by default. The way Microsoft went about this approach was to require all servers to use certificates and by requiring OAUTH, TLS, Secure Real-Time Transport Protocol (SRTP), and other industry-standard encryption techniques, including 256-bit Advanced Encryption Standard (AES) encryption. To sum all this up, all Microsoft Teams data is protected on the network while you are having a business or personal video chat with a work colleague or friend.
Microsoft Cloud App Security
To see more of what is under the hood in terms of security, I like to check every single application using Microsoft Cloud App Security (MCAS) before I install it on my work, personal, and even my lab machines. MCAS is a multimode Cloud Access Security Broker (CASB) which provides rich visibility, control over data travel, and sophisticated analytics to identify and combat cyberthreats across all cloud services. MCAS lets me look at applications that have more than 80 risk factors, as well as leverage their security and compliance information submitted in Cloud Security Alliance and Security Trust Assurance and Risk or better known as CSA STAR.
The first thing I do is I log into https://www.portal.cloudappsecurity.com/ with my credentials and using two factor authentication (for licensing reference this link). Once authenticated, I click on the dropdown next to "Discover" on the left side and then select "Cloud app catalog".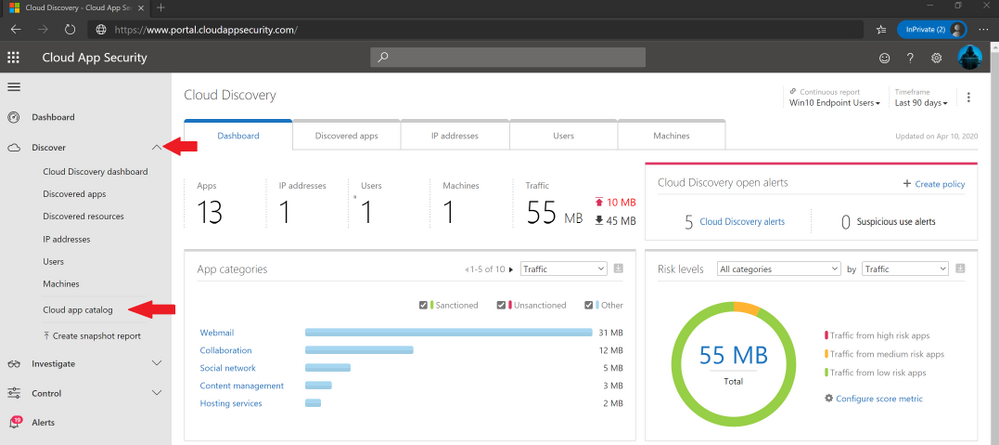 This will bring you to the Cloud app catalog page where you can search for every application that exists that Microsoft has and a plethora of other 3rd party applications.
Cloud app catalog
When the Cloud app catalog page is displayed, type "Teams" inside the "Apps" box and hit the enter key. Notice that different apps with the word Teams will be displayed.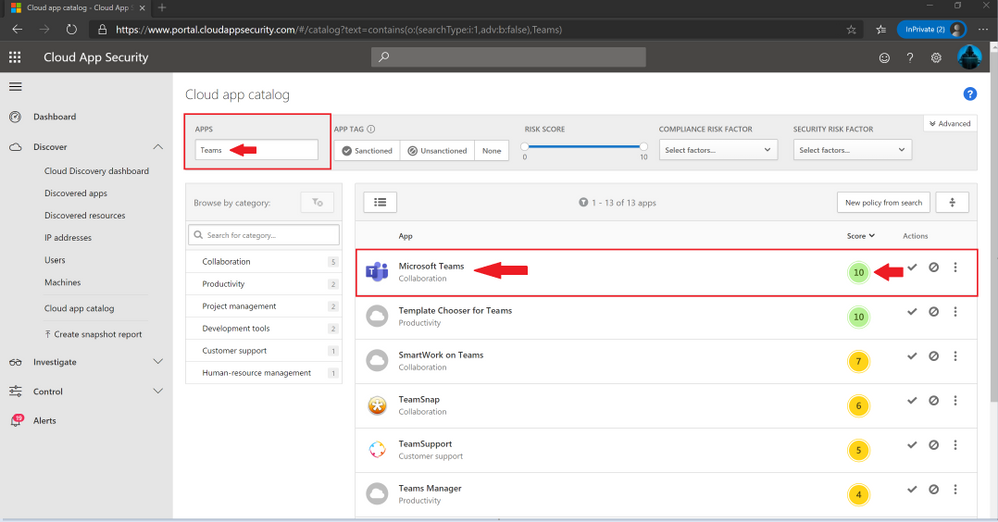 Microsoft Teams will be displayed first along with the score of 10 which tells me I am in rather good shape. Since I am always security minded about all things in the security and compliance realm, I will go ahead and click on the graphic and words displayed under "App" labeled "Microsoft Teams".
Microsoft Teams Security
Once I land on the Microsoft Teams page in MCAS inside the Cloud app catalog, I get to see all the nuts and bolts of the security and compliance features along with legal data which shows me or anyone that Microsoft Teams is secure.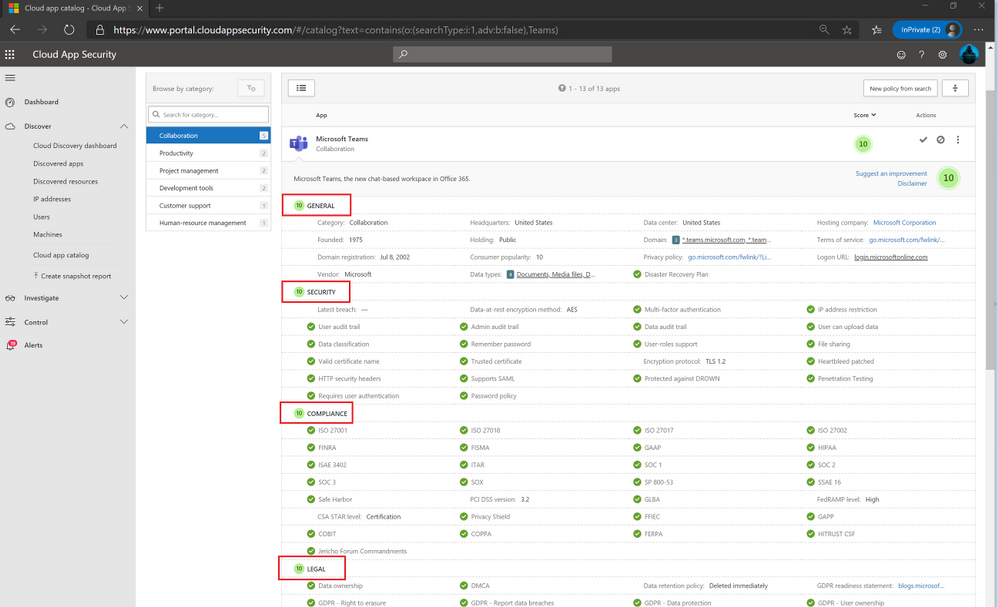 As you can see in each red box are the main sections which MCAS reports on for an application with either compliant (green check mark) or not compliant (red x mark) and then rates the application with an overall score (1-10) with 10 being the highest. In this case, Microsoft Teams scores a perfect 10. This security, data handling, and compliance information is intended to help organizations assess and manage risk in using these apps.
In the General section we get a brief overview of the company and where they are physically located at. Along with the domain name, URL for terms of services and privacy policy, and other data about the company that is valuable to me from a security perspective.
In the security section we can really dive into the encryption, certificates, penetration testing, multifactor authentication, password policy, and all the security measures a Cybersecurity professional like myself would decide whether its security worthy to be installed. Based off what I am seeing already, I know myself or any of my friends will be secure if/when they ask again about video conference calls and what I know.
In the compliance section we can see the national and international standards and publications that were used to make sure it meets the stringent compliance audits and if they are acceptable. Some of the main ones I have worked with in designing and getting large companies accredited inside different security realms have been the International Standards Organization (ISO) 27000 family of standards. The ISO 27000 helps organizations keep information assets secure and as you can see the various ISO 27000 standards are all compliant. Some of the other standards in the compliance section are ISAE, SOC 1 and 3, HIPAA, COBIT, and various other benchmarks to show your privacy and data are safe when collaborating or sharing various types of data, media, documents, etc.
In the legal section it goes over data ownership and if the company reports data breaches. Most of my cyber career I have worked in pre and post breach activities with large enterprises. Having a company that is transparent about any and all data breach activity shows Microsoft cares about its customer base.
Conclusion
If you are ever suspicious about an application, look it up in the Cloud app catalog in MCAS like I showed you in this blog. The more security information I can find about an application (especially all in one place) the more secure I feel and can let my friends and family know they are also.
Thanks for taking the time to read this article and I hope you had fun reading how to change your Teams video background while also showing you how secure Microsoft Teams is in security, compliance, and the legal aspects inside the application.
Thanks for reading and have a great Cybersecurity day!
Brought to you by Dr. Ware, Microsoft Office 365 Silver Partner, Charleston SC.