This article is contributed. See the original author and article here.
Val Verde school district in Southern California has been a pioneer in education for more than two decades.
One of the first districts on the internet in Southern California and one of the first 10 Google Certified schools, Val Verde has always been at the forefront of the future. They've been diving into new technology since acquiring a fleet of freshly released NeXT workstations in 1985.
Home to 20,000 students across 22 schools, Val Verde's been a Microsoft-centric shop for the last 15-20 years but also dove into Google and Chromebooks early on.

Today, their district is a hybrid of Microsoft Office 365 for admin and teaching staff, with Chromebooks and G Suite for students who have been one-to-one with Chromebooks district-wide for the last two and a half years.
So it makes sense that Val Verde were super early adopters of Microsoft 365 Universal Print for an entire school district.
Leading the charge into the Universal Print beta were Matt Penner, Director of Information and Instructional Technology, and Brian Falk, Network Service Manager: Val Verde's two futurists with over 20 years of IT experience.
An opportunity presented by remote working
When the uncertainty of a global pandemic hit, Val Verde was well poised to transition to a remote working setup for their staff and teachers. One wrinkle was how Matt and Brian's IT team could support printing for the Microsoft-centric Val Verde business and teaching staff with their on-premises server set-up. Printing was a breeze for the students on Google and Chromebook, but those using Microsoft couldn't access the on-premises print infrastructure.
It was a speedbump, but Matt and Brian smelled opportunity: "Our grand vision — this has been several years in the making — is that you can work on anything you want, wherever you want, anytime you want," says Matt.
Backed by a likewise visionary superintendent, last year Matt and Brian were able to roll out 980 laptops completely on Azure during their school district's Covid-19 closure.
"We've been moving everything to the cloud," says Matt. "Managing it all through Azure. Our goal is to put all of our servers in Azure."
Farming a multi-site data network up to the cloud
What makes a vision a vision is how insurmountable it may seem, which was the case for Brian. The central head of network solutions responsible for all of Val Verde's dozens of schools and thousands of students, Brian only had three IT engineers on his team and no CISO. Supporting their entire district remotely while delivering security and efficiency meant tasks such as swapping hard drives because the SCSI board failed needed to quickly become a thing of the past.
"We are no longer in the data center game," says Matt. "That is not our core value expertise. Our expertise is school districts and we'll take PaperCut, Laserfiche, Azure, Google, and 20,000 Chromebooks and make them all work together because that's what we're good at."
"So let's farm that up to Azure. Just the simple cost, too, of DR and everything else. We've got all that, but that's not where the value-add is. Not when Microsoft and some of these other companies can do it much better and at much better efficiencies of scale than we can."
A plan that was years in the making
Just 12 months ago, moving from on-premises to cloud on such a large scale for a multi-site school district wasn't on a lot of radars. "Nobody was looking at this, says Brian. "And I think the pandemic started changing some mindsets."
Fortunately for Brian, Matt, and Val Verde, they had already begun changing their mindset before their district's closure.
"Matt and I have had this discussion for almost three years about how we were going to move to the cloud, how we were going to get disassociated from our local networks. The pandemic, for us, has just been the catalyst to make that happen so much quicker." – Brian Falk
Brian states the realization to enact their vision was instant: "On March 13th (2020) when we were all sent home due to the pandemic, we found that those physical devices were a huge hindrance to us and caused us all sorts of problems." "Having to have that local Active Directory that nobody could access anymore, having to have those local file servers that nobody could access anymore, having those printers that just sat there and became stagnant because they were not accessible. We had to then enact the plan that we'd been looking at. We started enacting it almost immediately."
Matt and Brian didn't look to their own field for inspiration, they looked to corporate enterprises like Netflix and Amazon and followed their blueprint, rather than what others were doing in education. "I don't think there's a lot of people looking to do this," says Matt on jumping into the Universal Print beta. "We're hearing from Microsoft, 'You're like the only district in California who's doing this'." But it's not about being lured to the bleeding edge by a shining lure: "We just like to push the envelope in a way that makes sense, that's sustainable."
Printing in the cloud with Microsoft and PaperCut
The announcement of Microsoft's Universal Print was timely for Brian, as their print network was an additional pain-point during their closure: "Suddenly we have all these Azure devices that are trying to talk to on-prem printers in a classic, old print server traditional way.""As we came into the pandemic we started testing on our Azure deployment, and we started seeing that there were some real challenges to trying to print the old-fashioned way, using the traditional print servers and being able to connect and talk to our printing. So we started digging to see what was out there and, of course, Universal Print popped up."
Matt and Brian had already been managing their printing for tracking and reporting with PaperCut since 2016. The memory of successfully setting up cloud printing so easily for their superintendent's Google Pixelbook came into play when they were looking into Universal Print: "I remember Matt and I were sitting in a meeting and we started Googling some stuff on Universal Print," says Brian. "Right there on Universal Print's page was a list of solution providers they were working with and there was PaperCut. We remembered the Google issue and the Google printing and we're like, 'If PaperCut made that so simple, then this was going to be easy with them as well.'
"Jumping into the Universal Print beta immediatelyWaiting patiently since Universal Print was announced, Brian says the pair leaped the second it was available for their licensing level: "It released, and within a day we were into the beta."
"Within the first couple of hours we had the PaperCut connector downloaded and we were starting to work there," says Brian. What they really appreciated was the immediate support from Microsoft and PaperCut: "Something that is the greatest part is when you're sitting there and you're dealing with a beta and they say, 'Hold on, let's get the developers on.'"
Living the cloud printing vision free of the old 'magic network' and VPNs
After that, the implementation was a breeze: "It went so smooth. We put in over fourteen hundred printers that we uploaded into Universal Print and we did it in batches. We didn't want to do fourteen hundred printers all at once. But I think in the period of one week we had fourteen hundred printers into Universal Print."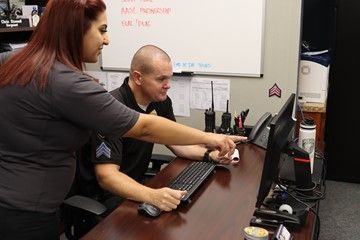 With Microsoft's Universal Print and PaperCut, Brian states that Val Verde's staff are now living their vision of being on a magic network, with their printing needs spoken for as well: "That teacher needs to print off ten lesson plans and they're at home. They print off the ten lesson plans and whoever is in the office, picks them up for them and they're done. It's so easy."
The risk of being a visionary is if you're traversing unexplored territory, who knows when you might step into quicksand and begin floundering. That's where the difference-maker was with Universal Print and PaperCut, despite being in beta: "To have direct access into your development team was amazing," says Brian. "We kind of look at ourselves with this little school district out in the middle of nowhere. And here you guys are saying, 'Yeah, we'll talk with you. We'll work through this with you.'"
Universal Print's general availability is right around the corner and will be a part of Microsoft 365 enterprise and education and Business Premium. Add PaperCut in the mix and you unlock new print management powers – like full tracking and feature-packed print release. Microsoft 365 customers who would like to try Universal Print now in their organizations can start at https://aka.ms/up_trynow.
Find out more about PaperCut's Microsoft Universal Print Connector
Brought to you by Dr. Ware, Microsoft Office 365 Silver Partner, Charleston SC.