This article is contributed. See the original author and article here.
IT admins around the world are gearing up for the Back to School deployment season. Here are the latest product updates from the Office 365 Education Team to help you deploy School Data Sync and adopt Microsoft Teams for Remote Learning!
School Data Sync (SDS) is adding back Team Creation! For each class synchronized in SDS, it will once again automatically create both the M365 Group and Class Team, so Educators don't have to. This feature will be optional when creating your Back to School sync profiles. To schedule Class Team Deployment Assistance with our EDU Customer Success Team, please complete the form at https://aka.ms/sdssignup
Target Ship Date: July 29, 2020
A new Educator-Led Team Creation flow is being added to Teams. This new process allows educators to easily create the classes they need and minimize the number of extraneously created teams. Admins can use SDS to create groups for each class, and educators will be able to convert these groups into teams via the Suggested classes icon shown below.

Target Ship Date: Mid-August
Teams has published a guide on the Recommended methods for Class team creation and deployment best practices to help you prepare for this back-to-school.
SDS is adding a new SDS v2 CSV file format, designed for both K12 and Higher Education! The new format includes a substantial data schema update and several cool new features:
The new format is OneRoster standards inspired and only requires 4 CSV files: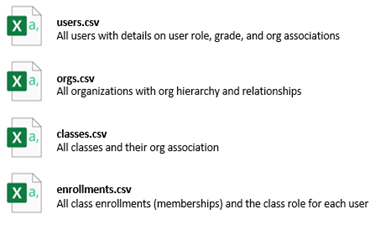 28 Primary User Roles for K12 and Higher Education (including Students and Teachers)
20 Org types for K12 and Higher Ed with support for an Organizational Hierarchy

Grade level attributes for both Educators and Students

Class User Roles for granular control over Group and Team permissions, and for scenarios where users may be an Educator (owner) in one class and a Student (member) in another.
Support for the full UserPrincipalName in the users.csv to enable unlimited domain association when creating and licensing users in Azure AD.
SDS will continue to support the SDS V1 format, however the SDS v2 format is ideal for Higher Education and K12 customers that require the enhanced data schema and directory modeling capabilities beyond what the SDS v1 format offers. This schema enhancement will eventually power advanced group and team provisioning scenarios and enhanced analytics.
Target Ship Date: July 29, 2020.
Available now in private preview. If interested, please contact https://aka.ms/sdssignup.
SDS is adding a new People and Group Memberships viewer, to coincide with the SDS v2 enhanced data schema. The new synced directory viewer will provide admins the ability to search and find the objects and attributes synced by SDS. Within the existing SDS People and Groups pages, you will find the new toggle switch that allows you to work within the new experience or switch back to the legacy SDS organization viewer, as needed.
Target Ship Date: July 29, 2020
Available now in private preview. If interested, please contact https://aka.ms/sdssignup.
A new MS Graph API for activating and unlocking Class Teams provisioned by IT. All Class Teams created by SDS require the Educators to activate the Class Team before students can see and use them. This prevents students from accessing Class Teams before Educators are ready to begin monitoring and managing the Team. The new MS Graph API will let Admins programmatically activate Class Teams ahead of the Educators, if desired.
Target Ship Date: Mid-August
SDS is getting smarter and will generate up to 85% fewer errors when syncing using PowerSchool API and several OneRoster API sync providers, including Classlink, Eventful, and PowerSchool Unified Classroom. Previously, SDS would generate an error for each user that failed to sync, and then errors for each of the user's enrollments. SDS will now only generate a single error for each user, dramatically reducing the volume of unnecessary errors which can lead to quarantined sync profiles.
Target Ship Date: July 29, 2020
SDS is getting faster! Since COVID-19 deployments ramped up, SDS has seen an unprecedented volume of deployment. To accommodate the scale of large Ministries and Departments of Education, we are excited to announce several performance updates for core sync processing:

User Sync, Licensing, Membership Sync, and Group Sync will be 2x faster
Team Sync will process up to 75K Teams/day per sync profile
SDS supports running 3 concurrent sync profiles, for 3x faster provisioning
Target Ship Date: July 29, 2020
Grade Sync in SDS is adding a new generic OneRoster 1.1 API Connector. The new Grade Sync connector is intended to provide Microsoft partners who wish to test their OneRoster API endpoints with Grade Sync and confirm grade writeback from Teams works as intended. This option may also be leveraged by customers who have a SIS with the required set of API endpoints but don't yet have a named connector in Grade Sync.
Target Ship Date: Mid-August
Brought to you by Dr. Ware, Microsoft Office 365 Silver Partner, Charleston SC.