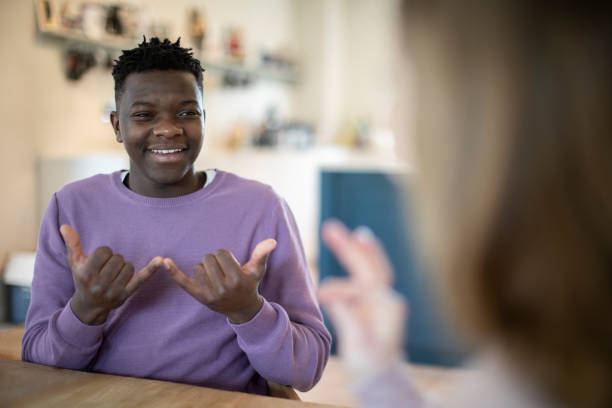 From an early age, I was in love with American Sign Language. It truly is visually beautiful. And the more you learn about it, the more you love it. Part of the beauty and interest of ASL is that you never finish learning. There are always more opportunities to further your education. In my experience, the more you understand it, the more you realize how much you have yet to learn about it. ASL goes beyond the hand shapes in motion. ASL requires your eyes, your mouth, your eyebrows, and even your tongue at a fluent level. It includes how you turn your body, the way you lean in or out, your eye gaze, and your head tilt (not to mention the deep-seated cultural aspects of the language)! Learning ASL opens doors of opportunity, and at its core, offers the possibility to help others.

Learning ASL
The best way to learn is from those who are native to the language, such as the Deaf. Though this is not necessarily an option for all people who wish to learn the language, it is undoubtedly the best way to learn! If you do not have the opportunity to learn from the Deaf, there are thousands of existing resources at your disposal.
There's a Chinese proverb that says: "The best time to plant a tree was 20 years ago. The second-best time is now". So why not start learning right now!

How to start
Start small. One great educational resource is YouTube. This tool is especially great for learning ASL since the language does not translate well into pictures in a book. Instead, a video captures the motion and the direction of the sign. You can quickly type "learn ASL" into the search bar, and there are endless resources. Start by learning the essential signs. Such as: How are you? My name is… Good morning! Can you help me? Where is the restroom? In time, your fluency will grow.

Are you looking for a place to start? Check out this video, and let me know how you did in the comments below!