This article is contributed. See the original author and article here.
In the past 6 months, I've spoken to customers around the world about the challenges associated with providing secure and seamless access for a remote workforce. Organizations need to maximize user productivity while safeguarding the business from cyber threats, but they also must reduce costs in light of today's difficult economic conditions. To help you meet these goals, Microsoft announced several new product enhancements for Ignite 2020. But we can't go at it alone. Partnerships play a key role in complementing our built-in capabilities. Today, I'd like to share 7 key ways solutions from partners working with Microsoft enable a secure, productive workforce.
Simplifying identity management and access to your apps
Software-as-a-service (SaaS) and cloud-based apps have been key enablers of user productivity—especially with so many people working from home. Out of the box, Azure AD integrates with leading SaaS apps, with more added every month. These integrations simplify user lifecycle management and app provisioning, allowing you to automatically create and update user identities and roles. Adobe and ServiceNow are two partners that we've developed integrations that can ensure employees have access to the right applications through their tenure at your organization.
Adobe announces support for SCIM-based provisioning. 
To streamline access and administration of its business-critical apps, Adobe has announced a SCIM standard-based app provisioning integration for its core Adobe Identity Management platform. Working with Microsoft IT as a customer to get insights, Adobe has built an updated admin experience, which will make it easier to manage user lifecycles across Adobe Creative Cloud, Adobe Document Cloud, and Adobe Experience Cloud. This integration will be available for limited preview in October and generally available for customers by the end of 2020.
Screenshot of updated Adobe Admin experience to enable SCIM provisioning with Azure AD. Experience subject to change.
ServiceNow integrates with Azure AD to automate new hire onboarding
ServiceNow recently announced in their latest Now Platform Paris release new capabilities to automatically kick off the right onboarding workflows as soon as a new employee profile is created in Azure AD. IT and hiring managers can automatically provision application access for new hires through Azure AD, including from an HR system, increasing productivity for employees and support teams. This integration automates the whole onboarding workflow from case creation in ServiceNow HR Service Delivery, to role assignment by hiring manager, and application provisioning by IT based on the new hire's role. Learn more about ServiceNow and Azure AD's new employee onboarding capabilities.
Saviynt is partnering with Azure AD to provide advanced identity governance capabilities to customers
Saviynt is working with Microsoft and Azure AD to provide additional governance scenarios to customers. Saviynt Cloud Privileged Access Management (PAM) now integrates with Azure AD Privileged Identity Management and Identity Protection to create an identity led, Zero Trust security service to accelerate an enterprise's digital transformation journey. Saviynt Cloud PAM has also extended their solution to provide privileged access for Microsoft Azure IaaS and expanded governance to Azure AD B2C customers (public preview coming soon). In the recent update to the Saviynt for Microsoft Teams governance, the solution now provides Microsoft Teams site succession management and support for Teams Private Channels. Learn more about the Azure AD and Saviynt partnership.
Enabling stronger security through passwordless, identity verification, and threat intelligence
With more employees working from home, we know that security is even more top of mind. This starts with securing identities. Azure AD capabilities like passwordless are designed to help protect identities with minimal impact to employees. Security operations (SecOps) teams also need greater visibility to enable them to take the right actions in remediating threats. Several recent partnerships have helped us advance these goals.
Illusive Networks integrates with Microsoft Security and Azure AD APIs
Illusive Networks enhances the visibility and monitoring of vulnerable privileged identities in Azure AD, such as redundant identities, identities with excessive privileges, risky practices (e.g. Azure MFA disabled), and unauthenticated identities. Learn more about Illusive Networks' new integrations across Microsoft Security products.
Yubico enables the move to passwordless
Weak passwords are the most vulnerable attack vector, which is why we are such strong advocates of passwordless technologies. To help reduce the reliance on passwords, we've developed a limited time offer with Yubico where qualified services partners can nominate their customers to go passwordless. Learn more about the new program and ways we're partnering with Yubico in the video below.
Enabling Identity Proofing and Verification capabilities to Azure AD B2C through partners
As more businesses move to online, they need to verify and onboard customers remotely. Jumio and Onfido now enable Azure AD B2C customers to perform identity card (passport or driver license) scanning, identity verification, and liveness detection during a user's journey.
Protect legacy applications through new secure hybrid access partnerships
During the COVID-19 outbreak, our customers need to access all mission critical apps from home securely, including legacy applications. While Azure AD Application Proxy can provide remote access to your legacy apps, we know that some customers prefer to use their existing application delivery networks, VPNs, or Software Defined Perimeter solutions. That's why we're expanding our Secure Hybrid Access Partnerships to include new partners such as Kemp, Palo Alto Networks, Cisco AnyConnect, Fortinet and Strata and Ping Identity for Azure AD B2C customers.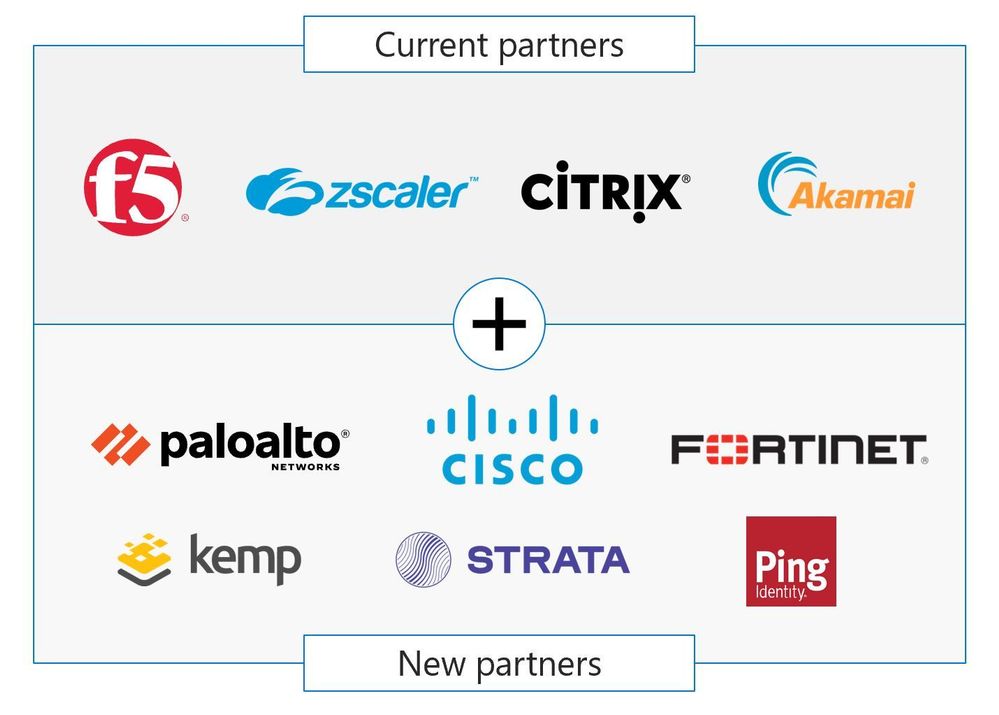 We hope all these announcements are welcome additions as you support the new realities of remote work. Please let us know any feedback you have, including any other partners you think we should be working with to improve the employee experience and security.
Join us virtually, on-demand for Identity Partner Sessions at Ignite 2020
While we wish we could have met in person this year at Microsoft Ignite 2020, we have a great line up of free, virtual sessions to share with you wherever you are in the world. Register for free here.
All the Microsoft Identity sessions, on-demand, can be found on this Microsoft Ignite playlist or the Video Hub. Here are my top sessions to attend that relate to our partner solutions:
Best regards,
Sue Bohn
Partner Director of Program Management
Microsoft Identity Division
Brought to you by Dr. Ware, Microsoft Office 365 Silver Partner, Charleston SC.