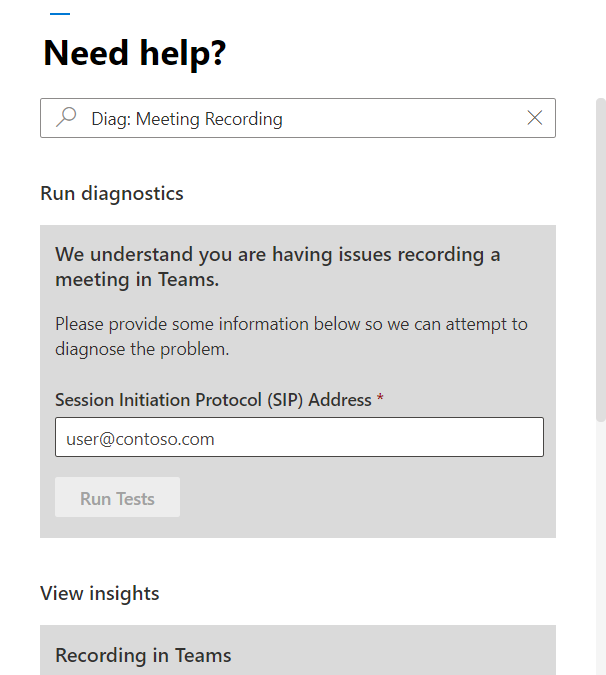 This article is contributed. See the original author and article here.
As you may have heard, Microsoft Teams usage is up, WAY up and we recently announced a new "daily collaboration minutes" metric.  To quote: "This quarter, Microsoft 365 users around the world generated more than 30 billion collaboration minutes in a single day as people communicated, collaborated, and co-authored content across work, life, and learning."  Read more from that announcement here.
That is an astounding number of daily collaboration minutes.  While not all of them are spent in meetings, many are, and we know that our Teams Community loves to record meetings!  So today I'm pleased to announce we just shipped our most recent Teams Diagnostic for Meeting Recordings.
From working with you all in Support we know that top support case drivers include Meeting Recording availability and end user capability (i.e. the Meeting Recording button is grayed out!).  These issues typically fall into two categories, either the impacted user isn't allowed to record meetings via Policy settings or, in some areas of the world, Stream is not available in your region.  Luckily our Diagnostic can identify both of these issues and tell you how to fix them.
But wait!  There's more!  In case you missed it, we recently began rolling out a change to Teams Meeting Recording Storage.  If you're signed into your M365 Tenant Admin portal you can read all about it in the following Message Center Post: (Updated) Microsoft Teams: meeting recordings saved to OneDrive and Sharepoint.
You should also carefully review the following documentation that goes over these changes in detail:
Use OneDrive for Business and SharePoint or Stream for meeting recordings
And of course, our Diagnostic can help you identify if you're using Stream or have switched to OneDrive SharePoint storage.  In fact, if you are in a part of the world where Stream is not available, we are very pleased to inform you that you can Opt-in to OneDrive SharePoint storage to enable Teams Meeting Recording functionality!
As always we've provided you with a shortcut to get directly to the diagnostic.  In your Admin portal, click on the Need Help button and then type in Diag: Meeting Recording like in the following screenshot:
Screenshot of the Need Help dialogue
If you're currently experiencing issues getting Teams Meeting Recording to work for some or all users, please give the new Diagnostic a try.  Beyond checking your policy settings and storage location the Diagnostic does a lot more, so be sure to check it out.  And, we're constantly working on new diagnostics and expanding our existing ones; for a full list, click here.
We'll be back soon with additional Teams Meeting Recording troubleshooting tips and tricks, stay tuned for 'Dude, where's my recording?' and other fun stuff.
Happy Collaborating!
Microsoft Teams Support