This article is contributed. See the original author and article here.
Yesterday we announced that some exciting new capabilities to Viva Engage, like Leadership Corner and Answers within Microsoft Viva.
Viva Engage connects employees and leaders through communities and conversations. We're announcing powerful new leadership capabilities to unlock the potential of your organizations.
Leadership Corner is a new experience for employees to engage directly with key leaders. Employees can:


See and participate in activities from their leaders


Take surveys and join the discussion with #Campaigns and AMAs (Ask Me Anything)


Connect with new leaders across the company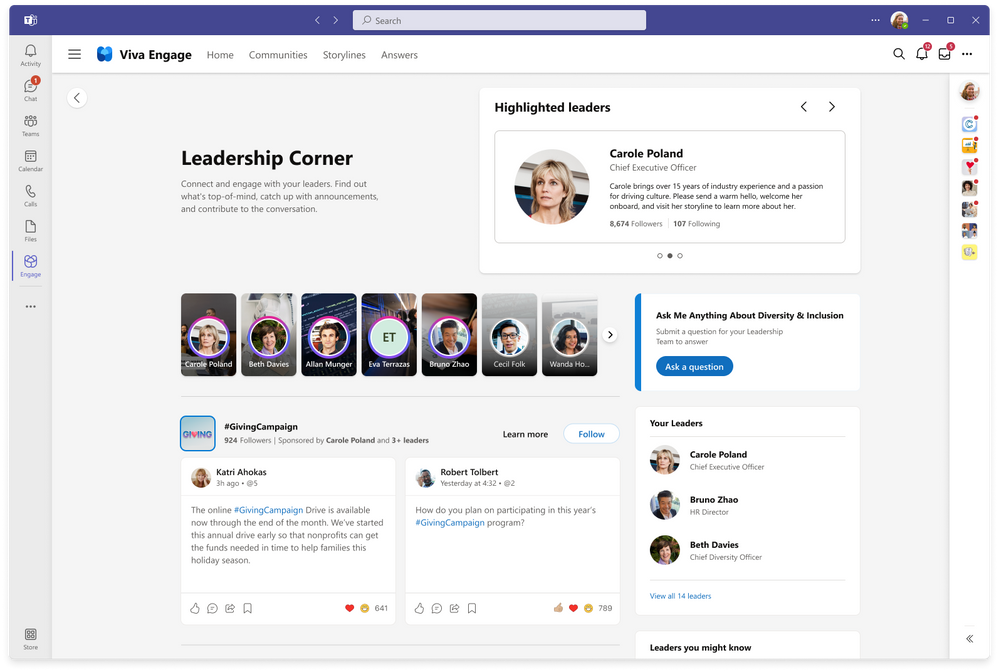 For leaders, communicators, and their delegates we're introducing:


A new leader dashboard with organizational analytics


Storyline announcements for reaching their teams


Powerful social #Campaign experiences


New "Ask Me Anything" style events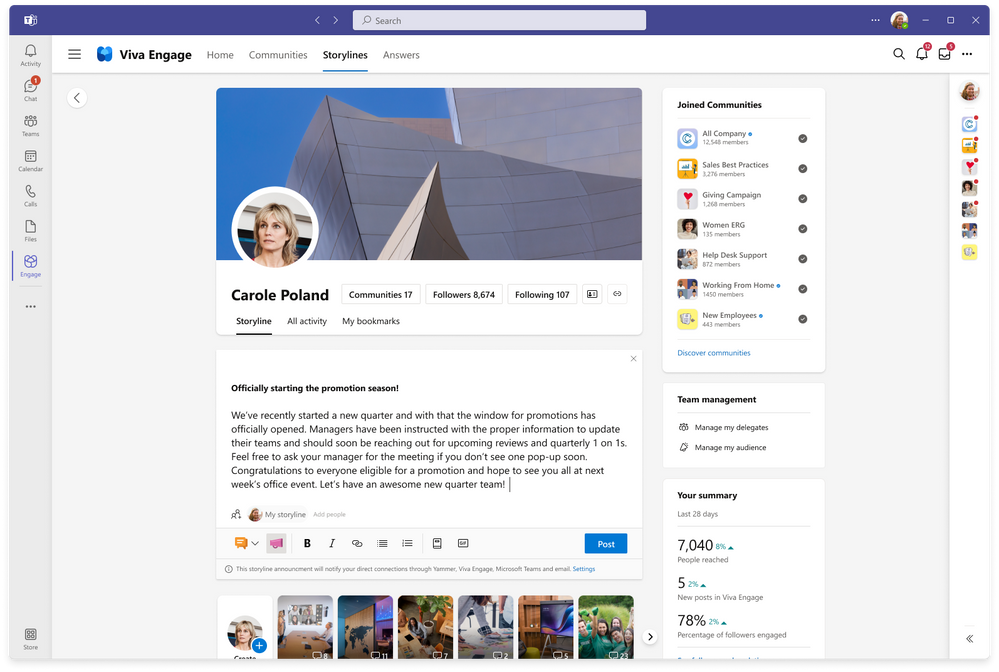 These experiences will bring leadership to life, fostering a two-way dialogue throughout the organization, and creating an environment where employees thrive. Learn more about these experiences in the Viva Engage announcement blog.
New Microsoft Mechanics Video featuring Viva Engage
Additionally, we released a walk-through video of Viva Engage on Microsoft Mechanics. I'll show you a deep dive into how to build communities, share experiences with storyline and stories, a demo of the new leadership corner, Ask me Anything's and Answers within Microsoft Viva and more. Take a look and let us know how you are using Viva Engage in your organization.
Leadership Corner and Answers will be available in 2023 to licensed Viva suite users within the Viva Engage app.
Get Inspired
New to Viva Engage? Find best practices and inspiration on how to make the most of communities, conversations, and storyline in the new Viva Lookbook. And find even more playbooks and resources in our Viva Engage Adoption Center.
Learn more about what's new for Microsoft Viva on the Microsoft 365 blog by Seth Patton, check out the Microsoft Viva website, and explore the Viva Innovation Brochure for the latest and greatest on how Viva empowers everyone to be their best.
– Michael Holste
Brought to you by Dr. Ware, Microsoft Office 365 Silver Partner, Charleston SC.