This article is contributed. See the original author and article here.
Yammer is committed to strengthening the alignment of Yammer to Microsoft 365. This means we will no longer support tenants having more than one home Yammer network. This change will ensure Yammer networks have the same organizational boundaries as their corresponding M365 tenants. Integrating Yammer more fully into the Microsoft 365 ecosystem has been a multi-year effort and new networks created since October 2018 have not permitted this 1:Many configuration. Similarly, new Yammer networks provisioned after January 2020 have been created in Native Mode. In September 2022, the enforcement of Native Mode was announced. Automated network consolidation is an important prerequisite to reaching Native Mode and gaining access to broader safety, security, and compliance features. This will start on 5/1/2023 and continue through 5/1/2024.

Start the consolidation process

If you have secondary Yammer networks, you will lose access to all your secondary Yammer networks once you consolidate. Users from your secondary Yammer networks will be migrated to your primary network, but groups (communities) and data will be lost. In advance of this change, we strongly recommend that customers perform a full data export of their networks. You can read more about exporting data from your network here.

It is strongly advised that customers perform this network consolidation themselves. This will allow you to choose the time of the consolidation and allow the administrator to choose which primary domain will be associated with the remaining network.

Customers are encouraged to initiate network consolidation any time before or after 5/1/2023.
If you would like to self-initiate your network consolidation:


There is a guide to network consolidation available to walk you through the process. A network administrator can run the network migration tool from within Yammer.



If you would like Microsoft to initiate your network consolidation:


You are not required to take any action. Microsoft will notify you via the M365 Message Center of your scheduled consolidation date and default primary network and domain. The network with the highest total message count will be the default primary network.


If you would like a different default primary network, contact Microsoft 365 support to log an exception.



If you need to postpone or schedule network consolidation around blackout dates:


Contact Microsoft 365 support to log an exception.


What happens next?

Post consolidation of the networks into 1:1 alignment with Microsoft 365, they will be upgraded to Native Mode. This provides access to the latest features in Yammer and ensures that customers are covered by the Microsoft 365 compliance features.

You can read more about our plans to ensure alignment to Native Mode here.
Need more help?
There are Microsoft partners that can help you migrate data from your secondary networks. Please reach out to your Microsoft Account Team or contact a partner for more information.

FAQ
Q: We know which network we want to be our primary network. How can we make sure that our networks are automatically consolidated to that specific network?
A: Please contact support to specify your desired primary network and domain.

Q: We do not want our networks consolidated. What can we do?
A: Please contact support to request an exception, which will include sharing business justifications, when the consolidation can proceed, and your plan to unblock it. This is not a permanent exception.
Q: We consolidated our networks, but we want to reverse the process so we can have a different primary network. Is that possible?
A: No. Network consolidation is an irreversible process.
Step-by-step instructions for network consolidation


As a network admin, visit the Network Migration page within the Yammer network admin settings of the primary network you want to keep. Make sure that all of the domains you wish to consolidate are listed. If they are not listed, you can follow the link to add and verify additional domains.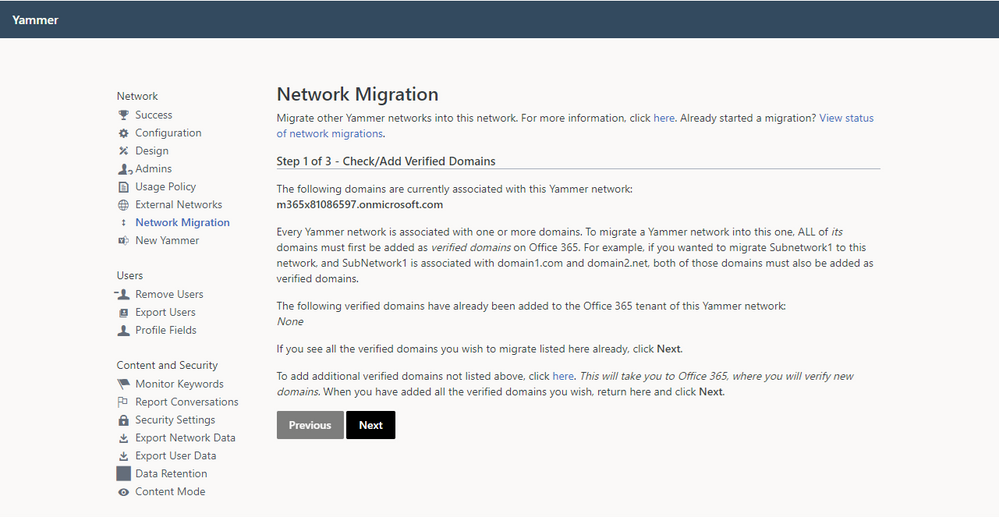 2. Choose the network you wish to consolidate, and click Next.
3. Validate that you are ready to consolidate the selected network and have performed any desired data export prior to consolidation.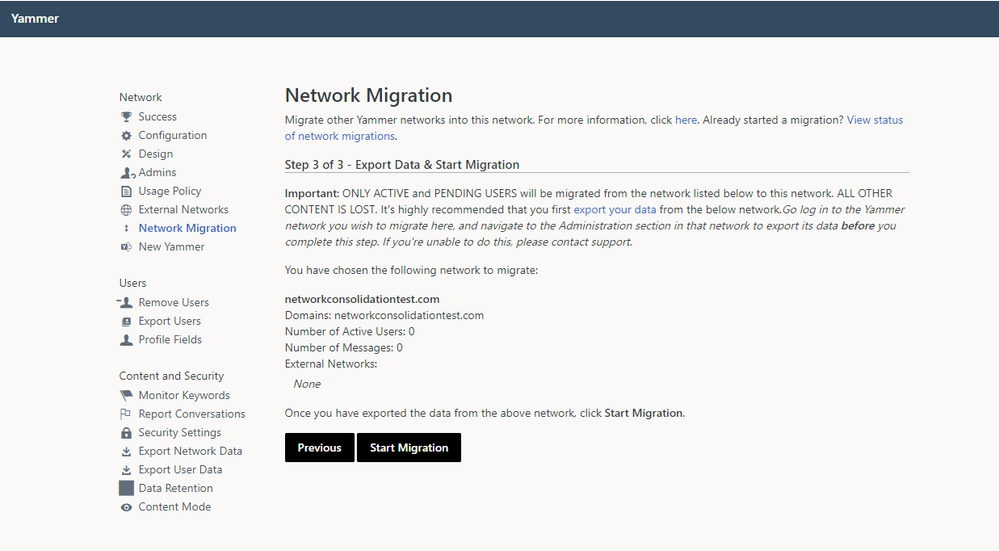 4. Follow the instructions to initiate network consolidation.
5. You can view the status of your network consolidation on the Network Migration page.
6. When the consolidation is complete, the status will update.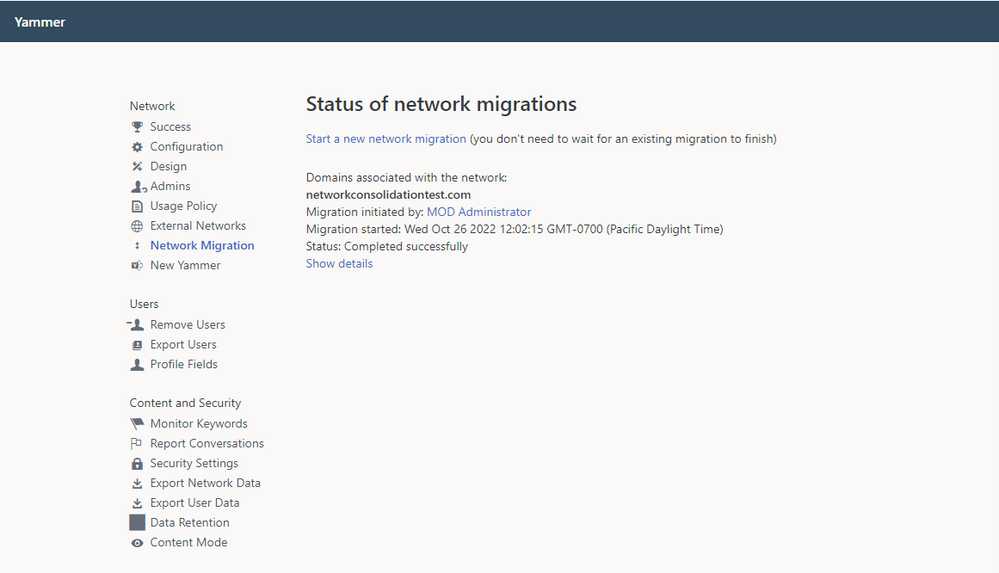 7. Repeat this process until you only have one network associated with your tenant. Congratulations! You are now ready to migrate to Native Mode.
Brought to you by Dr. Ware, Microsoft Office 365 Silver Partner, Charleston SC.