This article was originally posted by the FTC. See the original article here.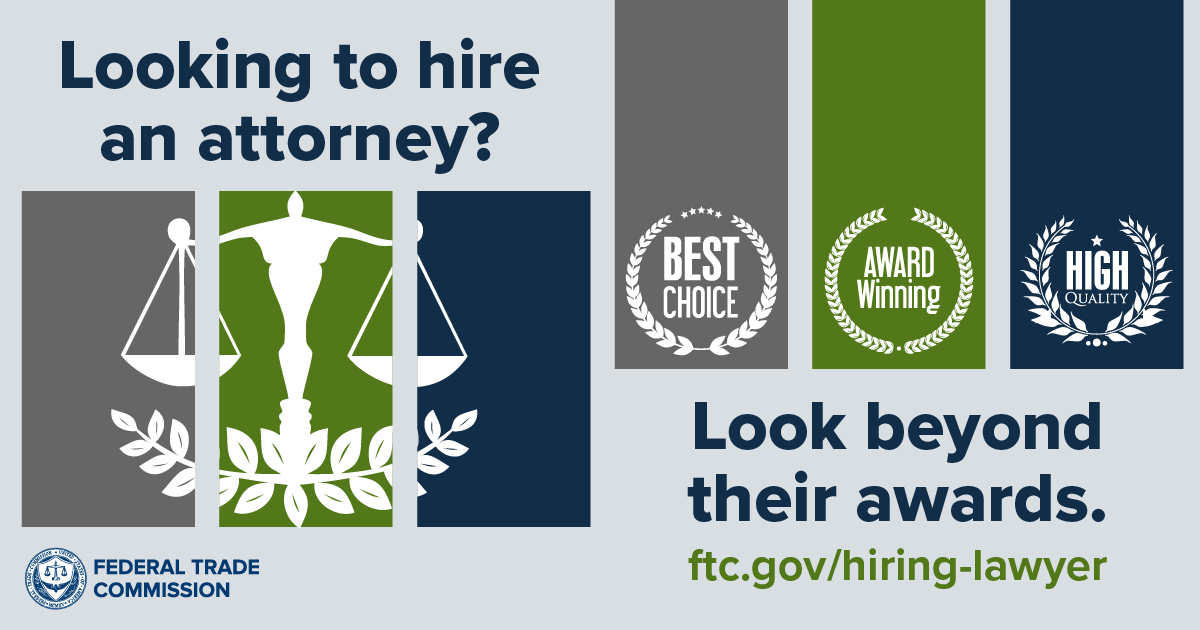 If you suddenly need to hire a lawyer, you might start searching online. When you do, you're likely to see lawyers and law firms with fancy-looking seals and badges on their websites claiming they're among the best in their field. Before you move forward, know that some of these seals or badges might be "vanity" or "ego" awards that lawyers can buy.
It can be tricky to tell whether an award is earned through merit or is simply a marketing ploy, but a few questions can help. How long has this award been in existence? What requirements does someone have to meet to earn the award? How many awards are given out each year? Is a marketing company awarding it? Try searching online for the name of whoever's giving the award plus words like "vanity," "ego," "marketing," and "scam" to find out.
When choosing a lawyer, be sure to look beyond any seals or badges on lawyers' websites:
Ask for recommendations from people you trust who already have experience hiring lawyers. Online reviews can be made up or written by people with personal ties to the lawyers.

Lawyers must pass a state bar exam to practice law in the U.S., and they often have to be admitted to the bar in the state where they practice. Check the state bar association to see if the attorney is active, inactive, disciplined, or disbarred.

Look for actual accomplishments and past work experience. Many court documents are public record and you can see if the lawyer you're considering has experience handling your type of legal issue.
And check out ftc.gov/hiring-lawyer for more information on how to hire the right kind of lawyer and what to ask about lawyers' fees.
Brought to you by Dr. Ware, Microsoft Office 365 Silver Partner, Charleston SC.