This article is contributed. See the original author and article here.
In today's blog post, we dive into the exciting fusion of AI large language models with Microsoft's Power Platform.

With over 33 million Monthly active users of Power Platform announced at Build 2023. We explore how this powerful combination can help build automation workflows, apps, webpages, and bots without requiring extensive coding knowledge. With the introduction of AI-assisted workflow generation in Power Automate, Copilot integration with Power Apps, Power Pages for website generation, and enhanced chat experiences with Power Virtual Agents, the Power Platform is revolutionizing low-code development.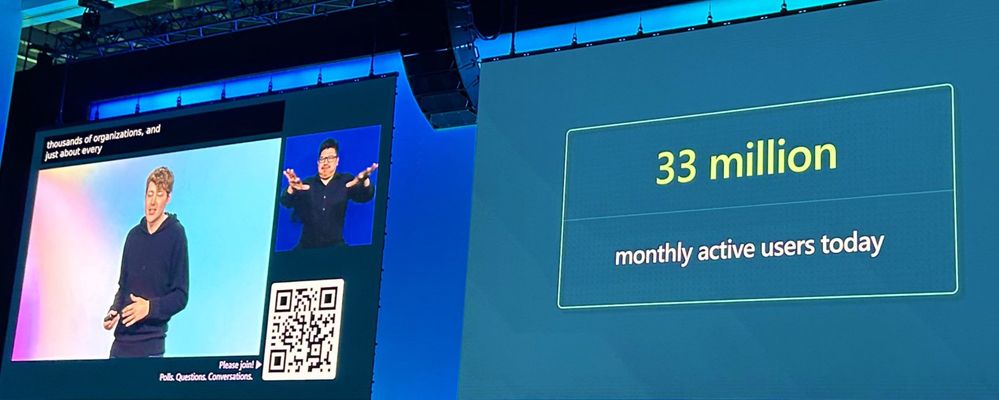 Sharing 33 million monthly active users of PowerPlatform, Charles Lamanna, MSBuild 2023 session
 

Saving Time and Effort with AI and Copilot
The AI and Copilot experiences across the Power Platform offer numerous benefits, including time and effort savings for users. Whether you have an idea for automating a process or creating an app or website, AI can bring your vision to life more efficiently than ever before. By leveraging AI's knowledge and the data you provide, the platform can generate customized experiences and suggest improvements to enhance your workflows and applications.


AI-Driven Automation of Invoice Processing
To showcase the capabilities of Copilot and AI, we explore a common scenario: invoice processing. Traditionally, this involves manual data entry, approval workflows, and Excel spreadsheet management. With Copilot, users can build and automate basic workflows using natural language prompts, eliminating the need for extensive coding expertise. Copilot generates a preview flow within seconds based on the provided prompt, and users can customize the flow further or generate additional variants effortlessly. This automation extends to scoping the flow to invoice attachments, specifying approval steps, and updating Excel files automatically.


Harnessing AI Builder for Document Analysis
AI Builder, a powerful tool within the Power Platform, offers forms processing capabilities for extracting data from documents like invoices. By integrating AI Builder with Copilot, users can extract approval justifications and automatically generate comprehensive emails. The extracted invoice details can be presented within the email, enabling seamless approval within Outlook. Additionally, the AI-generated flow can enter the approved invoice data into Excel, further streamlining the process.

Accelerating App Development with Copilot
Copilot's integration with Power Apps expedites app development processes. Users can import Excel files directly into Power Apps Studio, where Copilot processes the data and transfers it to a Dataverse environment. This enables scalable and centralized management of invoice data. Copilot automatically determines column headings and data types, simplifying the app creation process. The resulting app is fully functional, allowing users to browse, search, create new records, and customize the app effortlessly.


Building Professional Websites with Power Pages and Copilot
Power Pages, coupled with Copilot, provides an efficient way to build professional websites. By using Copilot prompts, users can generate HTML, CSS, and contextually relevant images for website sections. Copilot's assistance extends to content generation, including descriptive paragraphs and forms. The large language model's ability to generate both code and text-based content streamlines the website development process significantly.


Enhancing Chat Experiences with Power Virtual Agents and AI
The integration of Power Virtual Agents and Copilot empowers websites with intelligent chatbot capabilities. Power Virtual Agents can address user inquiries and provide generative answers powered by OpenAI's GPT. The bot is automatically configured to search across the website and summarize relevant knowledge-based articles. Additionally, the chatbot supports multi-turn conversations and context-based responses. Future enhancements will include document uploads, tone selection for responses, and content moderation controls.


Overview of Demos in the Video

Exploring AI and Copilot Experiences in the Power Platform
Stephen Siciliano, guides us through the latest Power Platform updates. The AI and Copilot experiences in the Power Platform offer assistance across various tasks, saving time and effort for users. Whether automating processes, building apps, or creating websites, the AI can generate experiences based on knowledge and data provided, offering suggestions for customization and helping with logic and workflow generation.


Building Automated Workflows with Copilot
Stephen demonstrates how Copilot can transform a common scenario like invoice processing. Using a natural language prompt, Copilot quickly generates a workflow for managing invoice intake and approval. Users can iterate on the flow, ask for additional variants, and customize it as needed. Copilot's ability to automate repetitive processes and generate functional experiences simplifies the automation of complex workflows.


Utilizing AI Builder for Document Analysis
Stephen showcases how AI Builder, integrated with Copilot, can extract data from incoming invoices. The AI model can process the invoice content, extract relevant information, and generate comprehensive email notifications. This streamlines the approval process and eliminates the need for manual data entry.

Accelerating App Development with Copilot
Copilot's capabilities extend to app development in Power Apps. Stephen demonstrates how Copilot assists in creating apps based on existing Excel files. By uploading the file to Power Apps Studio, Copilot processes the data, determines column headings and data types, and generates a working app. The AI also assists in customizing the app, making changes based on prompts provided by the user.


Creating Websites with Power Pages and Copilot
Stephen shows how Copilot can be used in conjunction with Power Pages to build professional websites quickly. By providing prompts, Copilot generates HTML, CSS, and relevant images for different sections of the webpage. This accelerates the website creation process, allowing users to focus on content customization.

Enhancing User Experiences with Power Virtual Agents
Power Virtual Agents integration with Power Pages enables the addition of intelligent chatbots to websites. Stephen demonstrates how a bot can be easily added to a website using Power Virtual Agents. The chatbot, powered by OpenAI's GPT, can provide generative answers to user questions, search the website for relevant information, and engage in multi-turn conversations. The integration ensures that site visitors can find the information they need quickly and effortlessly.


Conclusion
The fusion of AI and Copilot with Microsoft's Power Platform opens up new possibilities for automation, app development, and user experiences. With AI-assisted workflow generation, app building, webpage creation, and chatbot integration, users can achieve their goals more efficiently, even without extensive coding knowledge. The Power Platform's latest updates empower users to leverage AI technologies, making the development process faster, more intuitive, and highly productive.
Learning Resources 
Bring AI to your business with AI Builder – Training | Microsoft Learn
Improve business performance with AI Builder – Training | Microsoft Learn
Create bots with Power Virtual Agents – Training | Microsoft Learn
Get started with Power Pages – Training | Microsoft Learn



Brought to you by Dr. Ware, Microsoft Office 365 Silver Partner, Charleston SC.