This article is contributed. See the original author and article here.
Like this wallpaper? Download it below!
As they find themselves spending more time at home, devs are finding creative ways to strike a new work-life balance using the Internet of Things. Here are the stories of three IoT hobbyists and their home projects that will inspire your creativity too.
Jim Bennett's AgroHack is made for the gardener at heart. In its most basic form, it combines a Raspberry Pi and a Grove moisture sensor to determine if his plants need water. Jim then sends this telemetry to Azure IoT Central and hooks this all up to an LED light so his potted rosemary plant can tell him when it is thirsty.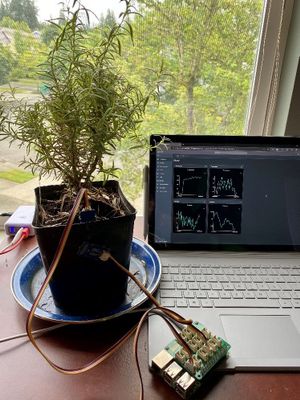 As useful as the device is for communicating with a house plant, Jim can also hook it up to Azure Stream Analytics in order to gather additional humidity, pressure, and temperature readings and compare these against official weather service forecasts. This way, if the tomatoes in his raised garden need water but the meteorological service says it will rain in the evening, Jim knows he doesn't have to do anything about it.
This isn't all Jim gets up to while getting creative with his at-home set-up. He also built his own home office IoT Busy light that uses Azure Logic Apps to talk to his Office 365 calendar so people in the house know when he is on a Teams call and needs a bit of quiet. He is also known for combining IoT and Ugly Sweaters, an underappreciated corner of the IoT.
If you want to build your own Agrohack, or see more of Jim's cool projects, visit his blog.
As great as IoT is for monitoring moisture, it also excels at monitoring heat levels. A good Kansas City barbecue should smoke for about five hours at a constant temperature of 225 degrees. But how do you keep your temperature constant?
Cam Soper hooked up a Raspberry Pi to his newly bought smoker and wrote Project Inferno, a C# app running on .NET Core, to automatically adjust the temperature. As any software developer knows, it makes more sense to learn a new technology and build a complex software solution to fix a hardware problem than to replace the hardware itself. ;)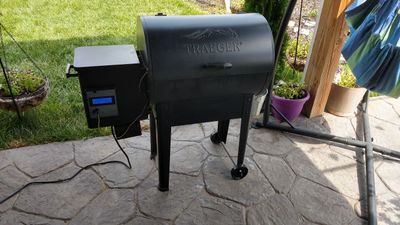 Cam used Azure App Service, Azure Relay Hybrid Connections, and Azure Bot Service to make it easy to work with his device. Cam realized that using curl commands to control his invention would not appeal to the non-programmers in his family, so he created a bot interface that others could interact with when they wanted to set the barbecue temperature and monitor it. Cam even uses the Raspberry Pi's CPU thermometer to check that the IoT device doesn't overheat when the smoker is on and that it doesn't get too cold when it starts to rain or snow.
To learn more about this or Cam's other projects, please read his excellent blog.
Like many who work from home, Isaac wanted to find a better way to balance his work and home life. He needed to find a way to let his family know when he was on a call (and more importantly when he wasn't) so they could go on living their lives without worrying about interrupting him. With the help of IoT, Isaac created a status light outside his home office door.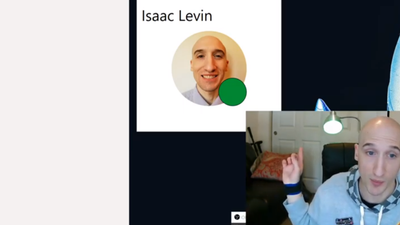 Isaac Levin's PresenceLight is coded around an interesting feature in Microsoft Teams known as Presence. It turns out that Presence, which is that red, yellow, and green indicator in your Teams that tells everyone if you are busy or not, is surfaced through Microsoft Graph APIs. Isaac created a .NET Core app to connect his own Outlook account to a LIFX IoT light outside his office door that effectively shows everyone in the house his Teams status. This is known in the IoT world as an "elegant solution." Isaac found one piece of information he was interested in and created the shortest path to make his availability status known to the "" – aka his family. You can almost see the moment the lightbulb went on in his head.
For a more detailed walk through of how Isaac built this project, follow his blog.
What's next
When reading about home IoT projects, there's a strong temptation to extend them or even combine them. Cam's bot interface, for instance, would possibly be even more useful to his family if it were
If ideas are lighting up in your head right now, you may want to start by reading the guides each of these developers has written explaining the necessary IoT components and the required code (linked above). If you are fresh to the world of IoT, you can also get started with this Develop IoT solutions with Azure IoT Central on Microsoft Learn. And when you become a pro, be sure to take the Microsoft IoT Certification exam!
We want to hear about your own IoT explorations and ideas. Please share your home IoT projects using the hashtags #JulyOT and #IoTDevs. Being at home can be a great reason to do amazing things!
PS, looking for a new desktop wallpaper? We've got you covered! Download it below ⬇
Brought to you by Dr. Ware, Microsoft Office 365 Silver Partner, Charleston SC.