This article is contributed. See the original author and article here.
Key takeaways:


As some companies pulled back in the early days of the COVID-19 pandemic, Crayon doubled down broadly on training—including resources from Microsoft Learn—and is now in position to better serve its IT customers as organizations resume business at higher levels.


Access to Microsoft Learn resources and the expectation of earning certifications help the company maintain minimal employee turnover.


Crayon management says access to training and certification helps fulfill its commitment to addressing social concerns, including gender, culture, neurodiversity, equity, and inclusion.


Norway's Crayon confronted the challenge of the COVID-19 era by doubling down on training and certification for its employees. Like many organizations, the global IT consultancy had to find ways for its teams to be productive while working remotely. Unlike others, though, Crayon saw distributed working as an opportunity to position the company for a return to normalcy. The company's leadership projected that its corporate IT customers would have greater needs as the transition to the cloud accelerated. Crayon anticipated those needs by preparing employees with the Microsoft training and certifications required to support their customers' ambitions.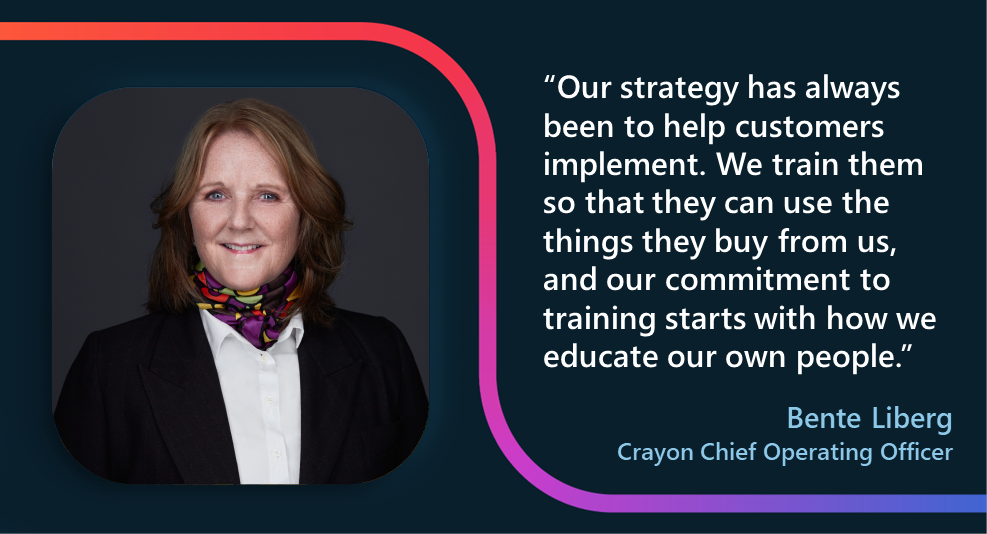 Microsoft Learn resources naturally aligned with Crayon's commitment to training, which is broad and long-standing. "We started out with having focus on certification and training from day one," recalls Crayon Chief Operating Officer (COO) Bente Liberg, who joined the 3,300-person company 20 years ago as its sixth employee. She cites the strategic importance of training—internally and externally. "Our strategy has always been to help customers implement. We train them so that they can use the things they buy from us, and our commitment to training starts with how we educate our own people."
Because Crayon both provides services and creates solutions that it sells to customers, the company has a need for its employees to step out of the revenue stream and invest in learning. Bente notes, "It starts with our GMs—actually, all of our country managers have a development KPI for the company. And for them to be able to deliver on that KPI, they need to develop skill sets in the company."
This is true at the line level, too, and for recruitment. "That was actually something positive for hiring and also for retention," Bente continues. "We heard from candidates: 'Oh, can I [do] training?' Yes, not only you can do training, you have to do training. 'Can I take [a] certification?' Yes. You have to take certifications."
Crayon Chief Executive Officer (CEO) Melissa Mulholland made training and Microsoft Certification available broadly across the company—and not just for consultants. In the company's India team, for example, "We actually had everybody, including finance—everybody—go and pass [Exam] AZ-900, the [Azure] fundamentals exam, because if they have a better understanding, that will make them better at their job." Beyond fundamentals, more than one-third of the company's 8,000 certifications cover in-depth topics, she reports.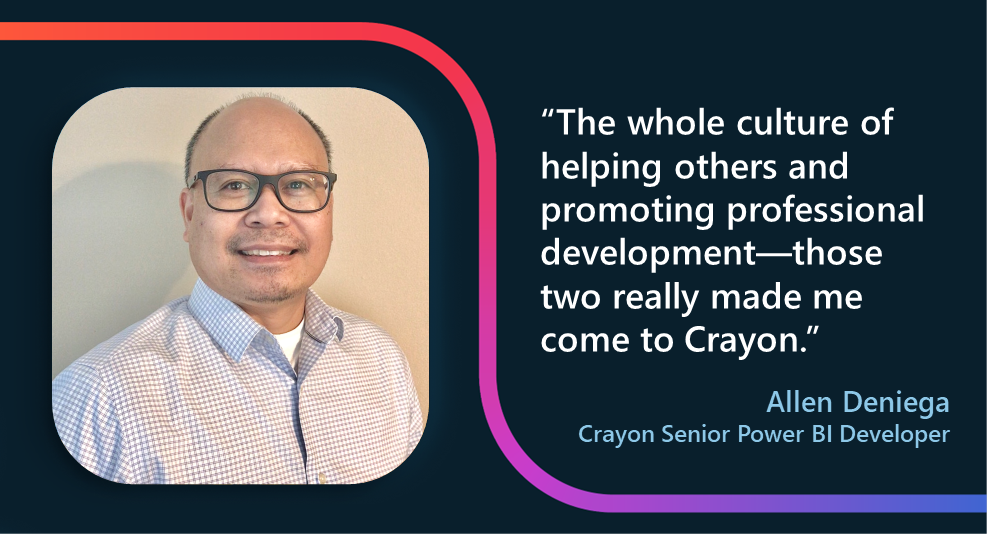 From the perspective of a potential recruit or a new employee, this focus on training and certification is a professional opportunity. Senior Power BI Developer Allen Deniega recalls what drew him to the company earlier this year, noting that he has already completed two certifications since he joined Crayon. "The whole culture of helping others and promoting professional development—those two really made me come to Crayon," he recalls. He started investigating training opportunities on his second day and made particular use of the Microsoft Official Practice Tests, often taking the same one multiple times. "Apart from giving you an idea of the structure and the format of the exam and the actual feel of the exam, it allows you to identify your gaps every time."
Melissa believes that the learning culture not only makes Crayon more competitive and better able to differentiate its depth of knowledge to customers, but it also helps reduce turnover as employees see their career paths clearly. "It directly corresponds with talent retention, and we have very high retention in our organization. Globally speaking, from an annual standpoint, [turnover is] less than 10 percent, and I really believe that's driven by this culture of learning and development."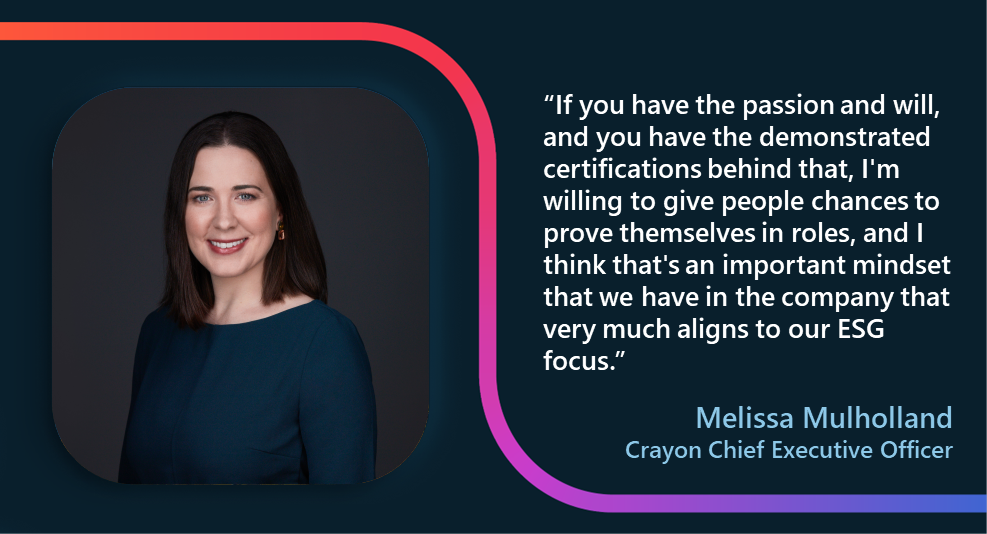 She also believes that training and certification are key to helping the company fulfill its social commitments. In 2021, Crayon created its first environmental, social, and governance (ESG) report.[1] For Crayon, Melissa explains, "Certifications [are] an excellent way to bring in more diverse skill sets and, for example, giving women who want to be in technical roles the ability to." She says certifications provide a pathway for individuals who may not have had access to professional opportunities because of gender, culture, color, or neurodiversity. Through the training program, in partnership with Microsoft, she says, "If you have the passion and will, and you have the demonstrated certifications behind that, I'm willing to give people chances to prove themselves in roles, and I think that's an important mindset that we have in the company that very much aligns to our ESG focus."
Microsoft and Microsoft Learn have been steady partners for Crayon in these achievements, Melissa points out. "I am so grateful for Microsoft, I think really having our back, at being able to guide us," she says. "You experience growth when you push yourself to learn and adapt, and it'll open up not only career opportunities, but it'll also give you more information to be able to do your job better. Never get in the 'comfort zone.'"
[1] An ESG report focuses on an organization's environmental, social, and governance impacts and priorities. The United Nations has published a comprehensive set of these sorts of priorities, called Sustainable Development Goals (SDGs), which many organizations use to guide their own ESG goals and reporting.
Brought to you by Dr. Ware, Microsoft Office 365 Silver Partner, Charleston SC.