This article is contributed. See the original author and article here.
Students at Grambling State University for the Babylon.js workshop.
When emerging technologies are on the rise, marginalized communities are often unfortunately the last to onboard due to lack of exposure and/or resources. Although as a company we have our fair share of academic initiatives and programs in place to provide skilling opportunities for students across various technology fields, what we lacked was mixed reality engagement with Historically Black Colleges and Universities (HBCU). This year, we came together to launch a pilot program to help close the digital divide with respect to mixed reality technologies by providing mixed reality resources, workshops, and device access to students. This on-going effort is being completed with our Microsoft Partner, Engaged Media, LLC.
In February, we hosted an Intro to Babylon.js & WebXR workshop for the HBCU Legacy Bowl, a post-season all-star game presented by the Black College Football Hall of Fame. For the workshop, 80+ student athletes learned about careers in the XR industry and created their own virtual hall of fame using Babylon.js. The workshop concluded with a demo of the Black College Football Hall of Fame HoloLens Experience created by Engaged Media, LLC. The students were excited to not only try out the HoloLens 2 device but to also see themselves and other HBCU athletes who've come before them reflected in such immersive experiences.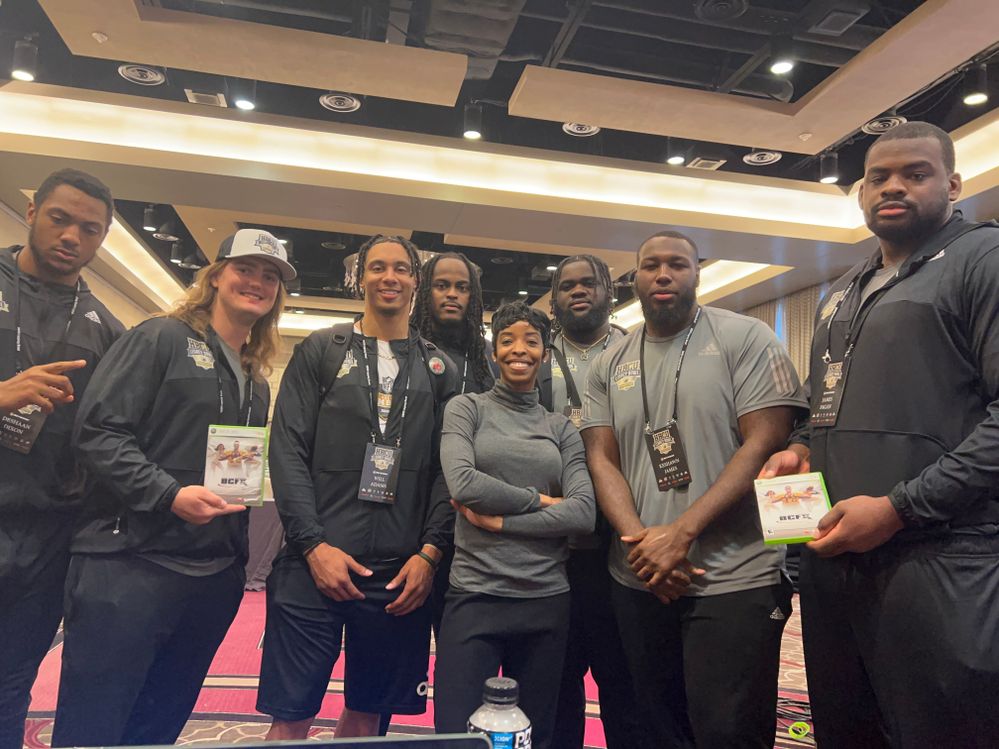 April Speight with student athletes at the HBCU Legacy Bowl.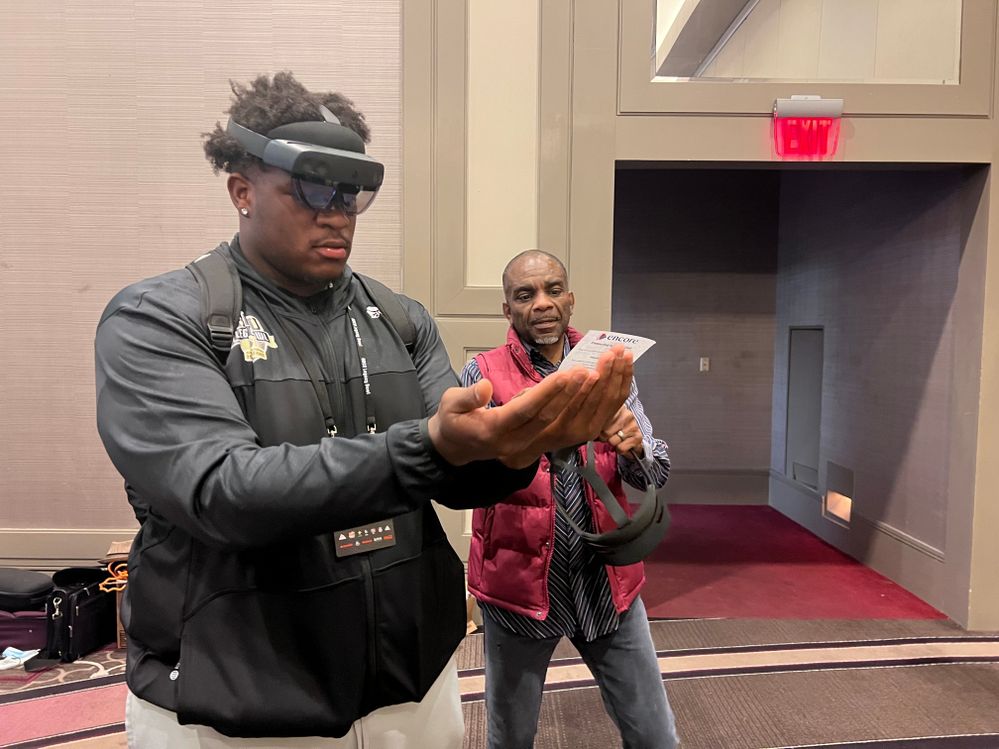 Ezra Jay demoing a HoloLens 2 with a student.
Our next stop in March was with Grambling State University and Southern University and A&M. We hosted a two-day hybrid workshop for both Babylon.js and HoloLens 2 Fundamentals. For the Babylon.js workshop, the students created a campus landmark utilizing custom 3D models created specifically for each school. As for the HoloLens 2 Fundamentals workshop, students received hands-on experience developing a Unity app for HoloLens and also subsequently trying out the app in the device.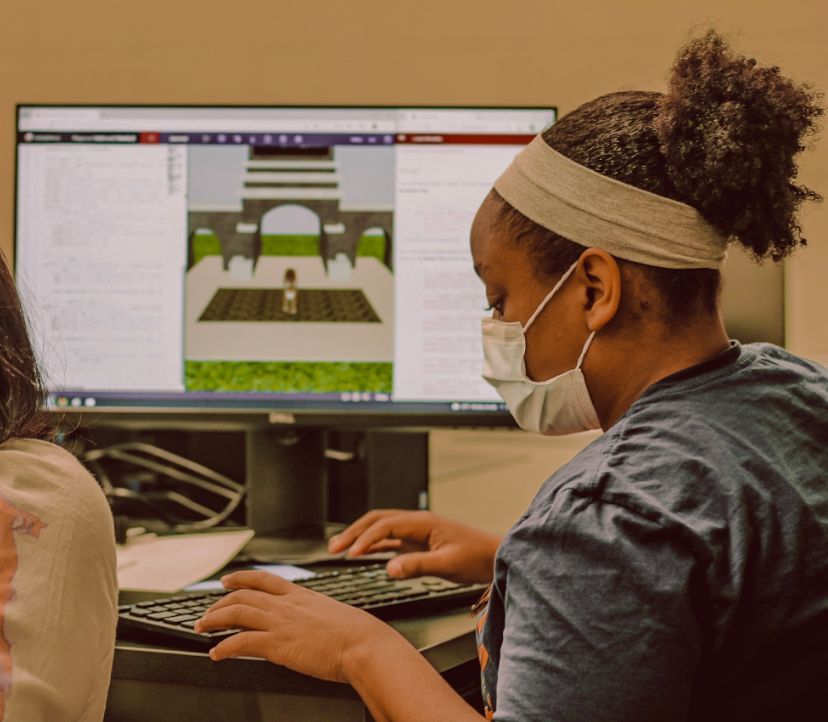 A student at Grambling State University creating a 3D scene with Babylon.js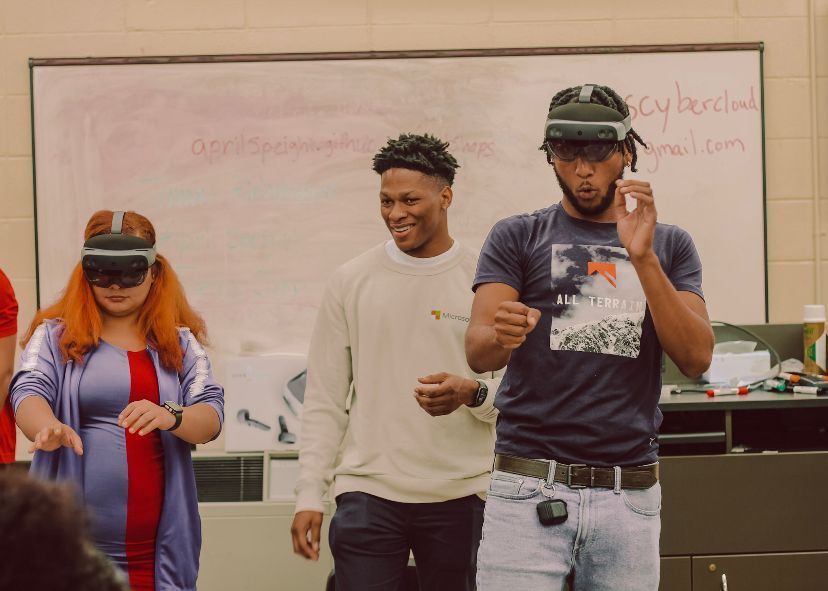 Jared Shepherd with two students trying out a HoloLens 2.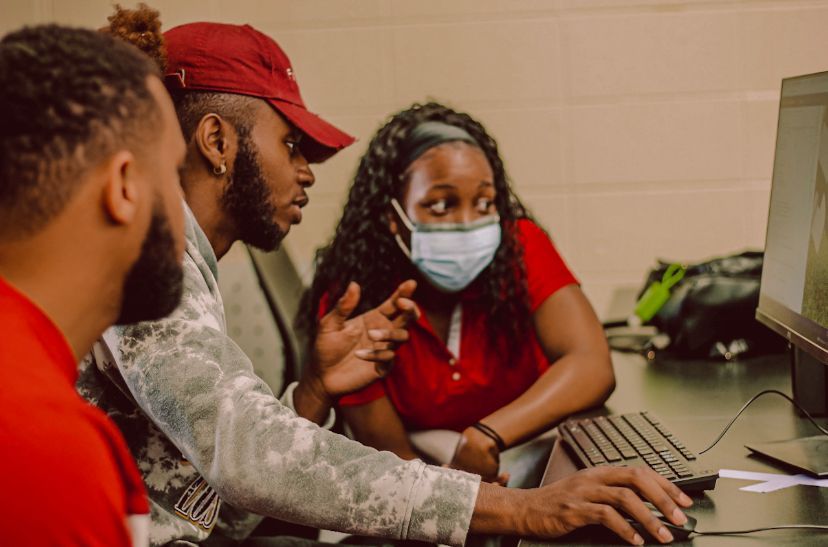 Students at Grambling State University working together.
The amount of appreciation and gratitude expressed by the students and faculty truly reflect the impact that engaging with HBCUs has on helping to close the digital divide. In all instances, it was the first time that these students had the chance to actually try out the HoloLens 2 devices. And for many, it was their first time creating for an immersive environment. While we still have a long road ahead of us, we're looking forward to continuing making an impact for HBCU students across the country.
The success of this initiative would not be made possible without the collaboration between both Microsoft and Engaged Media, LLC. A generous thank you is extended to:


April Speight (Sr. Cloud Advocate, Microsoft Cloud Advocacy)


Tammy Richardson (Sr. Director Demand Planning, Microsoft Retail Stores & Merchandising)


Jared Shepherd (Demand Planner, Microsoft Retail Stores & Merchandising)


Jacqueline Beauchamp (Founder, Chairwoman and CEO, Engaged Media, LLC)


Ezra Jay (Co-Founder & Development Director, Engaged Media, LLC)


We will continue moving forward with this program when the Fall semester starts in partnership with the Nonprofit Tech Acceleration for Black and African American Communities, an organization led by Darrell Booker within Microsoft Philanthropies. With a total of 102 HBCUs spread across the US, we look forward to spreading awareness and exposure of mixed reality to students!
Brought to you by Dr. Ware, Microsoft Office 365 Silver Partner, Charleston SC.