This article is contributed. See the original author and article here.
The recent shift to hybrid and remote work is changing the way organizations manage enterprise devices. Many organizations are moving to modern cloud management solutions. IT Pros tell us that most have become familiar with the Windows servicing model and the deployment of regular feature updates and are using – or planning to use – Windows Update for Business to automate updates. We also hear that application compatibility is less of a concern for most organizations as it was when Windows 10 was introduced.
We're working to make Windows update readiness insights more accessible with the goal to provide you with the insights you need to confidently deploy Windows without adding any unnecessary complexity. To align our investments with this goal and the shift we have been seeing, we are announcing that we will retire Desktop Analytics on November 30, 2022. Over the next year, we will begin incorporating the types of insights found in Desktop Analytics directly into the Microsoft Endpoint Manager admin center, making them available for PCs that are managed via Intune-only, co-managed, and Configuration Manager with tenant attach.
We have already started this work with the addition of Windows 11 hardware readiness insights in Endpoint analytics as a part of Microsoft Endpoint Manager. These insights help you quickly determine which of your managed PCs meet the minimum system requirements for Windows 11 and the top hardware blockers both at the device level and across your organization. By building these insights in Endpoint analytics, they're now available for Intune-managed and co-managed devices, in addition to Configuration Manager devices with tenant attach enabled.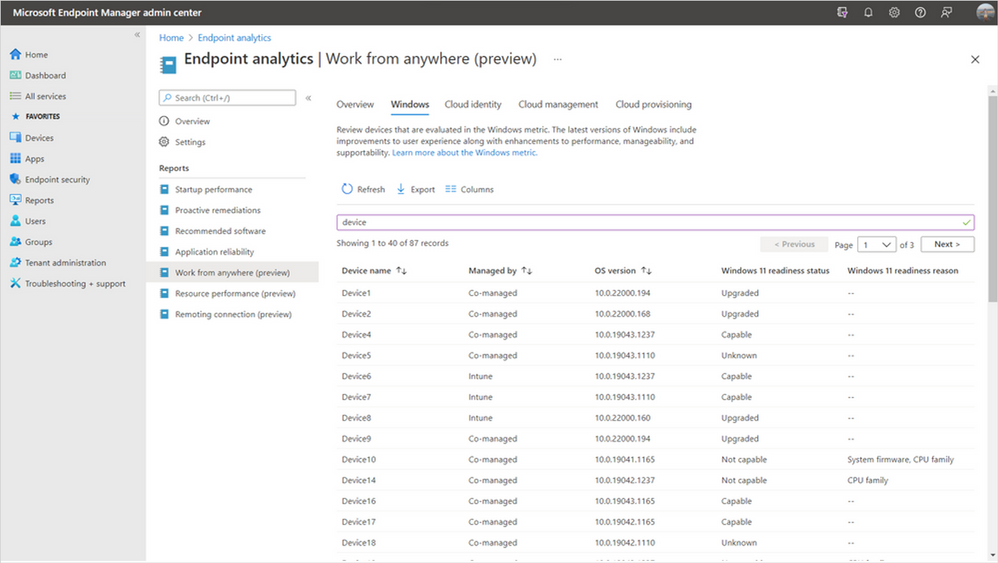 Device-level Windows 11 readiness details in Endpoint analytics
New Reports in Microsoft Endpoint Manager admin center
In the coming months, we'll be releasing device-level upgrade and update readiness insights directly in the Reports node of the Microsoft Endpoint Manager admin center, giving you insights for all your Endpoint Manager-managed devices. These reports will tell you if any of your Windows devices have application or driver compatibility risks or Safeguard holds that will prevent an upgrade from Windows 10 to Windows 11 – or a feature update from one version of Windows to another. We will also show you the top compatibility risks across your organization making it easy to see which impact the largest number of devices so that you can prioritize fixes effectively.
We'll be moving away from the workflow-based model of Desktop Analytics toward a data-first approach. Many IT Pros have provided feedback that the data in Desktop Analytics is what they find most valuable, but the tool comes with a steep learning curve before they can access the data. We're looking forward to improving this by making compatibility insights simpler and more accessible without the need to manage another workload, while making them ready to use with modern Windows servicing tools.
Additional devices in scope
While the insights in our new reports will be similar to what was available in Desktop Analytics, our approach is evolving based on your feedback and years' worth of learnings to make Windows updates easier than ever before. We're committed to helping you adopt a modern management approach for your organization. By making Windows 10 and 11 insights available in the Microsoft Endpoint Manager admin center, they'll soon be available for all MEM-managed PCs – including Intune-only, co-managed, and Configuration Manager with tenant attach.
Simplified Configuration Manager cloud attach story
This change also allows us to simplify your overall Configuration Manager cloud management strategy. Historically, there have been very similar, but separate processes for configuring Desktop Analytics and tenant attach which created additional overhead. With these new investments, you'll no longer need to maintain separate configurations. Instead, simply tenant attach or co-manage your devices to take advantage of all the additional cloud-powered capabilities available to you in the cloud console.
Our application compatibility promise
Windows 11 continues Microsoft's strong commitment to app compatibility. Our goal is to ensure that apps will work after an upgrade to Windows 11, with no changes required. In the years that our App Assure service has been working with organizations to help them resolve app compat issues, they have seen a 99.6% app compatibility rate. For organizations where application compatibility is still a concern, such as those with many highly specialized or custom line of business (LOB) applications, don't worry! App Assure is ready to assist, and you can also use Test Base for Microsoft 365 to onboard and validate apps for Windows 11 in a Microsoft managed environment. For more information, see Microsoft extends application compatibility promise to Windows 11.
What should I do now?
We'll have more information about our investments in this area over the next several months. In the meantime, there are several steps you can take today to prepare. First, ensure that your PCs are on a supported version of Windows 10. You'll be able to leverage Desktop Analytics for Windows 10 feature updates until November 30, 2022. Next, if you're using Configuration Manager, enable tenant attach and integrate your site with your Azure Active Directory (Azure AD) tenant. You'll get several immediate benefits – such as access to the cloud console – and this will leave you well-positioned to benefit from our upgrade and update readiness insights as soon as they're available.
After enabling tenant attach, or if you're using Intune to manage PCs, onboard to Endpoint analytics to take advantage of Windows 11 hardware readiness insights. Understanding which managed devices meet the minimum system requirements is one of the first steps in planning for a Windows 11 upgrade.
We're looking forward to helping you along your modern management journey and making it simple for you to upgrade to and manage Windows 11.
---
Continue the conversation. Find best practices. Visit the Windows Tech Community.
Stay informed. For the latest updates on new releases, tools, and resources, stay tuned to this blog and follow us @MSWindowsITPro on Twitter.
Brought to you by Dr. Ware, Microsoft Office 365 Silver Partner, Charleston SC.